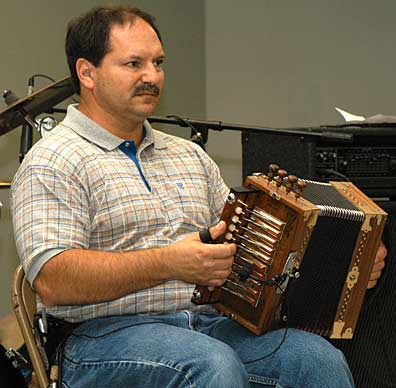 Shown at left is the late Kenneth Thibodeaux, leader of the Cajun Dance Band. Three months after this photo was taken on Sept. 6, 2003, he was killed in a tragic incident in Eunice.

He was truly dedicated to Cajun music in every way. Besides leading a band that played traditional Cajun dance music, he taught accordion, made accordions, led jam sessions, handled the sound system at the Liberty Theater for many years, and at the time of his death was also program director for the Liberty.

Shown below are other members of Cajun Dance: Ray Thibodeaux on drums and vocals (below), Jimmy Higginbotham on guitar and vocals, and Jason Frey on fiddle.