Une Fête sur la Prairie Acadienne
August 12, 1999
The pictures on this page show just a few of the activities
in the Jean Lafitte Center, the Liberty Theatre, and the Eunice Museum.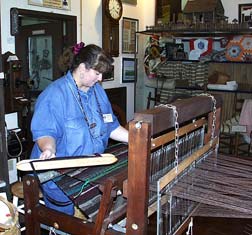 Chiquita Reddock demonstrated spinning and weaving inside the Eunice Depot Museum.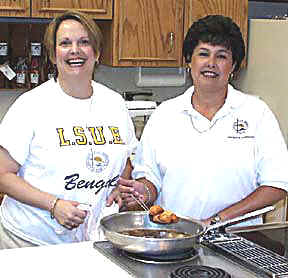 Suzanne LaHaye and Cindy Darbonne of LSUE are shown preparing croquesignole (Cajun doughnuts) in the kitchen at the Jean Lafitte Center at 10 a.m.
| | |
| --- | --- |
| | Amanda LaFleur, a Ville Platte native who teaches Cajun French classes at LSU, is shown in the lobby of the Liberty Theatre signing copies of her book, Tonnerre Mes Chiens! A Glossary of Louisiana French Figures of Speech. Her father, Dwight LaFleur, helped with the cash box. Also shown at right is Santiago, who has communicated with her over the Internet about Cajun culture. He met her in person for the first time and bought a book. The title of the book, incidentally, literally means "Thunder my dogs!" It's a euphemism for "Tonnerre m'écrase!": "May thunder strike me down!"--an exclamation that invokes the wrath of God and thus the need sometimes to use less direct phrasing. |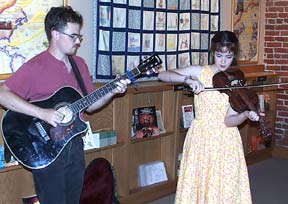 Moise Viator, an LSUE student, and his sister, Alida, are shown playing in Jean Lafitte Center. They recently recorded a CD, Mo Belle Creole.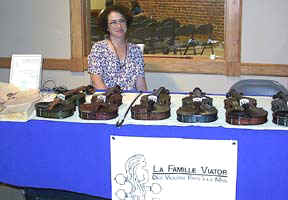 Deborah-Helen Viator, mother of Moise and Alida, was in the Jean Lafitte Center to display violins made by La Famille Viator, an enterprise the family began five years ago. They learned their craft from 80-year-old Adner Ortego, a fiddle maker from Washington, La.