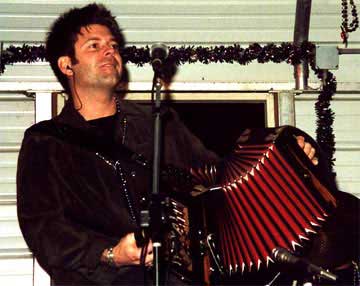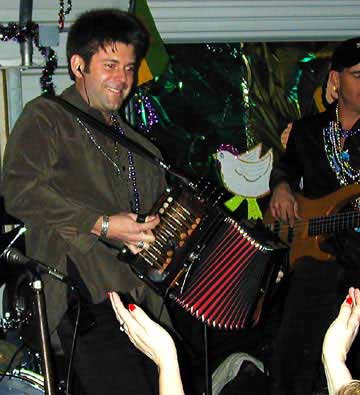 It was another Monday night to remember in Mamou, with La Bande Feufollet and Zydeco Force getting the music under way about dusk. Halfway through their show, La Bande Feufollet switched to some of the most outlandish Mardi Gras attire seen in Mamou. Steve Riley and the Mamou Playboys began their performance about 9:30 before the usual jam-packed crowds.
Pictured at left are three members of La Bande Feufollet: Christopher Stafford on accordion, Brittany Polaski on vocals, and Chris Segura on fiddle. Steve Riley is shown above.
While La Bande Feufollet performed on a stage near the Hotel Cazan, Jeffrey Broussard and Zydeco Force, shown below, played French Zydeco near the north end of Sixth Street.
The other pictures below show La Bande Feufollet, including Ashley Hayes on guitar (with the loudest blue wig on earth) and Matthew Cormier on bass. Michael Stafford is in back on drums.
David Greely is shown with Steve Riley in the bottom picture.
Go to 2001 pictures of the Mamou Courir de Mardi Gras.