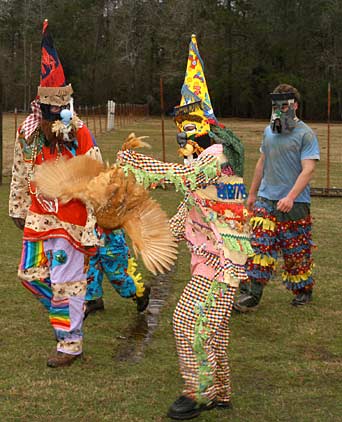 These photos were taken during the first hour of the Egan Mardi Gras run on a cool, cloudy morning that began with intermittent light drizzle. The Mardi Gras were in high spirits as they left the Knights of Columbus Hall near Crowley and headed down the Egan Highway in their trailer.
At each stop, they sang their version of the Mardi Gras song that is also heard on the Tee-Mamou runs and then begged for ingredients to make a gumbo. At one stop, one of the Mardi Gras started to make off with a lamb, but relented after a few steps. At the next stop, the same Mardi Gras caught a chicken, which he held up for everyone to see.
Tony Lacombe, who worked to revive the Egan run in 2001, was in blackface, leading the Mardi Gras in song.
That evening, the Egan Courir held a gumbo and dance at the KC Hall, where awards were distributed.