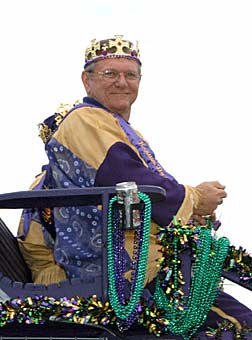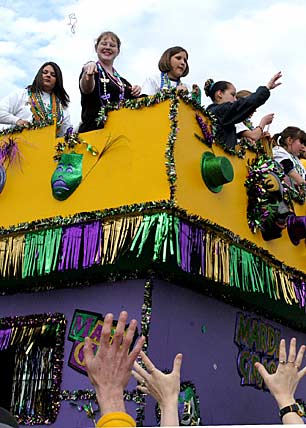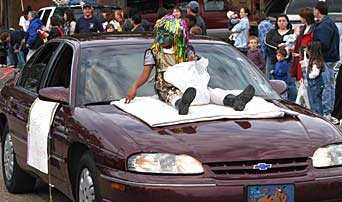 It's possible to leave downtown Eunice about 3:45 and arrive in downtown Jennings by 4:30, in time, on March 1, 2003, to shoot a few photos of the Jennings Mardi Gras Parade that seems to grow bigger every year. The photos on this page were taken between the start of the parade and about 5:15, when it was time to head back to Eunice to catch the Liberty Theater show. There was no opportunity to cover all of the parade, including, for example, the Grand Marais Mardi Gras Courir, who road on horseback toward the end.
In addition to the floats, queens from various organizations rode in the parade, sometimes sitting on top of car hoods. As is traditional, politicians also found their way into the parade.
There were plenty of throws for the large crowd lining the streets, a crowd big enough to generate a lot of Mardi Gras spirit and excitement but spread out along the route so that everyone had a chance to catch some throws.
There was also live music in Founders' Park as part of the celebration.