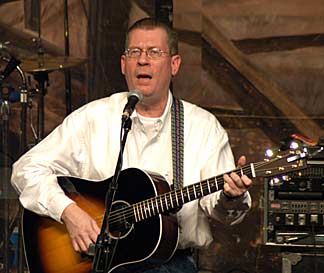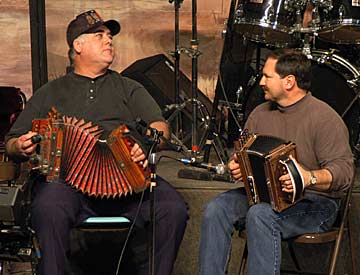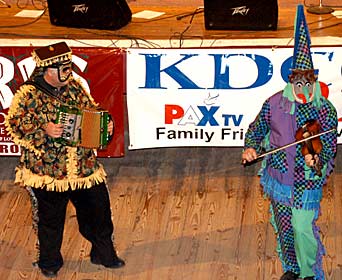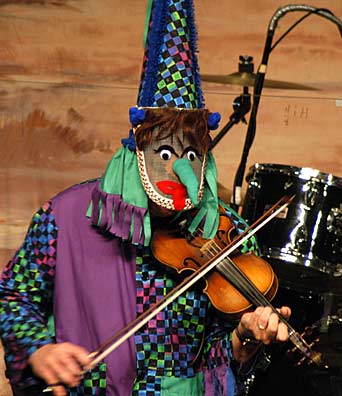 These are photos of the Liberty Theater's 6 p.m. show on March 1, 2003. There is also a 2 p.m. show every Saturday before Mardi Gras.
Kenneth Thibodeaux and the Cajun Dance Band performed first. That's Jimmy Higginbotham on guitar at left. Reggie Matte joined Kenneth Thibodeaux to perform an incredible accordion duet–or duel: Kenneth played "Creole Stomp" on a C accordion while Reggie played "The Scott Playboy Special" on an accordion tuned to key of D. The rest of the band somehow found their way through the dueling accordions (Tony Thibodeaux on fiddle sided with Reggie, though host Barry Ancelet tried to get him to add in "Over the Waves").
Then, after Barry Ancelet and Georgie Manuel discussed Cajun Mardi Gras traditions, a masked band took the stage. The accordionist, who bore some resemblance to Reggie Matte, wore a mortar board mask, mocking those of us who pretend to know more because we're associated with some college. The fiddle player sounded a lot like Terry Huval, so it might be–but who knows for sure?–that The Jambalaya Cajun Band was on stage. Whoever it was, they gave a great Mardi Gras performance.