Click here for high res versions of photos of Donna Angelle.


For more recent information, be sure to check out the Official Web Site of Donna Angelle, Zydeco Diva.

2006 Update

Donna Angelle released a new CD early in 2006 featuring eight new songs and four covers. Workin' It, the title cut, co-written by Donna Angelle and Michelle Citizen, is smooth, fast zydeco made for dancing. This song and several others feature nice background vocals that give the CD a full, rich sound. Other original songs include the opening cut, "Rodeo Show," "Creole Woman," in which Donna tells us who she is, "House Dog," a putdown of an unfaithful man, and "Zydeco Santa," the last cut. The French lyrics in "Catin" describe the pain and heartache caused by a woman.

Probably the most memorable lyrics are in "Old Man Sweetheart," co-written with Mike Lachney. The song celebrates the late Boozoo Chavis as more than just a great musician: "I want a man like Boozoo, / oh with his cowboy hat, / the way he squeezes his accordion / I wish he'd squeeze me like that" and more lyrics explaining why older men are better. In "I Got a Pepper in My Shoe," Angelle gives us a slightly revised version in English and French of zydeco's first hit that Boozoo recorded in 1954.

"I Rather Go Blind" is a great blues number that was originally a 1969 hit for a group named Chicken Shack. The sensual lyrics of "Rockin' It Steady" go back to the original meaning of "rock and roll." The next song, "Groove Me,' has a similar message. Angelle also finds a different but very appealing zydeco groove in Wilson Pickett's hit "Don't Let the Green Grass Fool You."

Other members of the Zydeco Posse in addition to Angelle on accordion and Citizen on rubboard are Chester Chevalier on guitar, Teddy Delcambre on drums, and Junius Antoine on bass guitar.

The CD was recorded by MTE Records in Crowley, found on the web at mterecords.com.

Donna Angelle can be reached through her web site, www.zydeco-diva.com.

Michelle Citizen is shown at left on rubboard. Photos in this section taken in Crowley July 2, 2006, at the Fourth of July festival. Posted 8-14-06.
---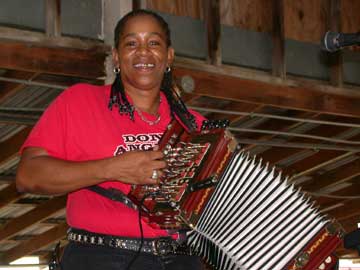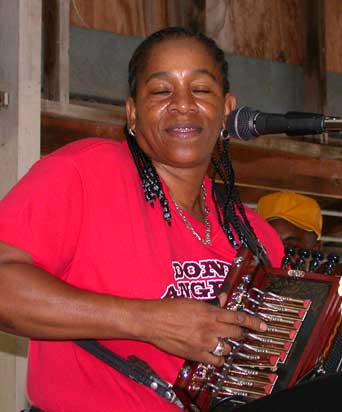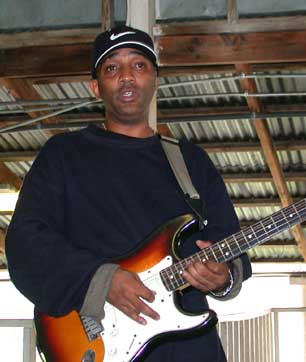 Angelle's parents spoke French, and, though she speaks only little French herself, she sings a very appealing French waltz on the CD It's Alright titled "Blackberry," describing picking blackberries along a coulée and then watching her mother make blackberry jam. Her performance repertoire also includes other French songs like Clifton Chenier's "You Used to Call Me."
Musicians on the CD include Angelle's longtime collaborator, Michelle Citizen on rubboard; Mike Taylor on guitar; Junius Antoine on bass; CaCean Ballou on drums (with Kevin Sam on drums for several cuts); and James Prejean Jr. on rubboard. Lil Falley Boy handles some of the background vocals.
Contact J&S Records at 1-800-542-8283.
---
The photos on this page were taken in May 2002 during a benefit performance at the Town Park Barn in Basile. Joseph Veazie is on guitar. The other musicians, shown below, are CaCean Ballou on drums; Junius Antoine on bass; Michelle Citizen on rubboard; and Donna Angelle on accordion.
Donna Angelle was born Donna Charles in 1951 in Cypress Island in St. Martin Parish. She was always interested in music and learned to play several instruments in the band at Carver Junior High School. After she graduated from high school in 1970, she began playing keyboard at places like the Gipsy Club in St. Martinville. She sang back-up vocals for for Bobby Price and then performed with Cosmic Sky before establishing her own R&B band, Chapter IV
She stopped performing after she was married, and then any thoughts of returning to the stage were put on hold when she was involved in a serious car accident. Eventually, in 1994, she formed a new group and began including zydeco in her repertoire. Record producer Mike Lachney, whom she knew before the accident, asked her to audition for him and signed her to record her first CD, Zydeco Soul, released in 1995 by Bad Weather Records. She next recorded two CDs on Floyd Soileau's Maison de Soul label. Old Man's Sweetheart came out in 1998, and Down the Bayou was released in 1999.
Like many zydeco musicians, Donna Angelle spends a lot of time on the road–traveling all over the United States and in Europe, including a three-week engagement at Maxwell Café in Paris. As she explained to Herman Fuselier for his "Bayou Boogie" column in the Lafayette Daily Advertiser, she was contacted by a man who had heard one of her recordings and wanted to bring her all the way to France to perform at the café. She was accompanied on the trip by her rubboard player, MIchelle Citizen, who collaborated with her in writing most of the songs on her 2001 CD, It's Alright, released by J&S Records in Ville Platte.
The CD displays Angelle's vocal talents along with her skills on the accordion, an instrument that she learned to play several years after she began to sing zydeco. She taught herself to play by listening to Beau Jocque recordings. It's Alright is the first CD that features her accordion on most of the songs.
The CD offers a zydeco version of Curtis Mayfield's "It's Alright," as well as Cliff Noble's "Horse," and Angelle also gives her version of Beau Jocque's "Walk with Me."
The other songs are originals. Angelle offers high energy zydeco numbers like "Posse," "Ladies Night," and "Music," but also switches to a more soulful sound in "Friend," written in memory of the band's guitarist, Rick Williams, and "From the Start," another tribute song in memory of a friend, Tara Romero.