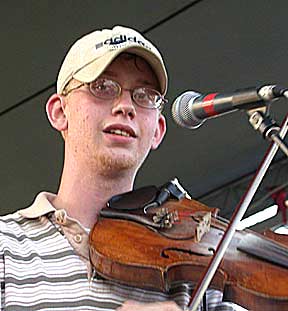 A few weeks earlier in April, all of the members of Balfa Toujours were busy performing and holding workshops during the second annual Dewey Balfa Cajun and Creole Heritage Week, held at Lake Fausse Pointe State Park. There's great news for those of us on the Cajun Prairie who live some distance from that park: in fall 2003, a similar event organized by Louisiana Folk Roots will be held at Chicot State Park near Ville Platte.
Shown in the bottom photo are Kevin Wimmer and Courtney Granger on fiddle; Todd Aucoin on drums; Paul Daigle on accordion; Kyle Hebert on bass; and Christine Balfa on guitar.
Balfa Toujours performed at the Mamou Cajun Music Festival Sept. 7, 2002, in a program honoring Bois Sec Ardoin. Click here for more photos.
Click here for photos taken at Festivals Acadiens, September 22, 2002.

Most of the 2002 photos posted on this page were all taken at the Breaux Bridge Crawfish Festival on May 4, 2002. Dirk Powell was in Ireland, so Paul Daigle joined Balfa Toujours on accordion. The crowd included an especially ardent contingent of Basile fans. Christine performed "La valse des mêches," and the crowd cheered as her voice rose to the song's final outpouring of heartache, "ouais, mon coeur fait mal."
Courtney Granger, who was a nominee for the Cajun French Music Association's 2002 Le Cajun Award as Fiddler of the Year, sang and performed twin fiddle numbers with Kevin Wimmer. He recently played fiddle on Mon et Mes Amis, a CD recorded by Oberlin accordionist Brian Smith for Acadiana Records. On it, Courtney sings "Allons à Lafayette," "Chère Tout-Toute," "Kaplan Waltz," and "Church Point Breakdown," and, of course, provides some great fiddling in the Balfa tradition.