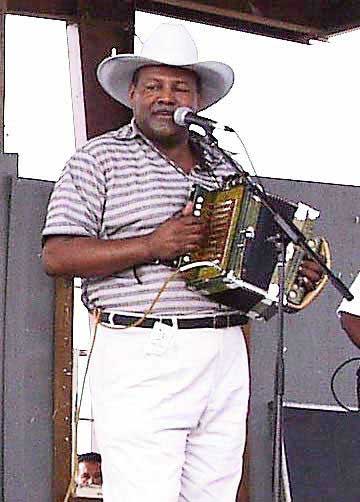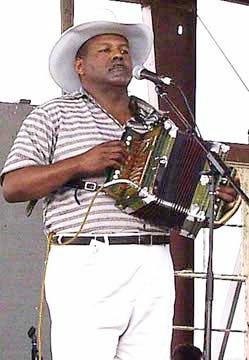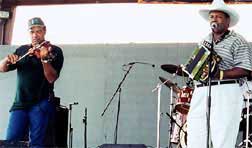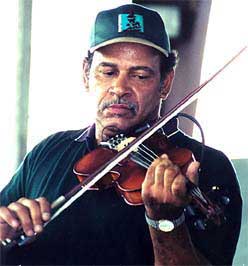 Lawrence "Black" Ardoin is shown on accordion with Edward Poullard on fiddle during the 1999 Southwest Louisiana Zydeco Festival in Plaisance, Louisiana.

Lawrence "Black" Ardoin and his band, Tradition Creole, are keeping alive music that dates back to early in the century. His father is legendary Creole musician Alphonse "Bois Sec" Ardoin. (Bois Sec Ardoin died in May 2007.) Bois Sec's cousin, Amédé Ardoin, was at the center of the creation of both Cajun music played by white musicians and Creole music that once thrived as part of the culture of French-speaking African Americans in Southwest Louisiana. During the 1999 Southwest Louisiana Zydeco Festival, Lawrence Ardoin told the crowd that, in fact, the only difference between Creole and Cajun music is the race of the musicians playing it.
Regardless of whether historians of music agree fully with that succinct explanation, Ardoin clearly can make a strong case that the contributions of African Americans in the Creole community to music that is now part of the standard Cajun repertoire have too often been overlooked. It is similarly unfortunate that many younger members of the Creole community also seem to have lost interest in great musical tradition of their ancestors. Within the African American community, zydeco music, often sung today in English, has replaced traditional Creole music which used to be played at house dances before there were any clubs. Ardoin himself, instead of performing on a regular basis, is helping to manage the career of his son Chris Ardoin and Chris' zydeco band Double Clutchin'. He obviously takes pride in the accomplishments of his sons Sean and Chris, even though their music is different from his.
In earlier years, Lawrence Ardoin played drums in the Ardoin Family Band, which performed at a club in Duralde and at churches and other clubs throughout the region. After the death in a traffic accident of Gustav Ardoin, an older brother who played accordion, Lawrence Ardoin switched to accordion so that the band would not have to go outside the family to find someone to play that instrument. He went on to form his own band in the early 1980s, and, in 1984, cut a record (Lawrence "Black" Ardoin and his French Zydeco Band) that has been released on CD in 1999 by Arhoolie Records, titled Lawrence "Black" Ardoin: Tradition Creole.
The band members on the CD include Edward Poullard on fiddle; Donald Ray Ceasar on drums; Joseph Landry on bass; Dallas Deville, on lead guitar; Clarence LeDay on guitar; Alfred Pete on rubboard; and Sean Ardoin, Lawrence Ardoin's son, on sax. Today, Edward Poullard, who switched from accordion to fiddle after an injury in an accident, is one of the few remaining Creole fiddlers.
The 1999 release includes several new songs by Lawrence Ardoin and the band's versions of a number of standards: Amédé Ardoin's "Quo Faire" and "Midland Two-Step"; Clifton Chenier's "Tous les temps en temps" and "You Used to Call Me"; Rockin' Sidney's "What's Good for the Gander"; and "Matilda," sung in French.
Another recording, Lawrence Ardoin: Hot and Spicy, is available on the Maison de Soul label as a cassette.
The 1999 Southwest Louisiana Zydeco Festival brochure indicated that Lawrence Ardoin may be contacted at 2916 Pack Road, Lake Charles, LA 70601; (337) 439-0061.