The photos were taken at the Liberty Theater July 17, 2004. Shown are Paul Frugé on steel guitar, Blackie Frugé on fiddle, Morris Newman on drums, Milford Simon on accordion, and Mitch Simon on bass.

Photos in this section were taken in July 2004. In 2003, Blackie Frugé/Milford Simon and The Hicks Wagon Wheel Ramblers released a new CD on Acadiana Records titled Rolling On. The CD includes three new songs, plus a new recording of Paul Frugé's trademark song, "Who'll Hold You Close." Blackie and Paul composed a new version of Joe Feraille in which Joe, with "yeux cannailles," is searching for a new wife and even provides his phone number for any women interested in a rendez-vous. Milford Simon, along with Blackie and Paul, are credited as songwriters for "I'd Like to Caress You." Morris Newman sings his song "Patrick's Waltz," a memorial to a young child. Paul and Milford split the other vocals. Cover songs include standards like Iry LeJeune's "Come Get Me," Lawrence Walker's "Unlucky Waltz," "Allons à Lafayette"–14 cuts in all of great dance hall music.

For bookings, call Paul Frugé at 337-824-6842 or Blackie Frugé at 337-774-2342.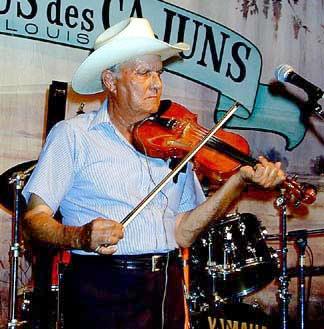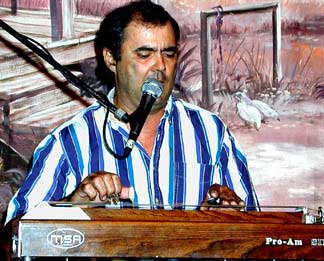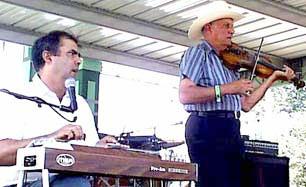 For more than three decades, Blackie Frugé has been leading the Hicks Wagon Wheel Ramblers, playing at clubs and special events, especially in the Jennings area. Like several other well known Cajun dance bands, for many years the group did not record an album, but finally the band stepped into the studios of Lanor Records of Jennings and produced Ramblin' Back in Time, released in 1998.

Ramblin' Back in Time, which featured Blackie Frugé on fiddle and William LaBouve on accordion, was nominated for several awards in 1999 by the Cajun French Music Association. The CD received a nomination for the Best Recording of the Year Award, and Blackie Frugé's song "Who Holds You Close," with vocals by his son, Paul Frugé, was nominated for the Song of the Year Award. Paul Frugé also received a nomination for the Male Vocalist of the Year Award.

The album also features songs from the Cajun repertoire like Iry LeJeune's "J'ai fait une grosse erreur," Belton Richard's "Juste un rêve," and "Valse des Chérokis," among others.

The Hick's Wagon Wheel Club, incidentally, was located between Opelousas and Ville Platte.

The contact number for the Hicks Wagon Wheel Ramblers listed on the CD is (337) 774-2342.
---
Pictured above are Blackie Frugé on fiddle and his son, Paul, on steel guitar at the Liberty Theater. Paul Frugé does most of the vocals for the band. The third photo was taken during 1999 Festivals Acadiens. Aaron Istre, shown on accordion in the bottom photo, was 18 years old when he played with the band during a performance July 8, 2000, in the Liberty Theatre.