Click here for high res photos on Flickr.


Go to Thomas "Big Hat" Fields
Official Web Page.

2006: Mardi Records
Re-releases Lanor recordings

In 2006, Mardi Gras Records released a 2-CD set that makes the Lee Lavergne's Lanor recordings from more than a decade ago more readily available to 21st century audiences. Originally released as Louisiana Is the Place to Be and Come to Louisiana, each CD has 13 cuts, with all but two written by Thomas "Big Hat" Fields.

The first CD includes one of Big Hat Fields' trademark songs, "Bald Headed Men." On "No Name Blues," Fields offers a long list of "sho' nuff zydeco players" like Albert Chevalier, Sidney Babineaux, and Hiram Sampy from years past who made significant contributions to the development of zydeco, even if their names are not well known. He tips his hat to another zydeco pioneer in "Hey Boozoo." And, punctuated by his foot-stompin beat, he sings about women "Hey Gracie," "Annie Mae," and "My Baby Likes to Dog," and about a no-good man in "Jean Pierre."

The second CD keeps up the foot-stompin' zydeco, getting down in "Rock The House" and back up in "Rockin' Chair Mama" at a fast pace that keeps the dancers moving. Often the lyrics are mostly about having a foot-stompin' good as in "Her name is Ting a Ling, she can shake that thing, make that thing ting a ling." Even in "You Made Me Cry" and "Going to Prison," Fields keeps the rhythm pulsing, slowing down for "Olivia's Waltz" and finally ending the CD with a zydeco blues, "Little Girl."

The other musicians on Louisiana Is the Place to Be are James Compton, guitar; Junior Prejean, rubboard and bass; Geneva Fields, rubboard and bass; Martin Guilbeau, drums. On Come to Louisiana, Shelton Broussard is on guitar; and Bill Collins on rubboard.

The photos at right were taken at Vermilionville in Lafayette June 9, 2007, during Creole Day. Geneva Fields is shown singing "I'm Comin' Home" in memory of Alphonse "Bois Sec" Ardoin, who died a few weeks earlier.


Click on thumbnails to access larger photo.
Thomas "Big Hat" Fields in 2004
Thomas "Big Hat" Fields and His Foot Stompin' Zydeco Band have released a new CD in 2004, Big Hat Zydeco Mix. The title doesn't lie.

Thomas Fields gives listeners a great mix of Zydeco music: original French Zydeco songs like "Coeur Fait Mal" (sung by rubboard player Rodney Bernard), "Ma Femme," and "Pretty Catherine," plus Rodney's version of Clifton Chenier's "Tout Les Temps En Temps"; a version of "Jolie Blonde" sung by Thomas Fields with additional vocals from his wife, Geneva; playful songs in English like "Bubba" ("he's in trubba") and "Hey, Hey Therese"; Fields' tribute to "Country Woman" and to "Geneva"; songs featuring Geneva's vocals, including Wilson Pickett's "I Found a Love," the swamp-pop classic "Mathilda," and "Build Me a Man"; "Talk to Your Daughter" with vocals by guitarist Marty "WhiteBoy" Christian; and the instrumental "Big Hat Stomp."

The CD cover shows Thomas Fields performing at Café des Amis in Breaux Bridge, where he frequently plays on Saturday mornings. The CD was released by Maison de Soul.

Shown performing at a benefit held at Whiskey River Landing in February 2004 are Thomas "Big Hat" Fields and Rodney Bernard with Geneva Mouton on guitar. Other musicians on the CD are Marty Christian, guitar; Jean Pierre Audet, harmonica and scrubboard; Curnis Andrus, saxophone.

---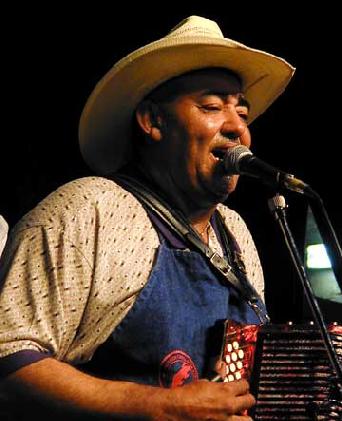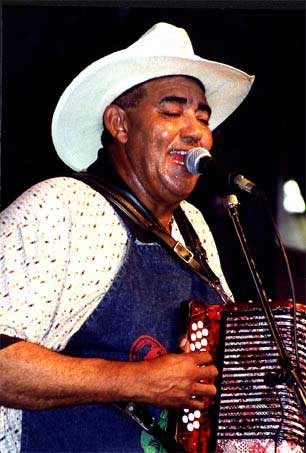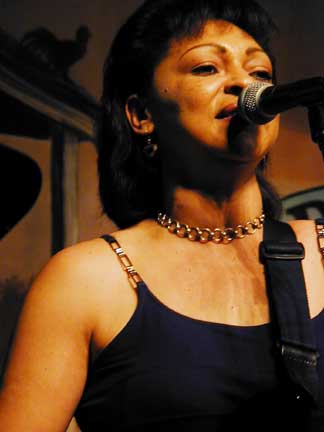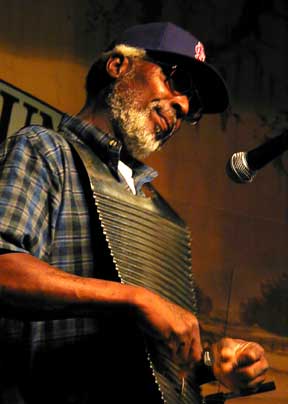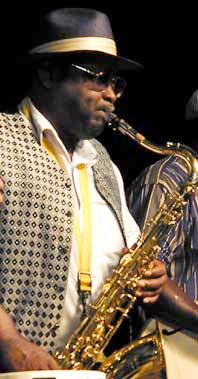 Thomas "Big Hat" Fields was born in Rayne, La., on May 10, 1947, but he didn't develop an interest in music until he was in his forties. According to the liner notes to his 1999 CD, Louisiana Zydeco Man, released by Swallow Records, before becoming a musician, Fields worked as a bartender, as a part-time night club bouncer and occasional manager at local clubs, as a salesman for a horseman's tack and apparel store, and as a horse trainer. In 1982, he entered the building and cement finisher trade.

In 1991, he bought a "hip-hop" club near Grand Coteau, renamed it the Big Hat Club, and started booking Zydeco groups. He began to learn to play the accordion and sat in with the house band, Pee Wee and the Boll Weevils. His wife, Geneva, learned to play bass, and soon they were ready to start their own band. Fields recorded a demo and brought it to the late Lee Lavergne of Lanor Records. Lanor released a cassette, The Big Hat Man in 1994, and then two CDs, Come to Louisiana in 1995, followed by Louisiana Is the Place to See, which includes the popular humorous song "Bald Headed Men."

Fields and his Foot Stompin' Zydeco Band went on to perform all over the United States, playing major music festivals, clubs, and casinos. After the death of Lee Lavergne, Thomas moved to Swallow's Maison de Soul label to record Louisiana Zydeco Man.

Fields, who speaks Creole French, writes most of his own songs. The majority of the songs are in English, but he includes several French songs on his recordings. His 1999 CD features his fast-paced version of "Madam Sostan"; "Tee Catin, Oh Tee N'Homme," sung with Geneva Fields; "Neg and May"; and "Jealous Kiss," all in French. He also pays tribute in English to Creole culture in "Old Creole."

The CD begins with "Baldheaded Woman," with humorous repartee between Fields and his wife as a follow-up to "Baldheaded Men." Geneva Fields also sings Clifton Chenier's "I'm Coming Home" and "Charlene," one of several songs that draw more from R&B than Zydeco. "Frog Festival Song" pays tribute to the annual festival held in Rayne over the Labor Day weekend. All together, the1999 CD offers 15 cuts, with a good variety of musical styles.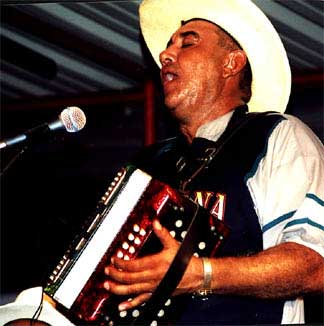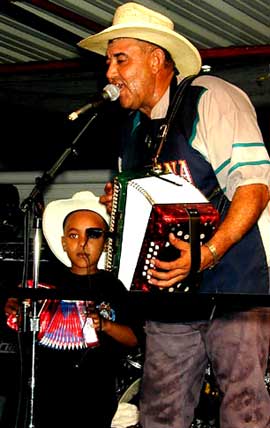 The two pictures shown above in the right column were both taken during the Rayne 2000 Frog Festival. All of the other pictures were taken in May 2001 at the Liberty Theater in Eunice. Thomas "Big Hat" Fields is shown on accordion, along with his wife, Geneva Fields, and on rubboard, Joseph Edwards, who used to play with Clifton Chenier and C.J. Chenier.