The pictures in this section of the page were taken during the 18th annual Original Southwest Louisiana Zydeco Music Festival in Plaisance September 2, 2000. It was one of the hottest days in the recorded history of Southwest Louisiana with the thermometer well over 100 degrees. Boozoo Chavis arrived early in the afternoon, well ahead of his interview at the Heritage Tent prior to taking the main stage at 4 p.m.

Despite the heat, he was dressed in a long sleeve shirt with a tie. As usual, an apron was covered his waist to protect the accordion from perspiration. Running across the apron were the words "Get Cookin' with Boozoo and Leona," an advertisement for a cookbook that he compiled with his wife. He wore a Stetson cowboy hat with a silver badge attached to the front proclaiming "Boozoo Chavis King of Zydeco," a title he acquired from Rockin' Dopsie (the controversy surrounding this episode in the history of zydeco is recounted by Michael Tisserand in his book, The Kingdom of Zydeco).

Regardless of the oppressive heat, Boozoo was as feisty as ever in his responses to interviewer Herman Fuselier's questions during the program in the Heritage Tent, and his performance on the main stage energized a large crowd of dancers who probably never imagined that they would have the motivation to zydeco in the blazing sun with a temperature of about 105.

Chavis, who acquired his nickname when he was still a baby, was born in 1930 near Church Point. His family subsequently moved to the Dog Hill section of Lake Charles, where they were tenant farmers. Although his parents separated, Boozoo as a small boy had a chance to watch his father play accordion at house dances. Chavis learned to play the accordion before he was a teenager. While working as a horse trainer and a jockey in quarter horse races, he also played at dances. In 1954, he recorded zydeco's first hit song, "Paper in My Shoe," produced by Eddie Shuler in Lake Charles. Chavis played at clubs throughout the region, but he began to suspect that he was not receiving the profit due him from his hit single, and he eventually gave up on the music business in favor of training race horses.

More than 20 years later, urged on by his wife, Leona, Chavis decided to pick up his button box accordion again during a period when zydeco was finding a rapidly expanding audience nationwide. When he resumed performing in 1984, crowds responded both to his strong stage presence and to his simple but powerful songs that draw on his roots in the rural life of Southwestern Louisiana.

According to Ben Sandmel in his book Zydeco!, Chavis disregards "conventional musical structure. He tends to 'jump time' by changing chords at random or dropping and adding beats." Or, as Chavis himself has explained, "Don't tell me to watch the beat. You watch me. If it's wrong, do it wrong, with me! If I'm wrong, you wrong, too!"

Chavis' 1999 CD for Rounder Records, Who Stole My Monkey?, is vintage Boozoo. It includes Chavis' versions of traditional songs like "I'm Going Away," "I Went to the Dance," "Baby Please Don't Go," "Allons à Lafayette," and "Ay, Cayenne," some in English and some in French, with Chavis typically repeating the same lines several times, using his accordion to add both melody and his own insistent rhythm. He also performs songs he wrote like "Dance All Night," "Oh Yeah," and the title track, "Who Stole My Monkey?" For the first time, Chavis also offers R-rated versions of "Uncle Bud" and "Deacon Jones," with explicit lyrics that earned the CD a "Parental Advisory" label.

Other members of his band, The Magic Sounds, include two sons, Charles Chavis on rubboard and some vocals, and Rellis Chavis on drums. Additional members featured on the CD are Carlton "Guitar" Thomas on guitar and Classie Ballou Jr. on bass. Thomas died September 4, 2001. Even more sadly, the year ended with the passing of Charles Chavis, who died of a heart attack December 23, 2001, at age 45.

Many of Chavis' other albums are also still available, including four other Rounder recordings: Zydeco Live, Volume 1 (with Nathan Williams), The Lake Charles Atomic Bomb–Original Goldband Recordings (originally produced by Eddie Shuler), Boozoo, That's Who!, and Live! At the Habibi Temple, Lake Charles. Available on Swallow Records' Maison de Soul label on CD and cassette are Zydeco Trail Ride and Zydeco Homebrew. (Boozoo Zydeco and LA Zydeco Music are available only on cassette.)

In summer 2000, Rounder issued compilation CD in its Heritage series, Boozoo Chavis: Johnnie Billy Goat, which offers 22 tracks, including previously unreleased live performances of "Dog Hill" and "Goin' to la maison." In the liner notes, Scott Billington supplies a biographical sketch and a discussion of the Rounder recordings of Boozoo. Before his death, he recorded an album for Rounder, released in fall 2001 as Down Home on Dog Hill with Charles Chavis on rubboard, Sonny Landreth on guitar, David Greely on fiddle, Scott Billington on harmonica, Cassie Ballou Jr. on bass, and Nellis Chavis on drums. According to Greely, "Playing with Boozoo changed my life because this is music that follows the heart rather than form." Most of the songs or tunes on this CD are familiar, yet in Boozoo's performance they sound fresh and full of the energy that made this man's music so unique.

Prior to his death, Chavis was chosen by the National Endowment for the Arts to receive a 2001 National Heritage Fellowship, the nation's highest honor in the folk and traditional arts. The award will be presented posthumously.

Chavis' wife, Leona, resides at their Dog Hill home at 115 Petah Street, Lake Charles, La 70607.

Click here for pictures of Boozoo Chavis' interview in the Heritage Tent.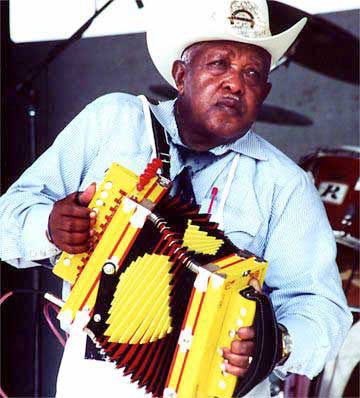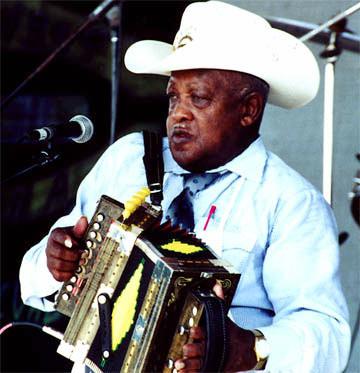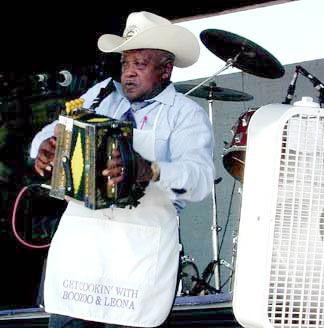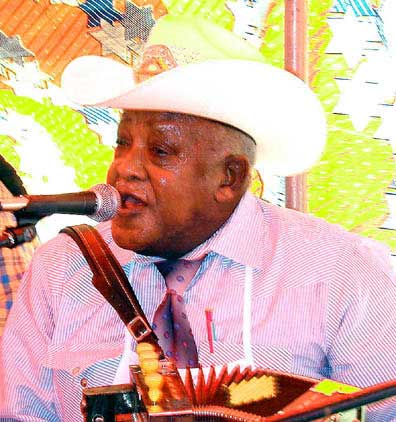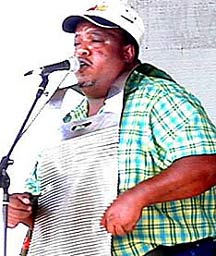 The first three pictures in this section of the page were taken during the 18th annual Southwest Louisiana Zydeco Festival in Plaisance on September 2, 2000, while Boozoo Chavis was performing on the main stage with a fan propped up beside him. The next picture was taken during an interview and informal performance in the Heritage Tent. The late Charles Chavis, one of Boozoo's sons, who died December 23, 2001, is shown on rubboard during the Plaisance performance. The bottom picture on this page shows the crowd dancing in the blazing heat in front of the main stage while Boozoo Chavis and The Magic Sounds kept the dancers energized with their traditional rural zydeco.