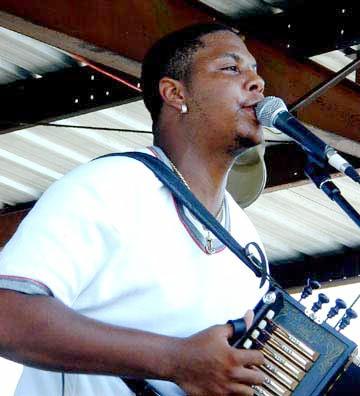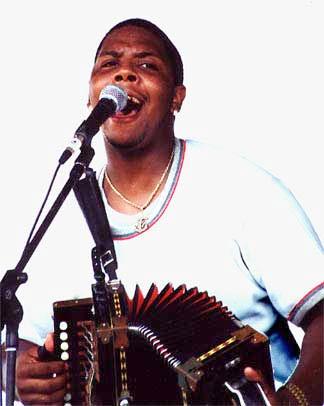 All pictures on this page were taken during the 2000 Southwest Louisiana Zydeco Festival in Plaisance. In addition to Brad Randell on accordion, Joe "Chopper" Chavis is shown on scrubboard. In a 1998 interview for a "Bayou Beat" column published in Off Beat Magazine, Randell told Arsenio Orteza that at age 15 he learned to play the accordion from his father, Francis Randell, who did not perform much in public but who carried on the family music tradition of his own father. The triple-note accordion that first belonged to Randell's paternal grandfather and then to his father has now been passed on to him. Randell's other grandfather also played the accordion.
Note: Brad Randell and the Zydeco Ballers are still going strong in 2008. Check out their MySpace page.

Note: In 2009, Brad Randall released a new CD title Redemption.
Brad Randell is a young Opelousas Zydeco accordionist who has been busy playing music with his band the Zydeco Ballers ever since he graduated from high school in 1997.
His first recording, Move That Thang, was released by Bad Weather Records in July 1998. A couple of months later, Randell performed at the 16th annual Original Southwest Louisiana Zydeco Festival in Plaisance.
Randell wrote most of the songs on his first CD. His second CD, Brad Randell and the Zydeco Ballers, was released by J & S Records of Ville Platte in 2000, produced by Jay Doucet and Stuart Fontenot. Though the liner notes do not list song writers, most if not all of the songs on the second CD also seem to be originals.
Randell and his band play nouveau zydeco with a sound that explores territory mapped out by Keith Frank and others, but Randell also manages to make his own pathway with his original songs.
The other band members on the 2000 CD are Jockque Randell on drums and background vocals, John F. Boutté on bass and background vocals, Jimi "Tee" Lebean on rhythm guitar and lead guitar, and Joe "Chopper" Chavis, on scrubboard, keyboard, and vocals. Chavis does an especially nice job on the CD's one slow song, "One Life to Live."
Randell can be contacted at 326 W. Cherry St., Opelousas, LA; 1-337-942-5868.