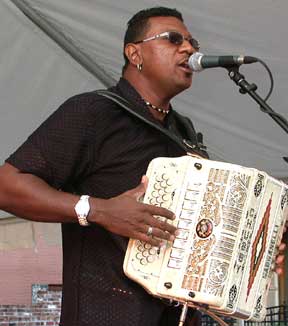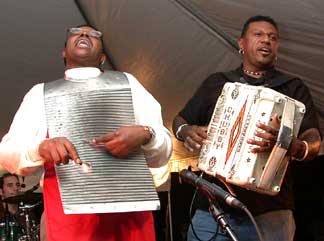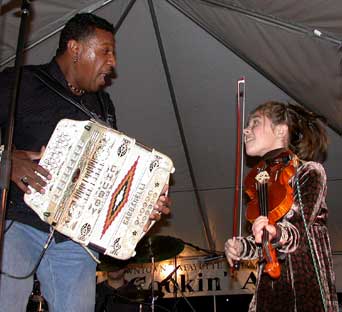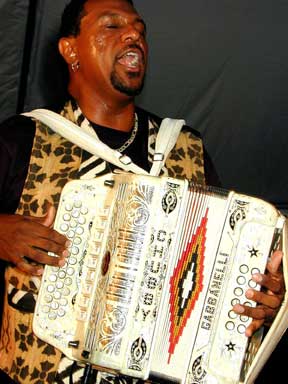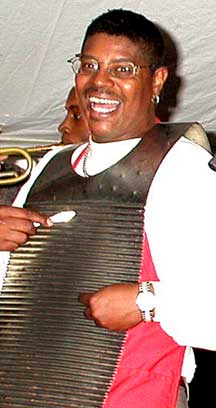 Go the the Official Site of Chubby Carrier and the Bayou Swamp Band, which includes tour dates, sound bytes, articles, biographies, photos, and other material. Since this web page was originally posted, Chubby has released three more CDs: Ain't No Party Like a Chubby Party! (2003), Bayou Road (2006), and Live at Knuckleheads, Kansas City (2007). All are available through his web site. You can also check him out on MySpace.
Joseph R. Carrier, Jr., known to everyone as Chubby Carrier, is a member of a Zydeco dynasty. The son of Roy Carrier, he is a part of the extended family of Creole musicians like Bébé, Eraste, and Calvin Carrière who lived near Lawtell. Chubby Carrier began playing drums in his father's band when he was 12. At age 15 he played accordion on stage for the first time during a performance at the American Legion Hall in Church Point. In Michael Tisserand's The Kingdom of Zydeco, he is quoted as saying that he loves to hear the older Zydeco players because "they're from the heart," but he added that rather than play the same songs heard for decades, he wants to create a new sound with his music, to generate an excitement that lets the crowd know "It's a big party going on."
During the performances at Downtown Alive! in Lafayette in fall 2000 and 2001 when the photos on this page were taken, Chubby Carrier and the Bayou Swamp Band certainly succeeded in pumping up the crowd, creating a party that spread across several blocks. And, though all but one of the cuts on his 2001 CD Take Me to the Zydeco are new songs written by Chubby Carrier, on stage he can perform some of old-time songs, including numbers sung in French by Earl "the Pearl Slicker" Sally on rubboard. And, as he makes clear by dedicating his album to Clifton Chenier, his own mix of accordion, rubboard, guitar, sax, organ and trumpet is really a continuation and evolution of sounds that are part of the music played by the King of Zydeco. According to Herman Fuselier in his "Bayou Boogie" column in the Lafayette Daily Advertiser, the title cut even includes backing by the 18-piece Calvin Owens Blues Orchestra, headed by B.B. King's former music director and trumpet soloist.
The CD is the first one that Chubby Carrier has produced himself, released on his own label Swampadellic Records. The other musicians in addition to Carrier and Sally are Corey Duplechin, bass; Cookie Chavis, lead guitar; Lupe Valdiviez, drums; Carl Landry, sax; Alcedrick Todd, trumpet; Phil Chandler, organ.
Carrier has also recorded a number of other albums: Boogie Woogie Zydeco,1991, Flying Fish Records;Dance All Night, 1993, Blind Pig Records; Who Stole the Hot Sauce?1996, Blind Pig Records; Too Hot to Handle, 1996, Louisiana Red Hot Records; It's Party Time, 1999, Right Click Records.
In addition to his own CD, Carrier has also released a CD featuring Amanda Shaw, a fiddle prodigy who was 11 years old in 2002. (She is pictured at left with Carrier during a November 2001 performance in Lafayette.) In addition to members of Carrier's own band, Amanda's fiddle and vocals are backed by Cajun musicians like Mark de Basile on accordion, Mitch Reed on bass, and Gina Forsyth on guitar. The CD includes Cajun standards like "Bosco Stomp," Creole songs like "Barres de la Prison," and a mixture of other Louisiana music, plus the title track, Amanda's own composition "Little Black Dog."