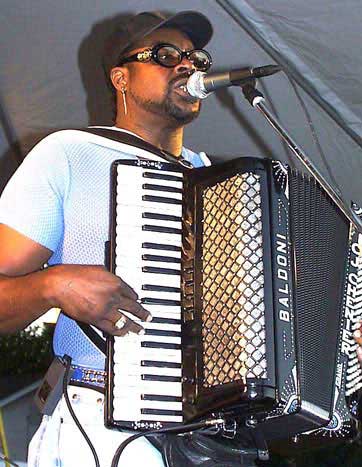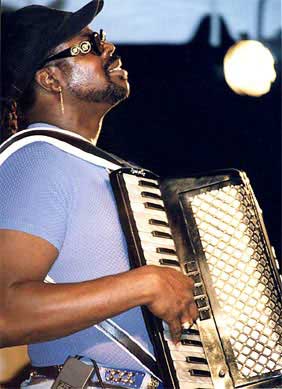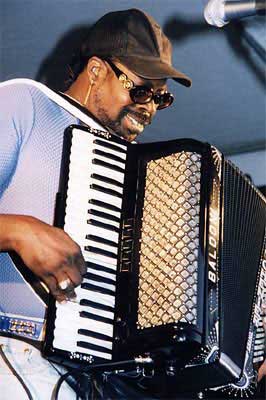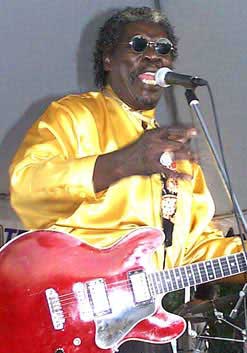 C.J. Chenier is shown performing with the Red Hot Louisiana Band at Downtown Alive! in Lafayette in September 1999. Also pictured is guitarist Harry Hypolite, the only member of Clifton Chenier's original band who still plays in the Red Hot Louisiana Band.
The information on this page was posted in 2001. In addition to the CDs listed below, C.J. Chenier released The Desperate Kingdom of Love in 2006. Click here for C.J. Chenier's MySpace Page.
Clayton Joseph Chenier is the son of the King of Zydeco, the late Clifton Chenier, but, growing up in Port Arthur, Texas, where he was born in 1957, he had only occasional contact with his father, who lived with his wife in Lafayette. As a teenager, C.J. Thompson, as he was known then, going by his mother's last name, had little interest in zydeco.
He was, however, a talented musician who played saxophone and keyboard, so that in 1978 when his father needed a sax player to fill in on a long road tour, he called on his son. C.J. Thompson quickly embraced the world of zydeco, his father's world, and went on to learn to play the accordion and also decided to have his last name legally changed to Chenier.
As his health began to fail, Clifton Chenier let his son sit in for him, and when he died in 1987, C.J. Chenier became the leader of the Red Hot Louisiana Band. As he told Michael Tisserand, he does not try to imitate his father's playing directly: "I play it the way I play it. All he really told me was to do the best I could do with my own style." But, like his father, the only accordion he plays is the piano accordion, an instrument that allows him more freedom than the button accordions used by most zydeco bands today. He can express himself musically in many styles or combinations of styles–ballads, waltzes, blues, boogie, rock and roll, funk, jazz–it all comes together as C.J. Chenier's fingers race up and down the keyboard, what one reviewer describes as "red hot rhythms and soulful grooves." In addition to his own interpretations of songs from different genres and his father's songs, C.J. Chenier has also written a number of original songs.
Recent albums on Alligator Records are Step It Up! (2001), The Big Squeeze (1996) and Too Much Fun (1995). His first album, My Baby Don't Wear No Shoes, recorded in 1988 and released by Arhoolie on CD in 1992, includes the classic Clifton Chenier song "I'm Coming Home." C.J. Chenier also recorded two albums for the alternative rock label Slash: Hot Rod (1990) and I Ain't No Playboy (1992).
Despite its namesake, The Red Hot Louisiana Band is mostly on the road outside the state, and Chenier calls Houston home, but he was in Lafayette in mid-September 1999 to attend a ceremony unveiling a plaque naming a community services building the Centre de Services Communautaires Clifton Chenier. On the day before the ceremony, the Red Hot Louisiana Band performed in downtown Lafayette.
Note: Harry Hypolite died in a traffice accident June 22, 2005, at the age of 69.