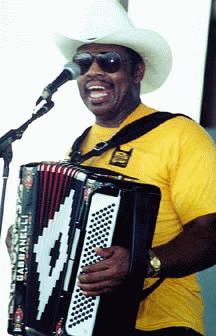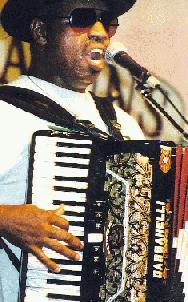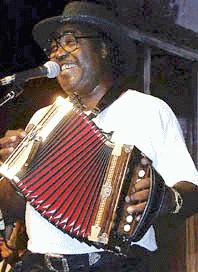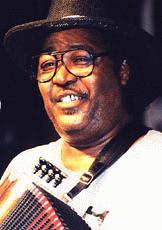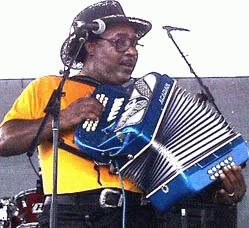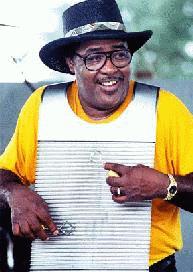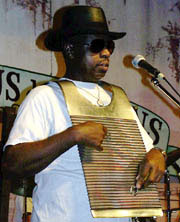 Pictured are Morris Francis in the top row and Warren Prejean Sr. in the next row. They alternate on accordion and scrubboard, and both also handle lead vocals. The photographs were taken in 1999 at the Liberty Theater in Eunice and at the Southwest Louisiana Zydeco Festival in Plaisance.

Note: This page has not been updated to reflect current information. For the latest, go to the Creole Zydeco Farmers' MySpace page. The group has released three CDs not listed below: One More Time (2001), On the Road (2005), and My Big Foot Woman (2007).

The Creole Zydeco Farmers are a popular Lafayette-based zydeco band that has also toured around the country and overseas. Members in 2000 include Walter Prejean Sr., vocals, accordion and scrubboard; Morris Francis, vocals, accordion, scrubboard; Clarence "Jockey" Etienne, drums; Chester Chevalier, lead and rhythm guitar; James Prejean, bass guitar.

The group's 2000 release, Zydeco Y2K, produced by J & S Records of Ville Platte, includes the hit song "Hole in the Wall" about a club that fits the song title's description but that offers more fun than anyplace else. The album also includes a couple of original songs by Morris Francis ("Dog Catcher" and "It's Your Body") as well as zydeco covers of traditional favorites like "Stagger Lee," Otis Redding's "These Arms of Mine" and "Pistol Packin' Mama."

The group's other releases include Come to the Party, Live in Louisiana, and Zydeco Train.