Go to Bruce Daigrepont's Official Site. The site includes lyrics to the songs on his albums in French with English translations.

Circumstances made it impossible to carry out plans to photograph Bruce Daigrepont performing in Avoyelles Parishes during an October 1999 weekend festival, but the following Wednesday there he was in the studios of KBON in downtown Eunice during the radio station's weekly open house for KBON listeners (the LSUE chapter of Students in Free Enterprise was hosting the supper at KBON that night). Seated on a bench in a small back room packed with fans, Daigrepont played and sang. Mark Young of Basile accompanied him on guitar.

Although Daigrepont was born in Marksville in Avoyelles Parish, he grew up in New Orleans, where he performs every Sunday when he is not on tour around the United States or overseas.

Despite being raised in New Orleans far from his Cajun roots, Daigrepont remained close to his Avoyelles Parish origins as a child by returning on week-ends and during the summer to his grandparents' farm near Marksville. He was interested in music at an early age, playing guitar and then banjo. After attending the 1978 Festivals Acadiens in Lafayette, he decided to learn to play Cajun music on the accordion.

Daigrepont says that he believes the audience for Cajun music deserves to hear new songs instead of CD's that simply cover traditional music, so he writes many new songs (on his four albums, he has recorded only 14 covers). He explains, "There are lots of good players but good songs are rare."

His first albums, Stir Up the Roux (1988) and Coeur des Cajuns (1989), both won the Cajun French Music Association's Album of the Year Award. He released Petit Cadeau in 1994 and in 1999 Paradis, an album in which the band consists of accordion, fiddle, bass, and drums, an ensemble that helps to display the excellence of Daigrepont's compositions as well as his wonderful tenor voice. During the group's February 2000 performance at the Liberty Theater in Eunice, Daigrepont and fiddle player Gina Forsyth teamed together to produce a sound that left the audience in awe.

Click here for a few pictures of Bruce Daigrepont at Festivals Acadiens 2000 and 2001

Click here for pictures from a Liberty Theater performance in March 2002..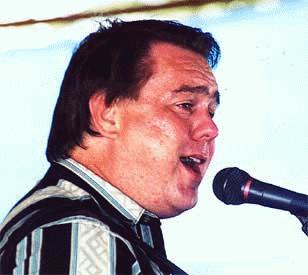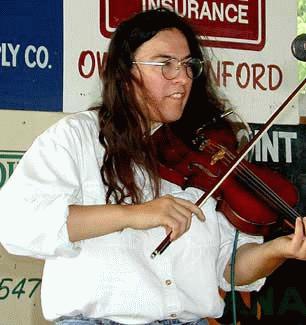 ---
Photographs taken in October 1999 in the studios of KBON in Eunice, in February 2000 at the Liberty Theater in Eunice, and June 3, 2000, on a very warm but breezy day at the Church Point Buggy Festival, where the stage backdrop consists of business signs for sponsoring organizations. Bruce Daigrepont is on accordion and Gina Forsyth is on fiddle.