Click here for high resolution photos of Geno on Flickr.
Go to LSUE's first page on Geno. Go to Geno's Official Web Site.
The photographs on this page were all taken either in LeBeau at a benefit Cajun and Zydeco dance on the beautiful grounds of Immaculate Conception Catholic Church or at the Liberty Theater in Eunice on July 22, 2000.
In LeBeau, the program, which was held on Mother's Day 2000, began at 3 p.m. with Creole Junction, a Houston-based band led by sons of Gene Chambers of LeBeau, who organized the event. The Cajun band Jr. Melancon and the Come Down Playboys followed, and then Geno Delafose and French Rockin' Boogie played from sunset until about 8 p.m. Gene Chambers asked Geno to play his favorite song, "The Lake Charles Two-Step," and, at the request of Todd Ortego of the Music Machine in Eunice, Geno played "The Heehaw Breakdown."
Geno wore a cap instead of his characteristic cowboy hat, but emblazoned on the cap were the words "Cowboys Rule." Since it was Mother's Day, it was especially nice to see Geno's mom, JoAnn Delafose, enjoying herself dancing and mingling with the crowd (she is seen dancing in the foreground of the photograph below).
At the Liberty, Geno and host Barry Ancelet engaged in lively conversations in French in between numbers, which included, for example, "C'est tout fini," "Port Arthur Blues," "Une autre soir ennuyante," "Je va's jamais la voir encore," "Bonsoir Moreau," "Les flammes d'en fer," "Barres de la prison," "The Eunice Two-Step," "La misère m'a fait brailler" (one of his father's songs on the album Père et Garçon Zydeco)–more than an hour of great music that filled the dance area in front of the stage.
Band members were Joseph "Cookie" Chavis on guitar; John "Popp" Esprite on bass; Wilfred Pierre on rubboard; Germaine Jack on drums; and four-year-old Andrew Fontenot, rubboard (and toy accordion on several numbers).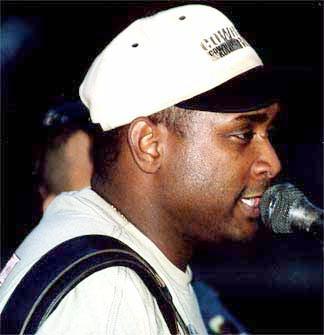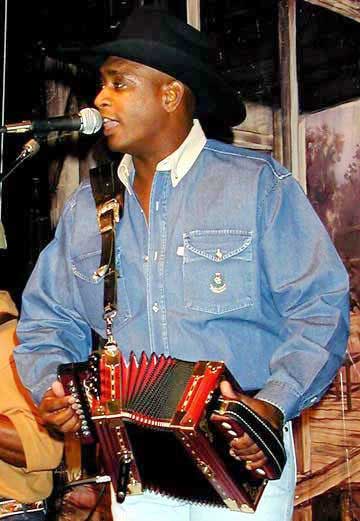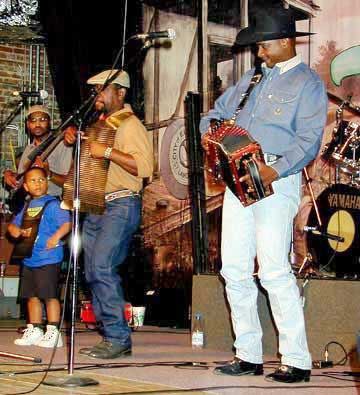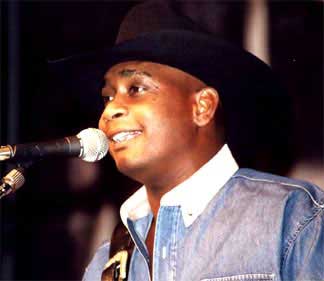 Click here for pictures from Geno Delafose's fan appreciation party October 30, 1999.
Click here for pictures of Geno Delafose playing at the Assumption Catholic Church Hall in Basile.