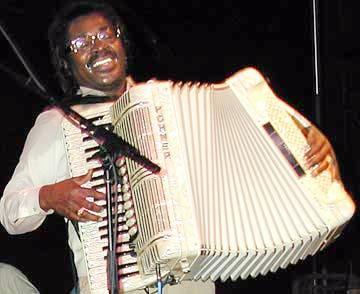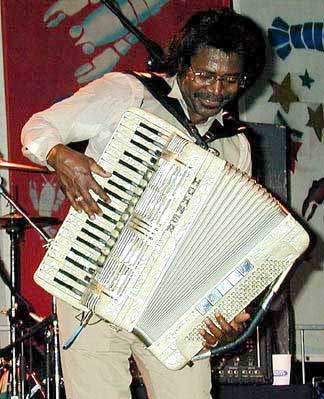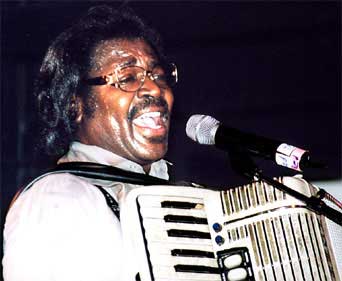 Buckwheat Zydeco is shown performing on a Friday evening during the 2000 Breaux Bridge Crawfish Festival.

Be sure to visit Buckwheat Zydeco's excellent official web site.
Click here for pictures of the tribute to Clifton Chenier at Festival International in 2001.
Buckwheat Zydeco, whose real name is Stanley Dural Jr., has the distinction of performing to an audience that included at least half the people in the world–the more than 3 billion viewers who watched the televised ceremonies at the closing of the 1996 Summer Olympics in Atlanta. Dural played "Jambalaya," the Hank Williams tune (which uses the melody of the Cajun song "Grand Texas"), a song that has become part of zydeco ever since Clifton Chenier performed it in 1975.
Dural has numerous achievements that make him an international star: four Grammy nominations, performances as the opening act for Eric Clapton, U-2, Robert Cray, and Los Lobos, many appearances on national television programs, songs featured in many motion pictures, music for many national commercials–these are only a sampling of his accomplishments.
When he was growing up in a two-room house with 11 siblings at 233 Paul Breaux Ave. in Lafayette, Dural was a talented pianist, but he wasn't interested in learning to play the accordion that his father regularly played at house dances. Instead, at the age of nine, when he joined Sam and the Untouchables, he began a career as a keyboard player, performing rhythm and blues and soul on a Hammond organ. In 1971, he started his own R&B funk band, Buckwheat and the Hitchhikers (he acquired his nickname because the braided hair he had when he was growing up reminded his friends of the character from the Little Rascals).
After achieving considerable success in clubs in Louisiana, Texas, and Mississippi, Dural decided to take a break from touring in 1976, but soon he was invited to become the keyboard player for Clifton Chenier's Red Hot Louisiana Band (Chenier and his father were friends, but the invitation came from Chenier's guitarist, Little Buck Sinegal: Dural had for a time played in a band led by Sinegal). His experience with Clifton Chenier's group convinced him that his musical future lay with zydeco, and in 1979 he left the band to learn to play accordion so that he could start his own group, Ils Sont Partis ("They're off": the French words were also used as a slogan by Evangeline Downs Race Track near Lafayette). By later that same year, Dural had formed his band, had also taught himself to sing, and before long was already touring Europe, He sang many of his numbers in French, a language that he had learned as a child when he was working in the cottonfields near Carencro.
Michael Tisserand's chapter on Dural in his book Kingdom of Zydeco provides many more details about Dural's rise to become a zydeco star. One key development was his acquaintance with Ted Fox, a writer and publicist who introduced Dural's music to the head of Island Records, a national label and who became his manager.
Ben Sandmel also devotes a chapter to Dural in his book Zydeco! In it, he quotes the press release that Fox issued in 1988 emphasizing Buckwheat's policy prohibiting the use of the word "Cajun" in any advertisements promoting Buckwheat's appearances: "Calling Buck a Cajun is sort of like calling an Irishman English, and referring to zydeco as Cajun music is like calling reggae calypso music." The press release also stresses that "zydeco is not New Orleans music" but instead originated in the region surrounding Lafayette.
Though he spends most of his time on the road, Dural does return occasionally to perform near his home at a zydeco club that he helped to establish and, as shown on this page, he also performed at the 2000 Breaux Bridge Crawfish Festival. In the tradition of Clifton Chenier, Dural plays the piano accordion accompanied by a band that includes trumpet, saxophone, and other instruments, giving his music a full-bodied sound. He likes to play songs in a variety of styles: "a little rock and roll, blues, jazz, funk, a little bit of everything and staying to the roots," as he explained to music writer Todd Mouton. On stage, he is a master at energizing his audiences both with his musical virtuosity and his interaction with a crowd. He arranges the music for the band but also loves to improvise, so each performance has its own unexpected moments of excitement.
In 1999, the 20th year of his career in zydeco, Dural's compilation album, The Buckwheat Zydeco Story: A 20-Year Party, was released on his own label Tomorrow Recordings. Included are songs from his Rounder CD's, Turning Point (1983, CD in 1988) and Waiting for My Ya Ya (1985, CD in 1988), two of his Island CD's, On a Night Like This (1987) and Taking It Home (1988), his first CD on the Tomorrow label, Trouble (1997), and songs from other labels. As of 1999, Dural had recorded 15 albums during his career in zydeco. The compilation album also includes notes by Ted Fox that provide a good overview of Dural's life. Dural was at El Sido's night club in Lafayette on Thanksgiving Day 2000 to record a new live album, 73 minutes of great zydeco released in 2001 as Down Home Live! by Tomorrow Recordings. Also in 2001, Rounder Records released a compilation album in its Heritage Series, Buckwheat's Zydeco Party [Deluxe Edition].
In their book Let the Good Times Roll!, Pat Nyhan, Brian Rollins, and David Babb recommend the 1996 AVI CD Best of Louisiana Zydeco, which includes songs from Buckwheat Zydeco's recordings in the early 1980s on the Blues Unlimited label.