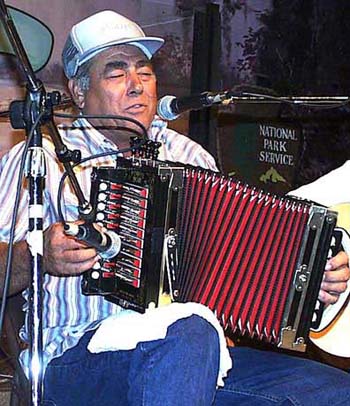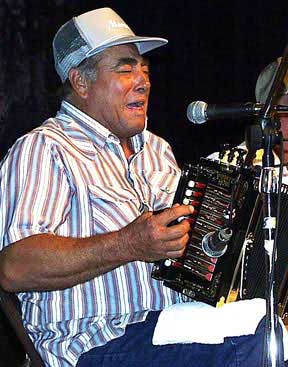 These photographs taken during a 1999 performance in the Liberty Theater show the intensity with which Eddie LeJeune sang and played. As he explained in an interview with Dan Willging, "I am really pushing from the heart when I sing."
Eddie LeJeune died January 9, 2001. He suffered an apparent heart attack while working at a construction site near Eunice. He had been scheduled to perform January 13 at the Liberty Theater. Because his father, Iry LeJeune, died at a very young age, it is especially sad that the son's voice now has also been silenced much too soon.

Click here for a wonderful tribute from the British Cajun band ZigaZag!, including photos, obituaries, interviews (with audio) and an account of the 2001 Eddie LeJeune Benefit held in London, plus unreleased music clips of Eddie LeJeune recorded in Morse in 2000 and a new song, "Playing at the Ball in Heaven," written by Phil Underwood and recorded in England in 2001.

Eddie LeJeune was born in 1951 when his father, the legendary Iry LeJeune, was already a celebrated Cajun musician who played accordion and composed songs that are now Cajun standards. After his father died in 1955 in a tragic highway accident, LeJeune learned the accordion by watching his grandmother play. According to the biographical sketch in Let the Good Times Roll, LeJeune grew up in rural poverty, so that playing the accordion became not only an expression of musical talent but also a way of earning money for his family. He subsequently worked at rice mills and in the oil fields, and he also was a tenant farmer. Though he continued to play, he did not record until he was 37.

In an interview with David Willging, LeJeune described his playing as "a real hard and pure style. It's completely original...It comes from the heart." LeJeune performed with a fiddler and guitarist--no drummer--so that he set the rhythm and timing for the group. As LeJeune explained, because the instruments play at the same level, "Everybody can distinctly hear each instrument. It's so much purer and cleaner and more original." LeJeune also sang in the old style, reminiscent of the pre-amplification days when a singer's voice would have to carry across the dance hall. He explained, "I am really pushing from the heart when I sing."

Eddie LeJeune's albums, released by Rounder Records, include It's in the Blood (1991) with Lionel Leleux on fiiddle, Hubert Maitre on guitar, and Eddie LeJeune Jr. on triangle, Le Trio Cadien (1992) and Cajun Soul (1988), both with Ken Smith on fiddle and D.L. Menard on guitar, and Cajun Spirit (1998) with Terry Huval on fiddle and Hubert Maitre on guitar.