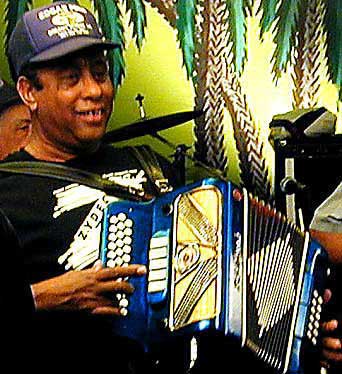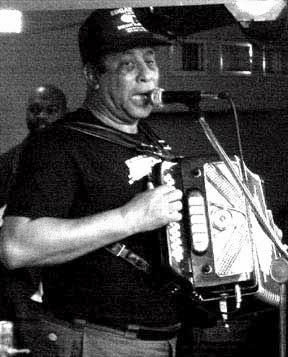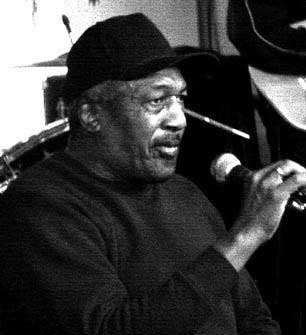 Pictured are Fernest Arceneaux on accordion, leader of Fernest and the Thunders, and Gene Morris, who was a vocalist with Fernest and the Thunders, among other bands. All photos taken at Slim's Y-Ki-Ki Club in Opelousas during a taping session of old-style zydeco performers organized by John Broussard and Melvin Ceasar, hosts of the Saturday morning "Zydeco Est Pas SalÚ" program on KRVS public radio in Lafayette. Acadiana Open Channel, the public access channel in Lafayette, taped the program. Because the digital photos shown above were taken without flash, two were converted to black and white so that they could be lightened without distorting the colors. The picture below was the only flash shot taken.
Fernest Arceneaux died Sept. 4, 2008, at the age of 68. Obituary notices described him as "the New Prince of the Accordion."
Fernest Arceneaux was born in 1940 in Carencro, the son of sharecroppers. According to Dan Willging in his liner notes to Arceneaux's 2000 CD, Old School Zydeco, Arceneaux learned the basics of playing the accordion when he was a child by watching his neighbors as they gathered for nightly jam sessions on the front porch. Arceneaux learned to play on an accordion borrowed from his brother-in-law when the latter was working in the fields. Arceneaux played at house parties when he was young, and even took part in jam sessions with Hiram Sampy, Rockin' Dopsie, and Clifton Chenier.
However, subsequently he switched to the guitar and in the 1960s played in an R&B group that featured two drummers. According to Pat Nyhan, Brian Rollins, and David Babb in their book Let the Good Times Roll!: A Guide to Cajun and Zydeco Music, the percussion section was so loud that the band gained the name Fernest and the Thunders.
In 1978, when zydeco was gaining in popularity, Clifton Chenier convinced Arceneaux to take up the accordion again and switch to zydeco, bringing to his music some of the same blues influences found in many of Chenier's songs.
Arceneaux toured Europe regularly, and several of his recording are on overseas labels, including Zydeco Stomp! recorded in 1981 and released on CD in 1995 by JSP in England; and Rockin' Pneumonia, recorded in 1979 and released on CD in 1991 by Ornament/CMA in Germany.
Two CDs are available from New Orleans' Mardi Gras records: Zydeco Blues Party (1994), which includes his mid-1970s intrumental, "Zydeco Boogaloo," which became a Zydeco standard, and Old School Zydeco (2000). He also performs "Jolie Blonde" and "Bernadette" on Mardi Gras' compilation CD Super Cajun, released in 1996. In addition, Arceneaux has recorded on the Blues Unlimited and Greybeard labels.
When injuries sidelined Arceneaux in the late 1980s, the original Thunders broke up (two members, Clarence "Jockey" Etienne and Chester Chevalier, are now part of the Creole Zydeco Farmers).
The 2000 CD, Old School Zydeco, features Paul "Lil' Buck" Sinegal on guitar, Alonzo Johnson on bass, Joseph Edwards on percussion; and Jerry Jumonville on saxophone. The CD includes a nice assortment of songs, with both blues-oriented numbers and rural zydeco: John Delafose's "Joe Pitre Has Two Women" and "Watch That Dog," an Alvin Cormier song also recorded by Delafose; Rockin' Sidney's "Good for the Gander"; Clifton Chenier's "Tous les temps en temps" ("Tu le ton son ton"); Fats Domino's "Three Nights a Week"; two traditional French songs, "Hippy Ti Yo" and "J'ai passÚ devant ta porte"; Gene Morris' "Going Back to Big Mamou"; and Arceneaux's own songs, including "Whole Lot of Love," "So Long," and the instrumental "Old School Zydeco."
In 2001, at CREOLE, Inc.'s annual awards show, Arceneaux received the Alphonse "Bois Sec" Ardoin Heritage Award. In addition, Paul "Lil Buck" Sinegal was named Guitarist of the Year.
Fernest Arceneaux remains a very talented zydeco accordionist. On the night at Slim's Y-Ki-Ki Club when these pictures were taken, he was joined on vocals by Gene Morris, who recorded with Arceneaux and with Rockin' Dopsie.