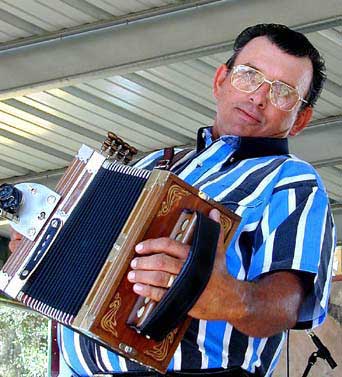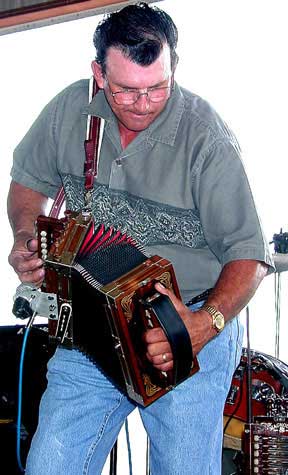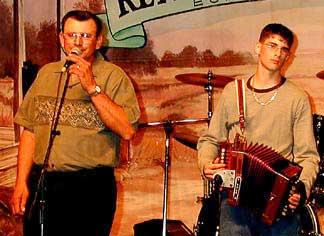 In the picture immediately above, Felton LeJeune is shown performing with his son, Troy, on accordion at the Liberty Theater in January 2001. Troy was 16 when this shot was taken.
Click here for hi res photos on Flickr.

Born in 1951, Felton LeJeune has been playing accordion professionally since he was 15 years old. He got his first job performing with the Church Point Playboys, a group that under the leadership of Elton "Bee" Cormier helped along a number of aspiring accordionists who have gone on to form their own bands. LeJeune fondly remembers his days with the Playboys, performing at a number of clubs in the region like the old Green Wing Club in Eunice.
After he returned from the service in 1972, LeJeune formed his own band, the Midnight Playboys. In 1982, the group changed its name to the Cajun Cowboys. Throughout Southwest Louisiana, Felton LeJeune and the Cajun Cowboys have established a reputation for performing great traditional Cajun dance hall music.
LeJeune's accordion can be heard on recordings with the Church Point Playboys. The Cajun Cowboys do not have any recordings yet, but the group is working on a CD.
In addition to Felton LeJeune on accordion, other members of the band when these photos were taken in 2000 and 2001 are Ray Guidry, fiddle; Ed Guidry, guitar; Leon LeJeune, bass; and Scott LeJeune, drums.
For more information about the group, contact Felton LeJeune in Crowley at (337) 783-4768.
---
The top photographs were taken at Festivals Acadiens in Lafayette on September 16, 2000. The other photographs of Felton LeJeune were taken at the Louisiana Cajun Culture and Music Club Festival in Eunice June 10, 2000. In the picture at the bottom of the page, taken at the Liberty Theater in Eunice, are, from left, Ray Guidry, Scott LeJeune, Felton LeJeune, Ed Guidry, and Leon LeJeune.