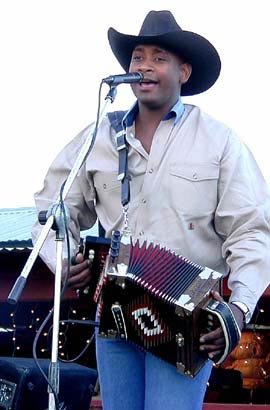 Geno Delafose's fourth annual fan appreciation party at his Double D Ranch a few miles north of Eunice attracted some 500 fans from near and far, including a number of Creole, Zydeco, and Cajun musicians. Like his late father, the great John Delafose, Geno is a generous man who knows how to please a crowd while exhibiting his skill and versatility as an accordionist performing Creole and Zydeco music primarily in French.
Other musicians like JoJo Reed, Sheryl and Russell Cormier, Willis Prudhomme, Hadley Castille, Sean Ardoin and Clarence LeDay also performed. Alida Viator of Tasso (pictured below) joined Geno on fiddle for several numbers. Geno's latest CD, "La Chanson Perdue," features five songs that include the fiddle, an instrument no longer heard in most Zydeco music. Also pictured at the bottom of this page are some of Geno's classmates from Mamou High School, where he graduated in 1989. The class was holding its 10th reunion that night.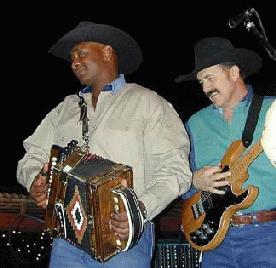 A flatbed trailer served as the stage parked in front of the horse stables. Fans danced on the grass in front of the stage and also enjoyed a barbecue supper--all free courtesy of Geno Delafose.
Click here for pictures of more musicians.
Go to the Cajun, Creole, and Zydeco Music Home Page.
Go to the first page on Geno's Fan Appreciation Parties.
Go to LSUE's main page on Geno.