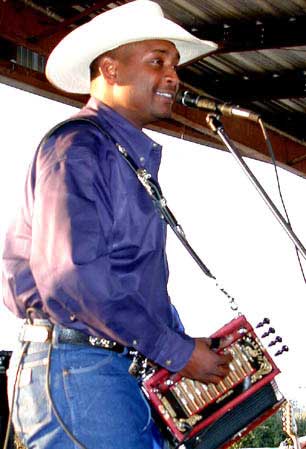 Fans either danced on the spacious concrete floor of the pavilion or dined on some great barbecue prepared by the Delafose family. According to Herman Fuselier in the "Bayou Boogie" column in Offbeat magazine, the Delafoses grilled 400 pounds of meat, peeled 200 pounds of potatoes, and boiled 18 dozen eggs for potato salad–all served free to everyone there. All fans had to supply was their own liquid refreshment.

After Geno's initial set, other musicians performed, giving the crowd a taste of a variety of Creole and Zydeco music, with Geno sitting in on drums with a couple of the groups. Then a little before 9, he and his band returned to the stage for a final set, joined by Alida Viator on fiddle.

Click here for pictures of other musicians.

Click here for more pictures of musicians.

Click here for pictures of the crowd and of Geno, family, and friends on stage at the end of the event.

Go to the first page on Geno's Fan Appreciation Parties.
On October 14, 2000, Geno Delafose invited all of his fans to his fifth annual Fan Appreciation Party. Originally scheduled to be held at his Double D Ranch near Eunice, the event was moved to the pavilion at the Northwest Community Center in Eunice because early weather forecasts predicted possible rain. The weather stayed dry, but, given the size of the crowd–some 600 people, the pavilion turned out to be a more practical location.

At about 5:30, Geno Delafose and his band mounted the pavilion's stage and launched into a spirited rendition of "The Eunice Two-Step," followed by close to an hour of great Creole and Zydeco music before Geno yielded the stage to Horace Trahan.