High res photos of Goldman Thibodeaux now on Flickr, plus Zydeco Joe Citizen.


Goldman Thibodeaux
2007 CD:
French Creole House Dance

Goldman Thibodeaux's third CD, released in early 2007 on Louisiana Radio Records, is titled "French Creole House Dance." It's just what the title says: real old style la-la consisting of 22 cuts that will warm your heart and fill your soul with joy.

---


Shown from left are Mitch Reed on fiddle, Tom Norman on drums, Goldman Thibodeaux on accordion and vocals, Zydeco Joe Citizen on scrubboard, Lisa Reed on guitar, and Ray DeVille on bass. Click here for more photos, including photos from the 2005 Original Southwest Louisiana Zydeco Festival.

Goldman Thibodeaux
in 2004

Goldman Thibodeaux and the Lawtell Playboys suffered yet another loss with the death of Russell DeVille in fall 2004, but the band carries on, as shown in the photo taken at the Liberty Theater Nov. 20, 2004.

---

Goldman Thibodeaux & the Lawtell Playboys: Second CD Released in 2003

The photos were taken in March 2003 at the Old City Market Building in Opelousas. Shown are D'Jalma Garnier on fiddle; Goldman Thibodeaux on accordion; and the late Russell DeVille on drums. For booking information, see the bottom of this page.

Click here for a few photos from the 2003 Original Southwest Louisiana Zydeco Festival.

Goldman Thibodeaux and the Lawtell Playboys have released their second CD on Louisiana Radio Records. You get to hear 18 great cuts from a band dating from 1946 carrying on a tradition of Creole music that goes back many decades earlier. And, like the Creole music from those earlier eras, the band is heard playing not in a studio or a dance hall but at Goldman Thibodeaux's home just west of Lawtell, where they gathered for a gumbo. You also get to hear them exchange comments between several songs. On fiddle is D'Jalma Garnier, who handles the vocals on "Tes Parents." Courtney Fuller is on guitar for most of the songs.


The late James Warren "Baggy" Latiolais, shown on guitar with Goldman Thibodeaux and the late Calvin Carrière in 2001 at St. Ann's Catholic Church, plays guitar and sings three songs on the CD: "La Danse de Limonade," the hilarious tongue-twister "La Cravatte" (followed by an informal explanation of the song in English) and "I-10 Waltz." Tragically, he was killed in an automobile accident on I-10 near Denham Springs a few weeks after the recording was made.

---
Calvin Carrière died of lung cancer March 3, 2002, at a hospital in Opelousas. There is really no one who can take his place. He was always quiet and unassuming on stage, but he poured his soul into that fiddle, through which he expressed the sorrows and joys of his life and the lives of the Creole people in Louisiana. His collaboration with Goldman Thibodeaux, a friend since childhood, produced one compact disc that contains some of the most heartfelt music ever recorded. For those present at any of their performances, Calvin Carrière gave us memories that we will always cherish.

When he was eight years old, Goldman Thibodeaux watched and listened as the legendary Amédé Ardoin played by himself at a house dance. Sixty years later, Goldman Thibodeaux collaborated with Calvin Carrière to bring back the sorrowful, joyous, beautiful sounds of Creole music in their first and only CD together, Les misères dan le coeur, released in fall 2000 by Louisiana Radio Records.
According to the liner notes by Erik Charpentier, Thibodeaux, who was born near Lawtell, was widely admired as a singer at community functions, but he didn't learn to play the accordion until he was 50 years old. When Delton Broussard, the accordion player for the Lawtell Playboys, began to experience health problems, he invited Thibodeaux to sit in. After Broussard died, Thibodeaux became the band's regular accordionist.
Calvin Carrière was the son of the late Eraste "Dolon" Carrière, the accordion player who teamed with his brother, fiddler the late Bébé Carrière, in the original Lawtell Playboys. The two brothers retired from most public playing in 1966, when Delton Broussard, who had received accordion lessons from Eraste Carrière, and Calvin Carrière, got together in a new version of the Playboys. (Nick Spitzer recorded both the Carrière brothers and the Lawtell Playboys on the 1977 Maison de Soul cassette Louisiana Black French Music. Their music is also included on the Rounder cassette Zodico: Louisiana Creole Music.)
Whether it's called Creole or La-La or Zydeco, the music that had a central role in the social life of the rural French-speaking black communities in Louisiana is deeply moving. On the CD, Goldman Thibodeaux's voice resonates with emotion, and Calvin Carrière's fiddle sings as well, with the blues, with heartache, but also with joy on songs like "Madame Faielle."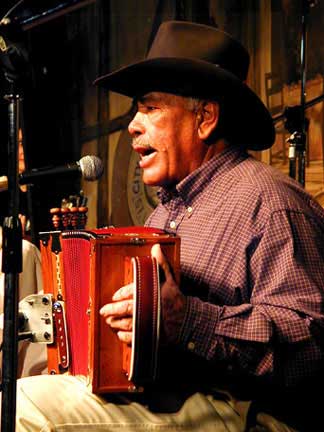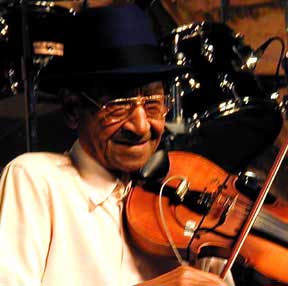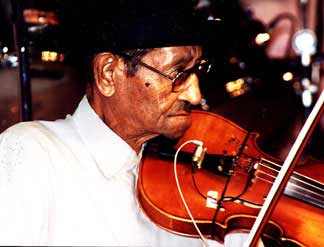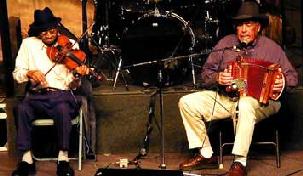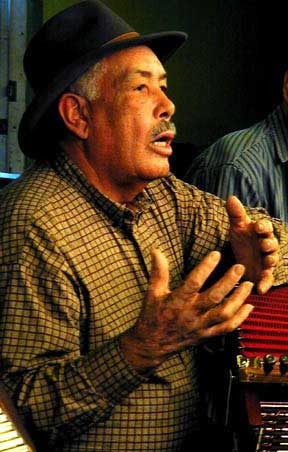 Thibodeaux's accordion and Carrière's fiddle blend and mix together wonderfully. James Latiolais (who died in a car accident in and Lisa McCauley on guitar and Russell DeVille on drums, triangle and some vocals fill out the sound with just the right addition of rhythm and percussion.

The CD begins with "Baby Please Don't Go" sung in both English and French, and then offers "Goldman's Hard Times," Thibodeaux's own song about life's struggles but also about family love (the lyrics are included, transcribed by Barry Ancelet and translated by Lisa McCauley). Next are "Jolie Catin," "Chère Toutoute," "Madame Faielle" "Valse à Lawtell," "Eunice Two-Step," and an especially soulful version of "Les Barres de la Prison."

The CD continues with Calvin's version of his uncle's "Blues à Bébé," "Valse des Mèches," "Petite ou Grosse," "Love Bridge Waltz," and the instrumental "Goldman Thibodeaux Special," and concludes with "Jongle à Moi." Most of the songs are familiar, but it's been a long time since anyone has performed them like this.

The CD includes photographs of the musicians playing outside in Lawtell, where the album was recorded live on location. The notes explain, "Consequently, people in the background may occasionally be heard having a good time."

For more information, contact Goldman Thibodeaux at 9226 Highway 190, Opelousas, LA 70570; phone (337) 543-7010.

Click here for more pictures, including shots taken at Festival International de Louisiane and at St. Ann's Catholic Church in Mallet.

Click here for photos taken at the Southwest Louisiana Zydeco Festival August 31, 2002.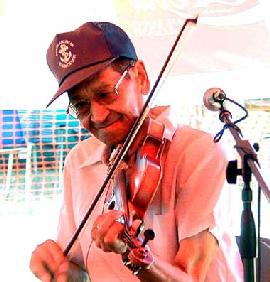 The photographs on this page were taken at the Liberty Theatre January 27, 2001, and also during performances at which Goldman Thibodeaux and Calvin Carrière were not playing together. The top two photos in each column were taken during the Liberty Theatre performance. In the next photo in the left column, Goldman Thibodeaux is pictured while talking to John Broussard, co-host of a zydeco program on KRVS public radio, during a video-taping session held at Slim's Y-Ki-Ki Club in Opelousas.
Carrière had planned to be at the session but was unable to attend. Carrière is shown in the right column playing at the 2000 Southwest Louisiana Zydeco Festival in Plaisance. The photo at the bottom of the page shows Lisa McCauley on guitar, Calvin Carrière on fiddle, Russell DeVille on drums, Goldman Thibodeaux on accordion, and James Latiolais on guitar. Latiolais dies in a car accident the month after Carrière's death.