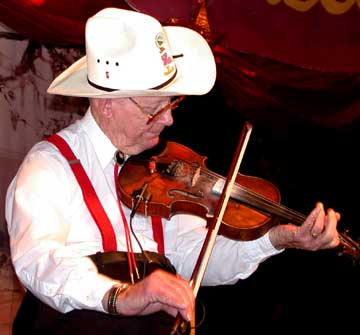 Click here to go to the first page on the Hackberry Ramblers.

The Hackberry Ramblers were on tour during spring 2002 showing up at festivals all over Louisiana, headed for for their first European tour during summer 2002.
Luderin Darbone, born in 1913, and Edwin Duhon, born in 1910, named their band The Hackberry Ramblers in 1933, and they've been together ever since. They've seen the Depression, World War II, rock and roll, flower power, disco, the computer age, and 9-11, and they're still going strong.
On June 6, 2002, the National Endowment for the Arts announced that they will share one of 13 National Heritage Fellowships awarded in 2002. The award is the country's highest honor in the folk and traditional arts. Each fellowship includes a one-time award of $10,000. The choice was based on Darbone and Duhon's artistic excellence, authenticity and contributions to their field.

Darbone on fiddle and Duhon on accordion are pictured during a performance at the Liberty Theater in Eunice March 23, 2002.