Click here for hi res photos on Flickr.
Most Cajun musicians have spent their lives working their regular jobs and playing music on the side, in clubs, in jam sessions, and at home among friends and family members. Often, they have gained little notice outside the community in which they live. Thanks to the efforts of his daughter and son-in-law, Harry Trahan has been able to share his musical legacy with a wider audience through the release in 2001 of a CD, À la Maison. The CD was produced by Mitchell Reed, fiddler with the band Charivari, and the liner notes were supplied by his wife, Lisa Trahan, who is a member of The Magnolia Sisters. (Note: they are no longer married.)
According to Lisa Trahan, Harry Trahan–known as "Ruebin" to all of his friends in the Judice and Scott area–has been playing the accordion since he was 12 years old. His first band, The Judice Ramblers, included his school friends Rex Champagne on drums and Bessyl Duhon on fiddle. After marriage, Harry Trahan moved to Port Acres, Texas, in 1956, settling in a region that, when the economy revived during World War II, had attracted many Cajuns, who brought their culture with them. He worked for the City of Port Arthur by day, but at night he played Cajun music in nightclubs like the B.O. Sparkle Club, The Blue Jean Club, The Super 73 Club, The 73 Hall, and The Rodair. He also has a radio show.
After her father decided to end his career as a dancehall musician, Lisa Trahan says that he learned to play Zydeco music on a triple-row accordion when his father, Raoul Trahan, became interested in the music of Clifton Chenier.
She says that her father has continued to play music with his family and friends in jam sessions at the house. The CD À la Maison gives listeners a very real sense of what those sessions are like because it was actually recorded, as the title indicates, at the house. In addition to his daughter, who plays guitar, triangle, and rubboard, and son-in-law, who plays bass as well as fiddle, Harry's brother, swamp pop sax player "Willie T" (Wilvin Trahan) joins him on several songs. The drummer is Rex Champagne, Harry's schoolboy friend, who has been a drummer with many Cajun bands over the years.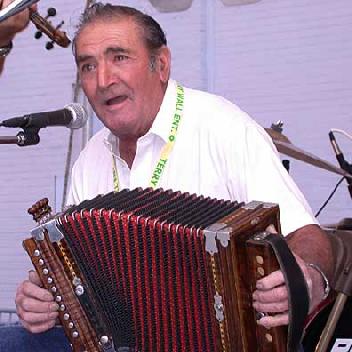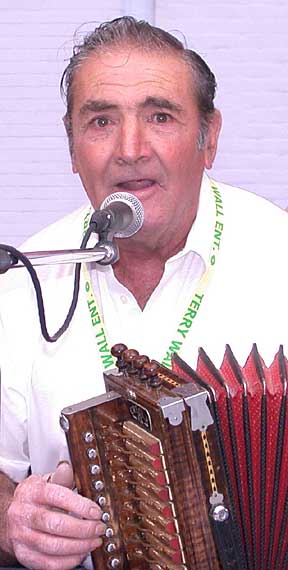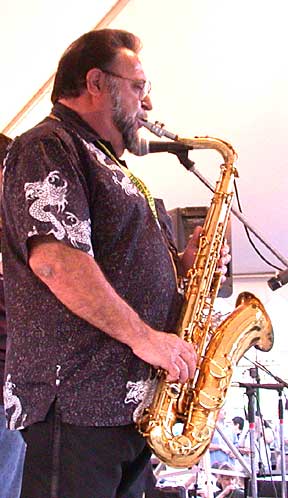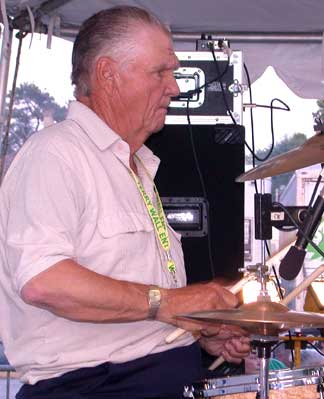 The field recording quality of the sound actually enhances the listener's feeling of being there sitting in a living room or on a porch hearing family and friends playing familiar Cajun songs like "J'étais au Bal," "Heritage Waltz," "Hard Luck Waltz," and "Lovesick Waltz," all with vocals by Harry Trahan. Instrumentals on the CD include "Hicks Wagonwheel Special," "Ton 'Tit Bec Est Doux," "Crowley Two-Step," "French Blues," "FiFi Foncho," and "Mamou Two-Step." There's also a French version of "The Wild Side of Life." Lisa Trahan sings on "Marais Buller."

The tracks with Willie T on sax include "One Scotch, One Bourbon, One Beer," and "Abbeville Two-Step," plus two Zydeco numbers, "Paper in My Shoe" and "Zydeco Man."

Was the instrumental "Valse de Ruebin" recorded during the same sessions? The pops on the track make it sound like an old recording. Whatever the source or setting of these recordings, we can be grateful that the Trahans have chosen to share these songs with us and to let us sit in on the jam sessions that have always been part of their lives.
---
The photos on this page were taken April 26, 2002, at the CA Guitars Scène Louisiane stage during Festival International de Louisiane in downtown Lafayette. In addition to photos of Harry Trahan in the right column, also shown are "Willie T" (Wilvin Trahan) on saxophone and Rex Champagne on drums. Also shown in the bottom photo are Mitchell Reed on fiddle, Lisa Trahan on guitar, and Jane Vidrine (a member of The Magnolia Sisters) on bass.