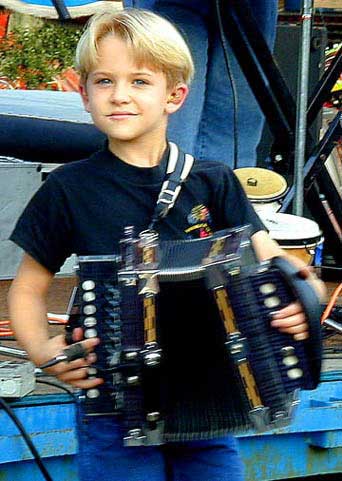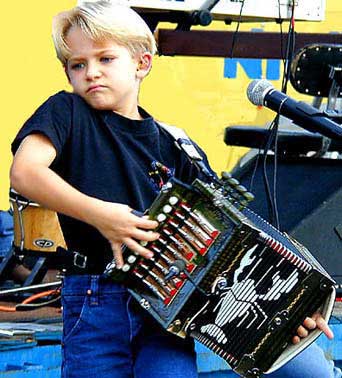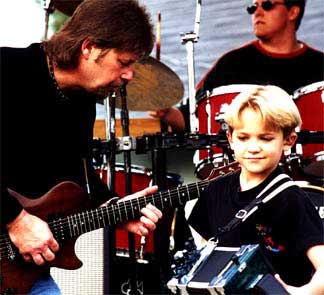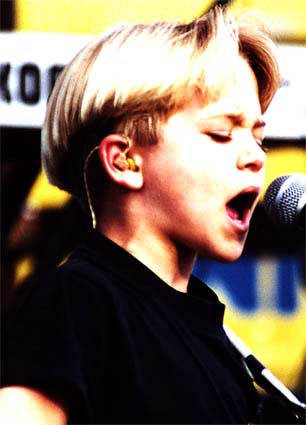 All pictures above were taken at the Port Barre Cracklin' Festival on November 12, 2000, when Hunter Hayes was nine years old. The crowd of children was so deep around the stage that all of the shots had to be taken with telephoto lenses. Behind the children was a large crowd of adults. Hunter Hayes' voice is young, but he is a highly talented, accomplished musician, and everything about his performance is thoroughly professional. The photograph in the right hand column was taken in June 1998 at the Church Point Buggy Festival.
Hunter Hayes' Official Web Site includes numerous photographs, a biographical sketch, an appearance schedule, sound clips, and a lot more.

Most of the pictures on this page were taken at the Port Barre Cracklin Festival on November 12, 2000, when Hunter Hayes was all of nine years old. As he prepared for the performance, he was clearly in charge, giving directions to the sound engineers to adjust the equipment and making sure that the other musicians in his Louisiana H.O.T. Band were ready to begin playing. Well before the performance began, children were crowding around the stage. The festival even stationed security personnel in front of the stage throughout the performance as fans continued to press forward. After thrilling the crowd for nearly two hours with songs in both French and English, including his own compositions, Hunter was followed off stage by fans who wanted his autograph or asked him to pose with them in photographs.

Hunter Hayes could make a strong claim to being the most widely known Cajun musician performing at the start of the 21st century. He began playing accordion for audiences at age two, was singing in French by age two-and-one-half, was appearing at regional events by age three, and was included in the nationally televised TBS special "Roots of Country" at age four. Since then, he appeared in the Robert Duvall movie The Apostle, was a guest on several national programs including TNN specials and shows hosted by Rosie O'Donnell, Maury Povich, and Regis Philbin, and was featured in People magazine–just to mention a few items from the extensive biographical sketch included on his official web site.

Hunter Hayes' second CD (he recorded the first one when he was age four) is entitled Through My Eyes. It was recorded when he was seven years old. He wrote the opening song, "Six Years Old," which sees life from the viewpoint of a small child who has no real control over what happens around him. He also wrote the closing song, "Malfunction," with lyrics about romantic betrayal. Hunter Hayes also arranged two of the traditional French songs that he performs, "Jolie Blonde" and "J'ai passé devant ta porte." The other selections offer a good variety of Cajun and zydeco music: Iry LeJeune's "Valse de Calcasieu," Joseph Falcon's "Allons à Lafayette," Wayne Toups' "Rockin' Flames" (written with Jean Arceneaux), Clifton Chenier's "Lafayette Waltz", D.L. Menard's "La porte d'en arrière," Belton Richard's "Un autre soir ennuyant," the Sundown Playboys' hit "Saturday Night Special," and the instrumentals "Zydeco Boogaloo" and "Amédé Two-Step," plus Hank Williams' "Jambalaya." The CD notes include lyrics in French and English.

Other band members on the recording are Jason Begeron on drums and fiddle; Derek Dugas on vocals and bass; Fabian Champagne on vocals, rhythm guitar and lead guitar; and Darryl Fontenot on vocals, piano and organ.