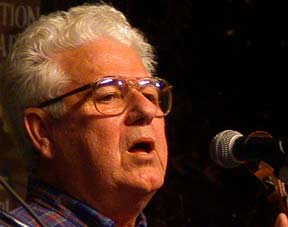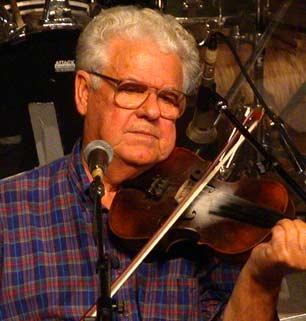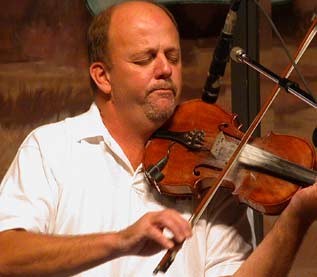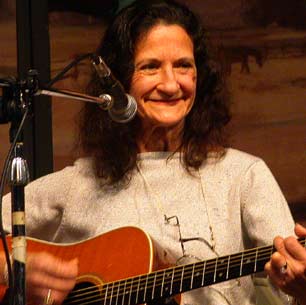 Harry LaFleur is pictured in the top two photos. Bubba Frey is shown in the next photo. Claudia Wood, who is a National Park Ranger at the Prairie Acadian Cultural Center in Eunice, is shown on guitar. In the bottom photo, Dale Savoie is on bass, and his wife, Barbara Savoie, is on keyboard.
Click here for hi res photos on Flickr.

Harry Lee LaFleur was born in 1933 in Swords just east of Eunice and north of Church Point. According to the liner notes in his 2002 CD Kathleen's Crown of Roses, when he was about six years old he became interested in Cajun music, inspired by his grandfather, who played fiddle. He also watched and listened to his brother Raymond, who played with Iry LeJeune. Although Harry LaFleur at first was a guitarist, he eventually switched to fiddle. He played with such legendary musicians as Iry LeJeune, Dennis McGee, Nathan Abshire, and Wallace "Cheese" Read.

During the 1950s, LaFleur had a radio show on KSLO in Opelousas and also led his own band, Harry and the Louisiana Aces. He dropped out of music for many years while operating a body repair shop, but at the urging of his wife, Kathleen, and with the revival of interest in Cajun music, he formed another band, Harry and the Cajuns. Other members included Mark de Basile (Mark Meier), Vincent Fontenot, Eston Bellow, Claudia Wood, and Ricky Duhon. In 1984, he founded the Cajun French Music Association, which has grown to more than 2000 member families and ten chapters in Louisiana and Texas. Each year he performs at the start of the CFMA's annual festival in Lafayette.

The group released an LP in 1988, which for a time was also out on cassette, but new copies are no longer available.

For a number of years LaFleur played twin fiddles with Bubba Frey, who owns a store and restaurant in Mowata. Claudia Wood is still with the band on guitar. On bass and keyboard are the husband and wife team of Dale and Barbara Savoie. The groups is pictured on this page during a November 2001 performance at the Liberty Theater.

In June 2002, the group recorded a CD, which begins with the title track, "Kathleen's Crown of Roses": an English paraphrase of most of the French words is included in the notes. Many of the other songs are waltzes, with LaFleur's fiddle soaring beautifully above the rest of the melody.

Among the songs with vocals in French are "It's All Over," "Hand and Hand in Love," "Life Is Not Given," "No Regret," and "J'ai Passť Devant Ta Porte." LaFleur wrote "The Last Minute," a song about the Prairie Cajuns recited in English, and he sings a "Blues" in English. The last cut, "Amazing Grace," is also in English.

A number of the songs are instrumentals that are often hauntingly lovely: "Marie," "Cajun Line Dance," "It's All Over," "Broken Wine Glass," "A Tribute to a Musician" ("Grand Mamou"), "Waltz of the Big Woods," "Harry's Reel," "Over the Waves," and "Contradanse Papa," a tune that revives the music of a French dance style that used to be popular in Southwest Louisiana in the nineteenth century.

Other musicians on the CD besides those pictured on this page are Dr. Eugene Segura on third violin; Donna Segura on piano; Eston Bellow on first drums; Debby and S.J. Hemleben on second drums; Bryan LaFleur on first base; Vincent Fontenot on second base.

The CD was recorded at the Cajun String Studio at LaFleur's home, 132 Savoie Drive, Eunice, LA 70535. For booking information, contact Harry LaFleur, (337) 457-0662.