Click here for high resolution photos on Flickr.
The photos include more recent members of Cajun Boogie like Bradley Venable.

CD Shades of the Past released in late 2006

In his 2006 CD, Shades of the Past, Howard Noel Jr. and Cajun Boogie offer more dancehall music with their versions of Cajun standards like "La Valse de Kaplan," 'Scott Playboys' Special," Aldus Roger's "Playboys' Waltz" (the band shifts gears to end with a two-step), Belton Richard's "Fool's Waltz," and Camey Doucet's "C'est Tout Fini." Other songs include the instrumental "Acadian Two-Step," "La Clef de la Prison," and "Planter un Clou dans Mon Cerceuil," a song by Bee Cormier, the grandfather of Matt Cormier, who plays fiddle for Cajun Boogie.

In addition, with Carl Hollier on accordion, the band plays three Zydeco tunes: "Nonc Eddie," "Lucille," and "Joe Pete."

There's one new song in English, "Pretty Sweet Eyes," with new lyrics to the tune of "'Tit Yeux Noirs." "Arrêtes de Courir dans Mes Souliers" by the band's steel guitar player, Ulysse Poirrier, is a new version of a song Poirrier recorded a few years back with the Bayou Teche Band.

The CD features Howard Noel Jr. on drums and vocals; Matt Cormier on fiddle; Carl Hollier on accordion and vocals; Ulysse Poirrier on steel guitar. All are shown at left performing at the Liberty Theater, along with Danny Brasseaux on accordion, who is pictured at a Liberty performance Jan. 20, 2007. Other musicians on the CD, not pictured, are Leon LeJeune on bass; Mark Broussard on electric guitar.

The CD was released by Lanor Records, 406 W. Jefferson St., Jennings, LA 70546; 337-824-6063.

---

Howard Noel in 2004

Howard Noel Jr. and Cajun Boogie are shown at the end of the Mamou Christmas Parade in 2003 when the bands assemble near the Civic Center to play for about an hour.

The musicians shown below, from left to right, are Allen Ardoin on fiddle, Troy LeJeune on accordion, Howard Noel on vocals, Leon LeJeune on bass, and Edwin Guidry on lead guitar. Not visible on drums is Duston T. Noel.

In addition, the CD includes Greg Mouton on saxophone and Merlin Fontenot as a guest fiddler.

La Bague sur Son Oreiller, the 2003 CD released on Lanor Records by Howard Noel Jr. and Cajun Boogie, has been nominated as the Best Album of the Year in the Le Cajun awards competition sponsored by the Cajun French Music Association. In 2004, the band continues to perform regularly at venues throughout Southwest Louisiana.

The title song, "La Bague sur Son Oreiller" ("The Ring on Her Pillow"), a new song by Johnnie Allan, and "La Bague Qui Brille" ("The Ring That Shines"), a Johnnie Allan standard, are both about the pains of love. Howard Noel also sings another new Johnnie Allan song, "La Main d'un Ami" ("The Hand of a Friend"), describing the essential importance of friendship. Other songs include "Paul Daigle sur LeJukebox," "Pour la Balance de Ta Vie" ("For the Rest of Your Life"), "Je Suis Juste Dans Ton Chemin" ("I'm Just in Your Way"), "Cankton Waltz" and "Perrodin Two-Step" by Wallace Read, Hadley Castille's "La Dernière Valse," "Tolan Two-Step" (a fast version of "Waltz à Tolan"), a French and English version of Tommy McLain's swamp pop song "I'll Change My Style," and "Cajun Boogie Special."

---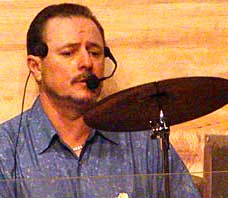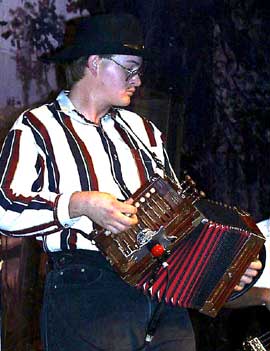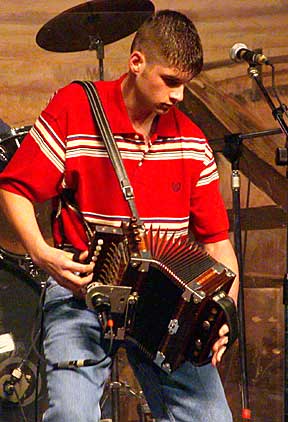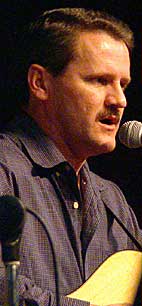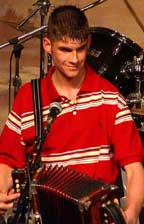 Howard Noel, Jr., is pictured in the top left column. He plays drums and is Cajun Boogie's main vocalist. Jesse Belleau is shown in the next photo, taken at the Liberty about 1999. Noel and Belleau are shown during the same performance in the right column. Troy LeJeune is the young accordionist shown with Cajun Boogie during the March 2002 performance. Edwin Guidry is shown on guitar and vocals.


Howard Noel, Jr., whose father is also a Cajun musician, has become well known in Southwest Louisiana as a tireless organizer of Cajun music jam sessions. In 2001, he went beyond jam sessions to organize his own band, Cajun Boogie.
For the band's first recording, he recruited his long-time friend Jesse Belleau. Noel had been a member of Belleau's group, Cajun Melody, which in 1997 received a CFMA Le Cajun nomination for the best first CD, which was titled Notre Musique Cajun. Belleau's work schedule has made it impossible for him to perform regularly, but Noel was able to coax him into the studios of Sound Center Recorders in Jennings to play accordion for Noel's Cajun Boogie CD, Still a Cajun at Heart, released by Lanor Records.
The CD includes Noel's "Personne M'Aime," "La Valse d'Arnaudville," and "Les Larmes dans Mes Yeux."
Other songs are "The Opelousas Two-Step," "The Crowley Two-Step," "J'aimerais Te Pardonner," "Tu Vas Jamais Casser Mon Coeur," "Step It Fast," "Les Larmes Dans Mes Yeux," "Madame Sostan," Moïse Robin's "Chatouilles Moi Pas" ("Don't Tickle Me"), and "La Talle des Ronces" ("The Briar Patch").
Noel performs Merle Haggard's "Big City" in English.
In addition to Noel on drums and vocals and Belleau on accordion, other musicians on the CD are Bobby Estilette on guitar, S.J. Thibodeaux on bass, Raymond Cormier on fiddle, and Robert Sonnier on lead guitar and steel guitar.
Replacing Jesse Belleau is Troy LeJeune, son of veteran Cajun band leader Felton LeJeune. During Cajun Boogie's performance at the Liberty Theater March 9, 2002, pictured on this page, young LeJeune, whose already very accomplished style resembles his father's, was a big hit with the crowd.
For more information on Howard Noel, Jr., and Cajun Boogie, contact Howard Noel, Jr., at (337) 662-5956.
Contact Lanor Records at (337) 824-6063.