Note: As of 2008, J.C. Carriere and Hot Step have at least one event they perform each year: the Cajun Woodstock held in Church Point each April to benefit St. Jude Children's Hospital. Steve Carriere is founder of the event and J.C. Carriere is cofounder. The event's MySpace page includes cuts from the CD described below. There is also a web page for the event.
---
J.C. Carriere and Hot Step is a Cajun band that arrived on the musical scene in Southwest Louisiana with a very well done first CD titled Papa, released by Acadiana Records of Eunice in late summer 2000. The album has received a Le Cajun Award nomination as the Best First Recording of the Year for 2000. The Cajun French Music Association will announce the winners August 17, 2001.
The band features the father and son collaboration of Steve Carriere on vocals and J.C. Carriere on accordion. J.C. was 17 years old when the album was recorded. In addition, 19-year-old Damian Cormier is on drums and Glen "Pa-Pop" Cormier is on bass, with 14-year-old Jason Bergeron on fiddle, Steve "Dog" Mott on rubboard, Jessie "Cigar" Credeur on steel guitar, and David Faul on rhythm guitar.
The two Carrieres and Faul wrote four of the songs on the CD, including the title track, "Papa," which has received a lot of air play on Cajun radio programs, "Before Somebody Gets Hurt," "Tell Me You Still Love Me," and "Cajun Life" (the only song in English on the CD).
The album also includes two songs by Fred Charlie, "If Your Heart Could See" and "In His Arms Again." The Cajun standards "Petite ou la Grosse" and "Cherokee Waltz" are also included, along with opening and closing instrumentals: "Crowley Two-Step" and "Hicks Wagon Wheel Special."
Steve Carriere, who speaks fluent French, has an expressive, powerful voice, and he sings with authority and conviction, especially in his tribute to his father in "Papa." The CD is dedicated to the memory of his father, Clarence "PaPop" Carriere, pictured on the CD playing accordion, and to Alex "Pop" Foreman, J.C. Carriere's maternal grandfather. J.C.'s accordion playing is also strong and assured so that the musical talents of father and son fit together well, and all the other members do their part in making Hot Step one of the top new Cajun bands to record in the last year.
For more information about the band, call (337) 232-4501 or via beeper at (337) 295-1853.
For information on Acadiana Records, call (337) 457-1786.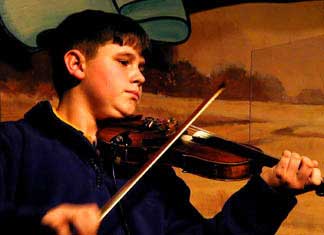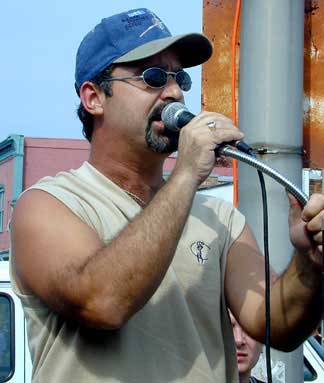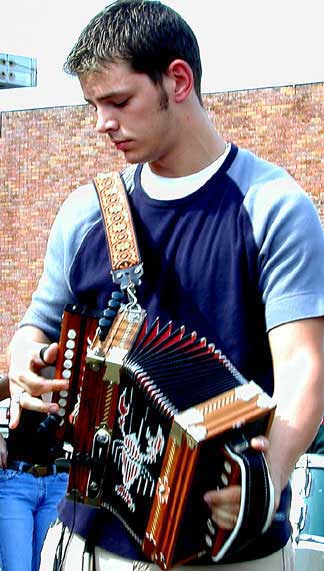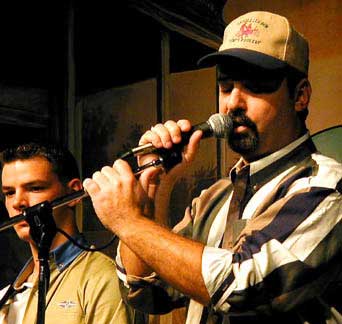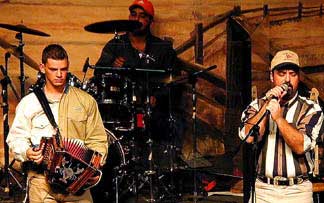 J. C. Carriere and Hot Step are pictured during a November 2000 performance at the Liberty Theater in Eunice and outside in October 2000 in front of the studios of Acadiana Records on Second Street in Eunice during the annual Cajun Prairie Folklife Festival.