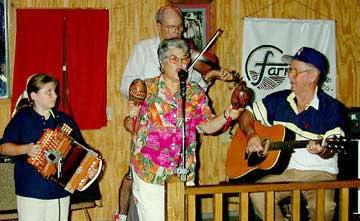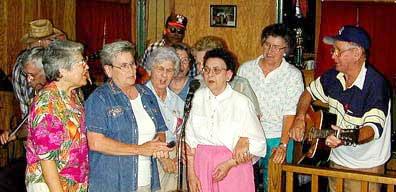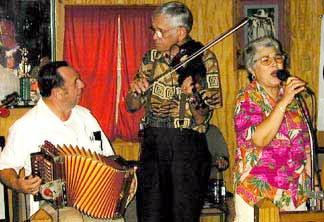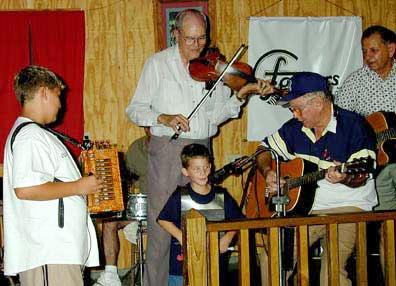 In 2000, when these photos were taken, Cajun musicians gathered from 6 p.m. until about 9 p.m. on Thursdays at the Saddle Tramp Riding Club, 1036 E. Ebey Street, in Church Point. The event was both a jam session and a bal de maison, for anyone who wanted to dance on the wonderful old wooden floors of the clubhouse.

On August 17, 2000, the night pictured on this page, veteran fiddlers, accordionists, guitarists, and other musicians joined with young musicians to play traditional Cajun music.

The club house jam session replaces one previously held during warm months at Le Park du Vieux Dépôt. Everyone is invited to watch or to join in.

In the top photograph, Mary Tweedel, who has won numerous awards as an accordionist, plays with George Sonnier on fiddle, J.B. David on guitar, and Pilar David on maracas. Maracas? Yes, they played the Cajun version of "La Cucaracha."

In the next shot, several ladies who kept requesting "Jolie Blonde" were finally persuaded to help sing it themselves.

Andrew Jagneaux is shown on accordion in the next photo, with Elton "Bee" Cormier on fiddle. Jagneaux also makes accordions and leads the band Andrew Jagneaux and Cajun Roots. Cormier, who led the Church Point Playboys from 1962 to 1992, has helped numerous musicians get their start over the decades.

In the next photo, 4-year-old Zack Henry sings "J'ai passé devant ta porte," followed by "La porte d'en arrière." Colby Leger is on accordion.
---

Thomas Matte, pictured above on accordion, was in his early nineties when this picture was taken. The grandfather of Jambalaya Cajun Band accordionist Reggie Matte, he made his first recording when he was 91 on a song included on Jambalaya's Lessons Learned CD. Among the others pictured is Freddie Hanks on guitar at far left.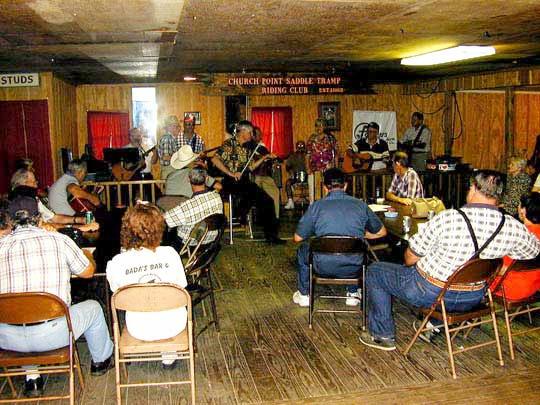 The final picture offers a better sense of the way the place feels, with music fans casually seated at tables and musicians overflowing the railing in front of the band stand area. Notice Thomas Matte is still going at it, having relinquished his accordion in favor of a rubboard.

The jam session at the Saddle Tramp Club House was informal, but J.B. David and others who led the sessions rotated musicians on and off the stage, so that, for example, only one accordion player was on stage at any given time.

All photographs and text by David Simpson.
Return to the Cajun, Creole, and Zydeco Music Home Page.