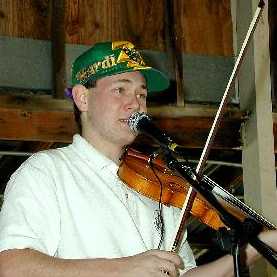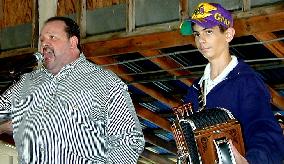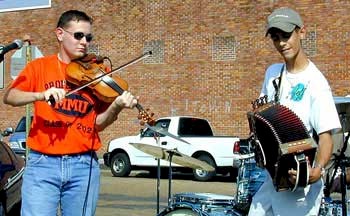 Pictured in the top photograph is Jeffery Thibodeaux of Chataignier, accordion and vocals, during the band's performance at the Liberty Theater August 12, 2000. He was 14 at the time this picture was taken. Brandon Moreau of Basile, who plays fiddle and does some vocals, is shown during a performance at the Basile Town Park February 5, 2000. Moreau received a full scholarship to attend the week-long Cajun-Creole Week in July 2000 at the Augusta Heritage Center in Elkins, West Virginia, where he studied and performed with a number of noted musicians. Don Fontenot, accordionist and singer with Les Amis de la Louisianne, shown with Thibodeaux in the next photograph, sang a number with the band during the February 5 performance. Thibodeaux and Moreau are shown together at the 2000 Eunice Prairie Cajun Folklife Festival, held October 21.
The other band members, seen in the photographs below at the Liberty, are Bernard Brown of Eunice on drums; Jimi Bergeron of Basile on guitar; and Bryan LaFleur of Basile on bass and harmony vocals. Barry Ancelet, host of the program, is seen at far left in the bottom photograph.
Note: After playing together for a several years, the musicians on this page have moved on to other bands. Brandon Moreau plays with several groups, including the Dixie Club Ramblers and Acadien. In 2008, he received a nomination for the CFMA's Fiddler of the Year Award. Jeff Thibodeaux performs with Fred Charlie and the Acadiana Cajuns.

Almost from the first note that the band Les Jeunes Cajun played during an extraordinary performance at the Liberty Theater in Eunice August 12, 2000, the audience knew they were witnessing something special. The young musicians on stage, who had been together for less than a year, were playing traditional Cajun music with a polished sound that some veteran Cajun bands might find hard to match.
Not only was the music skillfully played, but the band members also captured the feelings of Cajun music. Though their voices may be young, the band's vocalists were able to convey the deeply felt joys and sorrows that great Cajun musicians have always been able to express through their performances.
According to a feature story that appeared in the Basile Weekly February 2, 2000, published prior to the band's performance during a fund raiser to renovate the home of the legendary Cajun accordionist Nathan Abshire, the band members credit various musicians with helping them learn to play or with stimulating their interest in Cajun music.
Brandon Moreau learned to play fiddle from his grandfather, Voohries Moreau. Jeffery Thibodeaux got started on the accordion with help from Wayne Darbonne of Eunice and Mike "Fuzzy" Quinilty of Chataignier, and he was also influenced by the style of Steve Riley, Aldus Roger, and Iry LeJeune.
In late 2000, the group released its first CD, Notre Manière: La Musique de les Dix-Neuf Cents (Our Way: Music of the 1900s), recorded by Acadiana Records of Eunice (337) 457-1786. The CD features some very well done traditional performances of classic Cajun music. Brandon Moreau handles vocals on "Blues de Tac-Tac," "Madeline," "J'ai passé devant ta porte," and "Les barres de la prison." Jeffery Thibodeaux is the vocalist on "La valse de quatre-vingt-dix-neuf ans," "Jongle à moi," "Bayou Pon Pon," "Branche de mûrier," "Les veuves de la coulée," and "Triangle Special." The CD also includes two instrumentals, "Entre Eunice et Opelousas" and "Travelers Playboy Special." The other band members on the CD are Bryan Lafleur on guitar and bass (backup vocals on two cuts) and Bernard Brown on drums). The CD is dedicated to all of the Cajun musicians of the 1900s.
Two songs recorded by the group, "La Chanson de Mardi Gras" and "Jolie Blonde," are included on D.I.'s Cajun Jammers, Vol. 2. Brandon Moreau is the vocalist on both cuts. The CD, which features musicians who perform regularly at a popular restaurant located between Basile and Jennings (in Tee-Mamou) was released in February 2000 by Acadiana Records of Eunice.
---
During April 2001, Bryan LaFleur, Jeff Thibodeaux, and Brandon Moreau were named to the Young Stars of Cajun Music Wall of Fame at Bayou Boudin in Breaux Bridge. They received "Young Aces" certificates and a certificate from CODOFIL and the Louisiana Legislature for their contribution to the preservation of Cajun music. On April 28 and 29, 2001, they performed at the New Orleans Jazz Fest on both the Narrative Stage, where they discussed their experiences as young Cajun musicians, and on the Louisiana Square Heritage Stage.