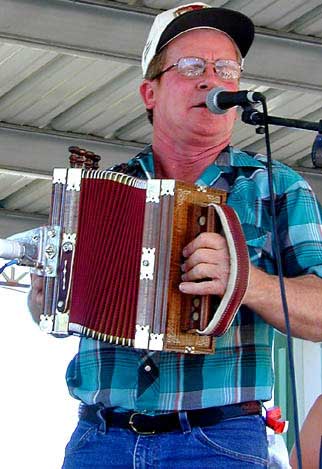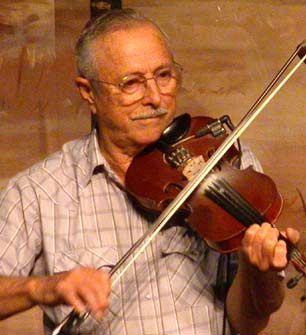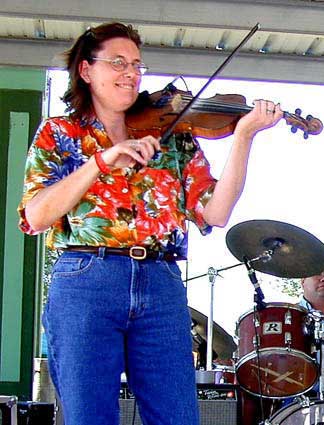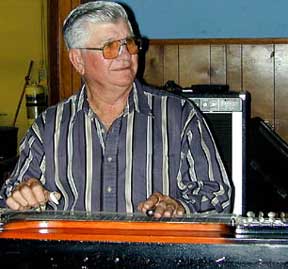 The pictures of Jesse Legé on accordion and Tina Pilione on fiddle were taken at Festivals Acadiens 2000 in Lafayette and at the Liberty Theater in Eunice. The picture of Ray Guidry on fiddle was taken at the Liberty Theater in 2001. The picture of Orsy Vanicor was taken in December 2000 when the Southern Ramblers played at a Cajun French Music Association Christmas food benefit held at the VFW Hall in Lake Charles. The shots of the entire band below were taken at the Liberty and at Festivals Acadiens.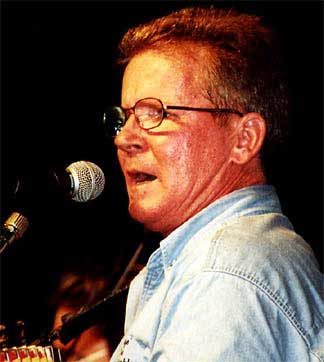 Jesse Legé moved out of state in 2003, so the band has not been performing. Nevertheless, the band was nominated as "Band of the Year" for 2002 in the Cajun French Music Association Le Cajun Awards competition, and Jesse was nominated for the accordionist of the year award.

Jesse Legé possesses one of the truly great voices in contemporary Cajun music. Listeners who do not experience frissons hearing him sing his signature song, "Les mémoires dans mon coeur," had better check their pulse. Legé composed that song in 1987 using a melody from the country classic "Makin' Believe." His first recording of the song was done at a home studio and released as a 45. He recorded it live at the Liberty Theater for a compilation of Cajun hits released by Swallow. He recorded it yet again with Mack Manuel/Jesse Legé and the Lake Charles Ramblers on the 1997 Swallow CD Memories du Passé.
Legé's soaring voice resonates with the same piercing, yet beautiful heartache in other songs on the CD like "Pour la dernière fois," Marie," and his own composition, "J'ennuie de toi."
R.C. Vanicor's steel guitar adds a new dimension to songs on the CD like "Valse de Balfa" and "Valse de Quartre-Vingt-Dix-Neuf Ans."
The CD also includes versions of traditional two-steps like "Allons à Lafayette," "Lake Charles Two-Step" and "Les flammes d'enfer."
Legé has been playing Cajun music almost every weekend for some 20 years. Before joining the Lake Charles Ramblers, he performed with the Jeff Davis Ramblers and with Rodney LeJeune and the Texas Cajun Playboys. In 2000, he decided to organize his own band, the Southern Ramblers.
Other members of the Southern Ramblers are Orsy "RC" Vanicor, Leetel Hanks (who died in 2004), Morris Newman, and Ray Guidry on fiddle, who joined the band in 2001, replacing Tina Pilione.
Vanicor, another former member of the Lake Charles Ramblers, has been playing steel guitar for many decades. Hanks on rhythm guitar also played with the Lake Charles Ramblers. Newman is the Southern Ramblers' drummer.
In 2002, the Southern Ramblers released their first CD, recorded for Acadiana Records. It features Legé's soaring vocals on his own composition, "La Valse de Gueydan," and other songs like "La Valse de Prison," "La Valse de Famille," "La Valse de Evangeline," "La Valse de Lawtell," and, most memorably, on Canray Fontenot's "Les Plats Sont Tous Mis Sur la Table," a song about searching for a true home, for a table already set.
Other songs on the CD include "Tante Adelle," "Le Deux Pas de Choupique," "Fais Do Do Bébé," "Le Deux Pas de Midland," "Les Zydeco Sont Pas Salé," and several instrumentals. Ray Guidry sings his own composition, "Mois J'la Blâme Pas."
Also released in 2002 by Arhoolie is a CD recorded live at the Iselton Crawdad Festival in California, featuring Edward Poullard on fiddle and backed by the California Cajun All Stars. There is a great version of "Quo Faire," a song that Pollard must have played often when he performed with Canray Fontenot. Among the other cuts featuring Legé unmatched vocals: "Tolan Waltz," "Valse de la Belle," Belton Richard's "Won't Be Satisfied" and "Waltz of No Return," "KLFY Waltz," "Viens Me Chercher," and Legé's own "Ma Femme et Mes Enfants," plus an extended encore version of "Zydeco Sont Pas Salé" and several instrumentals. The liner notes include biographies of both Legé and Poullard.
Click here for a photo of Jesse Legé at the Eunice Folklife Festival in 2001.