Click here for high resolution photos of JoJo Reed on Flickr.


In 2008, JoJo Reed and the Happy Hill Band continue to perform at clubs and festivals.

In 2006, he released another CD, An Overlooked Masterpiece: I Shall Return.

The CD features some past hits like "Hard Head Make a Soft Behind," "Want to Be a Bull," and "Down by the Riverside," blues numbers like "Life Goes on Blues," plus covers like "Motor Dude" and "Bad Women," for a total of 16 cuts that testify to Reed's many achievements over the years in zydeco and blues.

Check out JoJo's MySpace Page.

JoJo is shown at left performing at Geno Delafose's 2007 Fan Appreciation Party in Eunice.

---

JoJo Reed in 2004 with a New CD

JoJo Reed has released another CD of hard-hitting Zydeco, titled The Last Hoorah!. It includes a tribute to one of the old-time legends of Zydeco, Leo "The Bull" Thomas, with Leo himself showing up to offer his own advice on becoming a bull: it takes a whole lot of women to be a bull.

The CD includes eight other original songs, including the title cut, which describes the pains and pleasures of being a Zydeco musician: whatever JoJo decides to do in the future, you can bet that this is not really his last hoorah. Other new songs berate a "Trail Ride Woman" and her "vilaines manières," her ugly ways, tell us "My Life Is a Merry-Go-Round," and complain he is "Tired of Being Alone."

There are also covers of Boozoo Chavis' "Paper in My Shoe," Clifton Chenier's "Hey Lil' Girl," and Beau Jocque's "Bad Bad Woman."

The CD was released on JoJo's own Happy Hill Records. For more on JoJo Reed, see the contact information at the bottom of this page.

| | |
| --- | --- |
| | JoJo Reed is shown performing with Leo "The Bull" Thomas (shown at left) during the Zydeco Extravaganza in Lafayette in 2002. |

---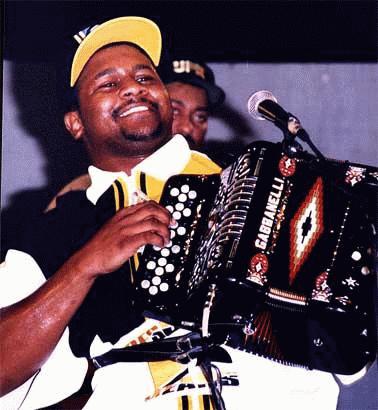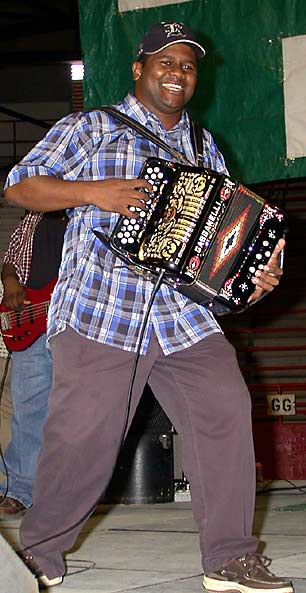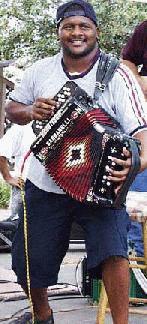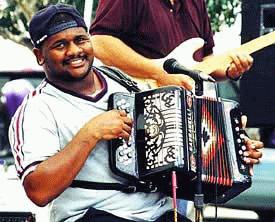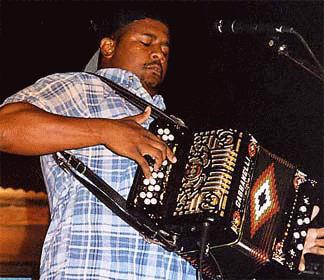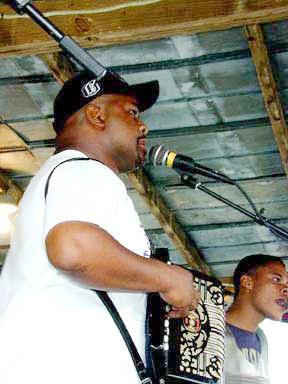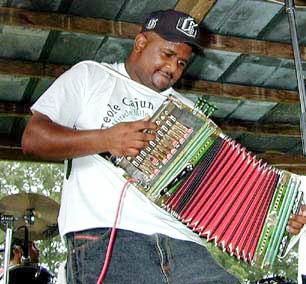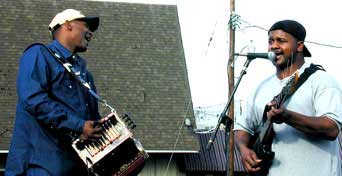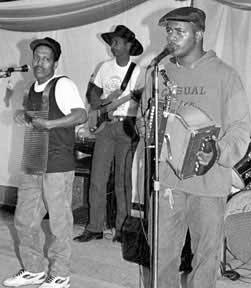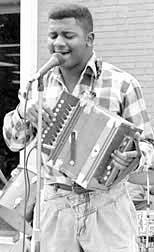 The top photograph shows JoJo at the 1998 Southwest Louisiana Zydeco Music Festival, one of his first performances (while still on crutches) after suffering serious injuries in a traffic accident. The photograph beneath it was taken at the Zydeco Extravaganza in Lafayette May 26, 2002, when JoJo Reed performed with Leo Thomas and other Zydeco veterans. The next photographs are from a Eunice celebration held in August 1999. Underneath is a photograph of JoJo in October 1999 performing at Geno Delafose's Double D Ranch during Geno's annual fan appreciation party. The next two photographs were taken at the 10th annual LeBeau Zydeco Festival held July 1, 2000. Beneath those is a shot taken January 14, 2001, when JoJo and Geno Delafose played together on a trailer in downtown Eunice at the end of the annual Martin Luther King Parade. At bottom are shots of JoJo playing at LSUE. In the left picture he is playing at a Student Government Association end-of-semester celebration in the mid-1990s. The right picture, taken in April 1992, shows JoJo at an outdoor celebration of LSUE's 25th anniversary.
JoJo Reed is a zydeco musician from Eunice whose popularity has moved far beyond his home in Southwest Louisiana. Reed has been playing and writing music since his high school years at St. Edmund's in Eunice, where he graduated in 1989. The winter 2000 issue of The Jays' Quarterly, the school's alumni newsletter, featured a story on JoJo describing his tour up the East Coast and trips to other festivals around the country. He has become so popular in California that he has a booking agent just for that state.

In the fall of 2002, JoJo headed back to California, and he was also busy promoting his new self-produced album, Still the Same Old Me. Most of the songs on the CD were written by JoJo, but he also does covers of "Jolie Blonde," "Motor Dude," "Uncle Bud," and "Hungry Man Love." On the CD, he captures the sounds of Zydeco from the days when Boozoo Chavis and Beau Jocque were at their peaks, attracting both you and old to are dance halls. JoJo says that when he plays a gig, he always tries to find songs that the audience likes. Still the Same Ole Me is aimed at long-time Zydeco fans who want to hear music that follows a beat that they have enjoyed dancing to over the years, but everyone is going to enjoy this band, which JoJo considers perhaps the best group of musicians he has worked with. "Big" Chris Ardoin is on bass; Troy Prudhomme on rhythm guitar; Bobby "BB" Broussard on lead guitar; Kyndrell Frank on rubboard and background vocals; and "Big" Jackie Frank on drums.

His 2000 album, Back on the Scene, released by Louisiana Hot Records in September 2000, offers a funky sound developed in collaboration with Keith Frank, who arranged, produced, engineered, and mixed the recording at his Soul Wood Studios.

The majority of the songs were also written in collaboration with Frank. The opening song, "Back on the Scene with a Brand New Thing," establishes the smooth, funky rhythm that runs through most of the songs. In "Still Got It Going On," JoJo alludes to the serious injuries he suffered in a traffic accident in 1998, telling everyone, "But y'all know that don't stop JoJo." Keith Frank plays guitar and joins JoJo with vocals on 'Is It Really Ever Over," a slow, mellow number. JoJo's "A Hard Head Makes a Soft Behind" is a good example of the playful, humor that has always been part of zydeco's appeal.

The CD includes George Lee on guitar, Jennifer Frank on bass, Brad Frank on drums, and James Ned and Kendrell Frank on rubboards.

Back on the Scene is dedicated to Alphonse Paul Ardoin, grandson of Bois Sec Ardoin and bass player with JoJo Reed until his death in June 1999 at the age of 21.

JoJo's other albums, which feature many songs he wrote himself, include Make 'em Jump!, Funky Zydeco, and Not Your Baby's Daddy, which came out in 1997 on Zydeco Hound Records, released by Acadiana Sounds Studio in Eunice.

In a couple of his songs, JoJo pays tribute to the late Boozoo Chavis and to the late John Delafose. Through his many original songs, JoJo Reed is making his own mark in zydeco, but he also knows the roots of zydeco, and his music is an extension of that tradition.

For more information, contact JoJo Reed, 430 Fruge St., Eunice, LA 70535; (337) 457-1989 or 457-7747.