All photos in this section taken at the Liberty Theater, November 18, 2006. Click on thumbnails for larger photos.
Photos in this section posted 12-21-06.

Note: In 2008, Jo-El Sonnier was named to the Cajun French Music Association Hall of Fame.

Jo-El Sonnier's performance at the Liberty Theater Saturday, November 18, 2006, was a triumph of musical talent and showmanship. After many years in Nashville, Jo-El has returned to Louisiana, back home and better than ever. He obviously really enjoyed the enthusiastic reception of the large crowd at the Liberty, and, as a veteran performer, he gave his fans what they wanted: Top 10 country songs like "Tear Stained Letter," other signature songs like "Come on Joe," and Cajun music with songs like "Chère Toute-Toute," the heart and soul of the tradition on which his other achievements rest.

The Liberty radio show ended at 7:30, but Jo-El kept right on going, truly in his element, playing before an audience eager for more. His musicianship, his commanding stage presence, and his total commitment to everything that he does make an evening with Jo-El Sonnier an extraordinary pleasure.

Be sure to check out Jo-El's Official Web Site for more information, including his very extensive discography.

Check out Charlie Rich Jr.'s page on Jo-El.


Waylon Thibodeaux was among the musicians performing with Jo-El.

---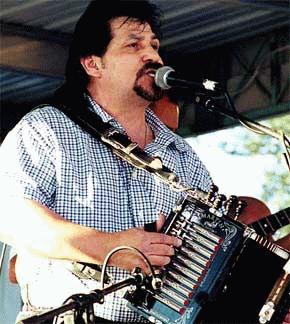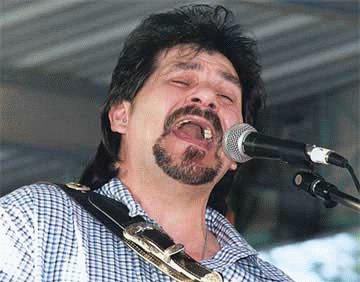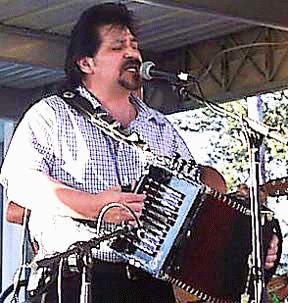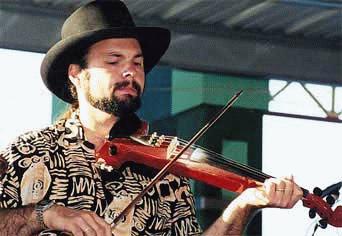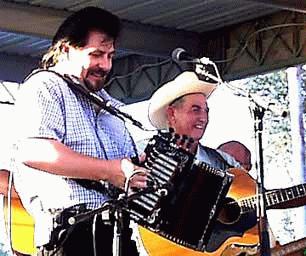 Jo-El Sonnier is shown during a performance in September 1999 at Festivals Acadiens in Lafayette. Also pictured is Waylon Thibodeaux, who played fiddle on Sonnier's 1999 release, Cajun Blood. That CD includes Sonnier's version of D.L. Mernard's "The Back Door." At the festival, Menard was on hand to surprise the audience by coming on stage himself to sing his signature song while Sonnier played accordion.

Go to Jo-El Sonnier's Official Web Site.
Jo-El Sonnier is a Cajun musician who has achieved national fame but who has certainly not forgotten his roots. His 1999 CD, Cajun Blood, is a tribute to "le sang cadien" that flows through the veins of Jo-El Sonnier and his fellow Cajuns in Louisiana and around the world, symbolic of a heritage that reaches back to those first exiles in the 18th century whose courage and determination Sonnier commemorates in the album's title song. In January 2001, the album was nominated for a Grammy in the Best Traditional Folk Album category.
The album is dedicated to his parents, Lemius and Eunice Sonnier, sharecroppers who lived near Rayne. Jo-El Sonnier first began to play the accordion when he was only three, then made his radio debut at age six, and at age eleven made his first recording. While still a teenager, he played with Robert Bertrand's Lake Charles Ramblers, and, according to the biographical sketch in Let the Good Times Roll!, for a while he "donned an Arab headdress and promoted himself at the Cajun Valentino." He moved to California in 1972, played in some country dance bands, and eventually got a recording contract with Mercury Records in Nashville where at the time he failed to gain much recognition. After returning to Louisiana and recording several songs with the Cajun rock band Coteau, he was invited to be the opening act for Merle Haggard. In his subsequent career he has found success with both Cajun and country recordings.
Cajun Life, recorded in Crowley and released by Rounder, won a Grammy nomination in 1984. Come on Joe, released by RCA in 1987, included the country hits "Tear-Stained Letter" and "No More One More Time." He has continued to release both country and Cajun albums. Recent albums in which Cajun music predominates include Cajun Roots (Rounder, 1994), featuring Iry LeJeune songs and Sonnier's version of other Cajun standards; Live in Canada (Stony Plain, 1996), recorded at a folk festival in Edmonton; Cajun Pride (Rounder, 1997), nominated for a Grammy in the traditional folk category.
In addition to the title song "Cajun Blood," recorded in French and English versions, Sonnier's 1999 album, released on his own Musique de Jo-El label, includes traditional Cajun songs: "The Back Door," "Jolie Coeur," "Flammes d'Enfer," "Cherokee Waltz, "'Tits Yeux Noirs," Allons à Lafayette," and "La Valse de Bayou Teche," among others, all recorded in versions in which Sonnier displays his excellent voice (he was named Male Vocalist of the Year at the 1999 Golden Music Awards) while unpretentiously letting the unforced beauty and energy of the music carry the songs along. Cajun Memories, an instrumental album that he coproduced, received a nomination for Instrumental Album of the Year at the 1999 Nashville Music Awards Show.
Besides finding success with his own recordings, Sonnier also has played accordion on albums by other prominent musicians like Alan Jackson, Neil Diamond, Johnny Cash, Sammy Kershaw, the Indigo Girls, Dolly Parton, and Hank Williams Jr. Songs written by Sonnier have been recorded by artists like Johnny Cash, George Strait, Mel McDaniel, John Anderson, and Jerry Lee Lewis. "Here to Stay," which Sonnier co-wrote, was named 1999 Song of the Year at the Golden Music Awards.
Sonnier is also an exciting performer on stage whose shows are well worth seeking out. For more information on his tour schedule and for a discography that lists other albums, be sure to check out the link to Sonnier's web site at the top of this page.