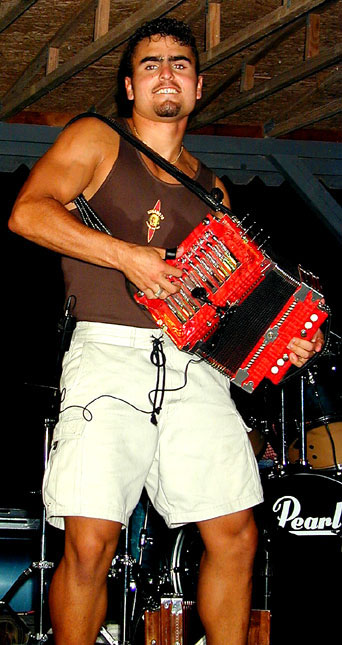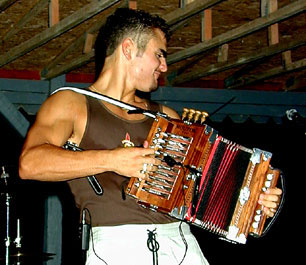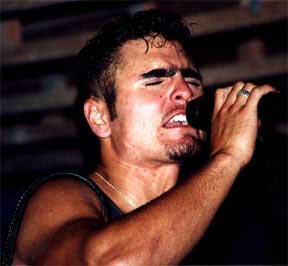 Note: Karlo Broussard has left the Cajun music scene to devote his time to his family and children.

Karlo Broussard is a young man who is committed both to his music and to pleasing the crowd that gathers in front of the bandstand whenever he performs. On the very warm July evening in the small Acadia Parish town of Morse where most of the photographs on this page were taken, Boussard and his band, Standard Time, got the crowd dancing with their high energy ZydeCajun sound popular with audiences of all ages.
Broussard sings in both French and English–Cajun standards, swamp pop classics, and even rock and roll hits by groups like Z.Z. Top. Other members of Standard Time are Shane Vanicor, guitar; Roy Bertucci, keyboard; Bryson Simoneaux, drums; and Bobbie Buller, bass. The group has performed at clubs throughout Southwest Louisiana and at major festivals and events like the Rayne Frog Festival, the Crowley Rice Festival, Contraband Days in Lake Charles, and the Fourth of July Celebration at Fort Polk.
Broussard has been playing for more than seven years, first with the group Karlo et Amis and for the last four years with Standard Time. His father, Walter Broussard, who played with Karlo et Amis, taught him his first song on the accordion, D.L. Menard's "The Back Door." At that moment, Broussard says that he discovered a God-given talent that he has continued to develop with the support of his father and his mother, Jackie Broussard.
Karlo Broussard and Standard Time have one album, Bon Temps Toul Temps, released by Ralph Records in New Orleans on CD and cassette. The band's instrumentation at that time included a steel guitar instead of a keyboard, so on songs like "Musician's Waltz" and "Rambler Ace's Waltz," the group has the sound of a traditional Cajun dance hall band. On fast numbers like "Lacassine Special," "Bosco Stomp," and "Les Haricots Sont Pas SalÚs" Broussard offers a sample of high energy accordion playing in the ZydeCajun style.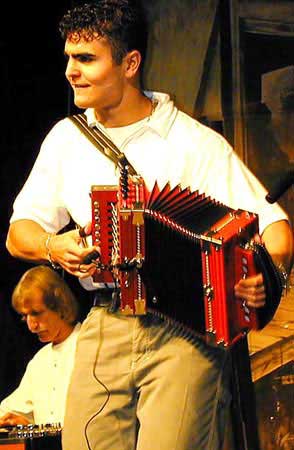 The photograph immediately above was taken at the Liberty Theater in Eunice. Other photographs were taken July 21, 2000, at a festival in Morse.