Note: Carlton Frank, one of the last of the old-time Creole fiddlers, died February 5, 2005, at the age of 74. His music lives on through his recordings. On the Creole Connection CD, Keith calls out, "Hey, Nonc Loy, joue ton violin." We are truly fortunate that we can still hear him play as we listen to this CD and the one recorded with Preston Frank.
In 2001, Keith Frank released The Creole Connection, a wonderful CD that brings together members of his family to play Creole music. It's music that he shapes in his own way, but, with his great uncle, Carlton Frank, bearing down on the fiddle strings in the old Creole style, the sound revives the music that used to be a sustaining force in the lives of Creole African-Americans in Southwest Louisiana.
In early 2000, when Frank first brought this style of music to the venerable Hamilton Club in Lafayette, he was dressed in masked attire to make the transformation into a new band more complete. In his own musical career, Frank was striking out in a new direction, but he was also affirming his ties to Creole musical traditions, especially the traditions in his own family, dating back to Joseph Frank, his great-great-great grandfather, a Soileau fiddle player a century ago.
The CD includes a number of songs that sound more contemporary like Keith Frank's "Went Down to the River," "Shake It Down," "Every Dog Has His Day," "Not Going Down the Road," and "She Is Shaking Her Big Butt" (in French), or his versions of Clifton Chenier's "Morning Train" and Roy Carrier's "Creole Music."
"Tante Delphine," a Keith Frank song in French, has a lively zydeco beat as the lyrics go through a listing of all of the aunts who love to dance the zydeco.
The last part of the CD has Keith Frank's version of classic Creole songs like Gustave Ardoin's "Pine Tree Two-Step," John Delafose's version of "Co-fa" ("'Quo Faire?"), and the traditional songs "Chère Ici, Chère Là-bas," "Jongle à Moi," and "Jolie Bassette."
But the best treats are the two original songs written by Keith Frank and his great uncle, Carlton Frank. "La Valse de Mon Grand Père," a tribute to Joseph Frank, features Carlton Frank's old style Creole fiddling as Keith Frank sings in French about his great-great-great grandfather playing the fiddle at dances.
"Oh Mom!" is a two-step, again with Carlton Frank's fiddling carrying much of the melody, while Keith Frank's vocals run through all of the relationships that make up an extended family.
In addition to the Creole Connections CD, at the end of 2001, Keith Frank recorded six songs at his Soulwood Studio in Soileau for release on Maison de Soul's new ValueDisc series. For about the third of the price of a regular cassette, zydeco fans can listen to six songs performed by Keith Frank and the Soileau Zydeco Band. Three of the songs are Frank's versions of songs recorded by zydeco legends: Boozoo Chavis' "Hold That Tiger" and "Don't Forget About Me" and Rockin' Sidney's "If It's Good for the Gander." The other songs are by Keith Frank. "We Got the Power" and "Don't Let Me Stop" push a pulsating rhythm through several combinations of instruments. In "Fait pas tout ça" he urges in French, "Don't do all that!"
In addition, in 2001, Brad Paul Frank, Keith's brother and drummer for the his band, moved to accordion to cut his own, well-received album, Walking to the Moon, with Keith on drums, guitar, and keyboard, along with other members of the Soileau band on their usual instruments. The CD was released by Louisiana Red Hot Records.
For booking information, go to Keith Frank's Official Web Site.
Return to the first Keith Frank page.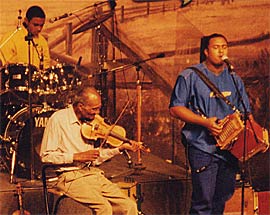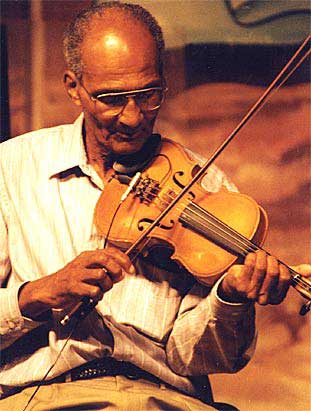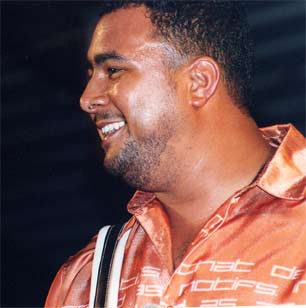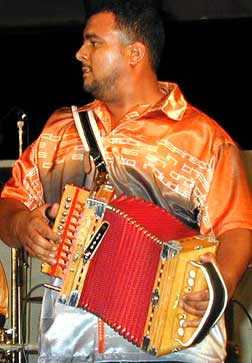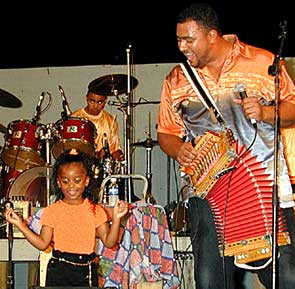 The Creole Connection performed as a group at the Liberty Theater in Eunice in summer 1999, before the band began playing at Zydeco clubs. The top picture shows Carlton Frank on fiddle during the performance at the Liberty. The picture at left was also taken at the Liberty.
Keith Frank continues primarily to perform his own version of contemporary zydeco with the Soileau Zydeco Band. All of the other pictures in the right column were taken at the Original Southwest Louisiana Zydeco Music Festival Septermber 1, 2001 during a performance of the Soileau Zydeco Band.
Click here for high res photos of Keith Frank posted on Flickr.