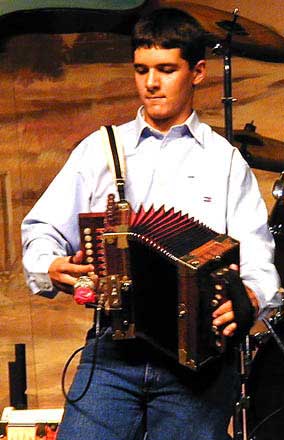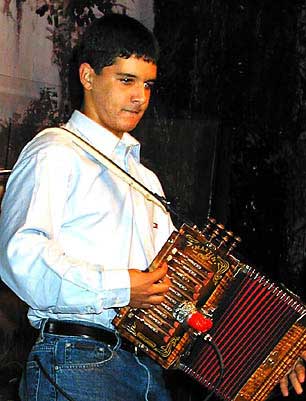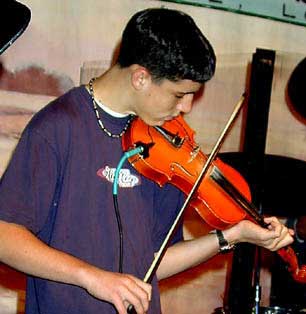 Performing at the Liberty Theatre November 4, 2000, with Kaleb Trahan were Sean Vidrine on guitar and vocals; Cody Vidrine (Sean's brother) on fiddle; Derrick Hebert on bass; and Jeremy Richard on drums.
Note: A 2008 Internet search does not pick up on any bands that Kaleb Trahan is performing with regularly, but he is still an active musician, with several videos on YouTube. Click here for photos from 2007 Cajun Day in Lacassine. (to be added)
Kaleb Trahan is a young Cajun musician from Little Chenier in Cameron Parish a few miles from the Gulf of Mexico. According to the line notes to his first CD, Kaleb Trahan: La Prochaine Generation ... C'est dans mon sang, in addition to his music, he enjoys trapping, fishing, shrimping, and hunting ducks and alligators in the marshes near his home, as well as playing football.
He was 14 when these pictures were taken in November 2000, but he has been playing accordion since he was 9 years old. He made his first appearance at the Liberty Theater when he was 10 years old. Besides playing with his own band, he has performed with Johnnie Allan, Lesa Cormier and the Sundown Playboys, Steve Riley and the Mamou Playboys, and the Moe-D Band.
In addition to his own CD, he as recorded songs on various tapes, including the first D.I.s Cajun Jammers, released by Acadiana Records.
Kaleb's CD, whose title means "The Next Generation ... It's in My Blood," includes a good selection of traditional Cajun favorites. Vocalists are veteran Cajun musicians: Jimmy Aguillard on "Kaplan Waltz," "Reno Waltz," and "J'ai été au bal," which segues into "Blues de Soûlard"; John "Maw Maw" Theriot on "Lacassine Special" and "Love Bridge Waltz"; Abe Manuel Jr., fiddle and vocals on "Big Road Waltz" and "Jolie Blonde"; Terry Beard, drums and triangle and vocals on "Jolie Blonde."
The CD also includes three instrumentals, "Steppin' Fast," "FiFi Poncho," and "Crowley Two-Step."
Other musicians performing on the CD are Darrell Fruge on bass, Darren Theriot on bass, Cedric Hebert on rhythm guitar, and Ruby Hebert on spoons.
Trahan, who was 12 years old when the CD was recorded in 1999, is an accomplished musician who plays these standards in a traditional style, adding his own feeling to the songs' emotions while blending in nicely with the rest of the band. Kaleb Trahan is clearly very proud of his Cajun heritage, and his first CD is a significant contribution toward carrying on the beautiful, expressive music of his ancestors.
The CD was released by Swallow Records of Ville Platte.