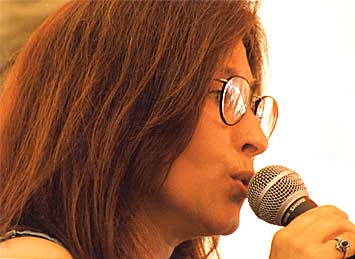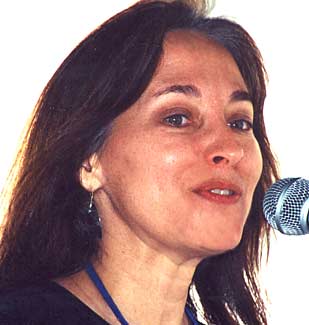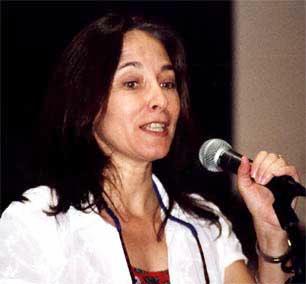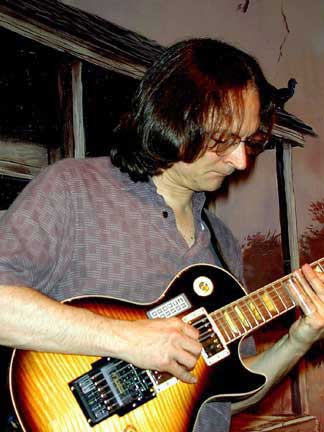 The top picture was taken May 4, 2002, at the Breaux Bridge Crawfish Festival when Marce Lacouture was performing with Veillée, a group dedicated to preserving old songs that Cajun families and friends sang together in the evenings without instrumental accompaniment. The next shots were also take with Veillée at the Eunice Folklife Festival October 21, 2002, and during Veillée's initial performance at Festivals Acadiens September 16, 2000. Sonny Landreth, who produced Marce Lacouture's first solo CD, is shown at the Liberty Theater during June 2000 when Marce performed with some of her friends to introduce some of the songs on the CD. The photo at right was also taken at the Liberty. The other picture shows Veillée in Eunice: Horace Trahan, David Greely, Marce Lacouture, and Kristi Guillory. In the 2002 version of Veillée, shown in the first photo below, Jean-Jacques Aucoin, third from left, has replaced Horace Trahan. The photo next photo at the bottom shows the Liberty performance, with Errol Verret on accordion and Al Berard on mandolin, as well as Mark Viator on guitar and Jane Gillman on vocals, both members with Lacouture in the band Rue La-La, based in Austin, Texas. The bottom photo was taken at the Heritage Pavilion Sept. 15, 2001, during Festival de Musique Acadienne at Festivals Acadien in Lafayette. Marce Lacouture is flanked by Kristi Guillory and Amanda LaFleur during a session that featured a cappella Cajun music. The photo at the very bottom was taken in 2002 at Breaux Bridge.
http://www.marcelacouture.com/
One Saturday evening at the Liberty Theater in Eunice, host Barry Ancelet was visiting with the audience during the break between bands when he spotted an out-of-state visitor from Texas. He introduced to the visitor to the audience and surprisingly asked her to sing. What happened next was really unexpected: not only did the visitor possess a beautifully rich, pure voice, but she could sing old Cajun songs a cappella, filling the Liberty with sounds very different from the music performed by Cajun bands, sounds that evoked another dimension of the Cajun spirit.

The singer was Marce Lacouture, whose musical career began in Austin in the 1970s with folk and rock groups. In 1983, she began making trips to Louisiana to find out more about her cultural heritage as the descendant of Cajun ancestors who originally settled in Louisiana before migrating to Grand Texas. Eventually she received a fellowship grant from the National Endowment for the Arts to study that heritage.

Working with Catherine Blanchet, a folklorist and archivist of Cajun home music, she began spending time at the homes of Lula Landry and Inez Catalon, working with them on a daily basis to learn the old ballads while also developing a close friendship. They also began performing together at festivals and other events. Subsequently, Marce, Lula, and Inez were awarded an apprenticeship grant from the Louisiana Folklife Program in 1987-1988. Lula Landry, who was born in 1906 and grew up near Abbeville, learned most of the Cajun ballads she sang before she was 10 years old. Throughout her life, Inez Catalon, who was born a few years later, continued to reside in her family home in Kaplan. A member of the African-American Creole community, Catalon, like Landry, wanted to preserve the traditional music of her French-speaking ancestors.

Both Lula Landry and Inez Catalon have passed on, but their songs remain very much alive through Marce Lacouture's voice, now available for everyone to hear on her CD La Joie Cadienne, produced by slide guitarist Sonny Landreth and released in summer 2000 on Cut Up Records.

The CD includes several songs performed a cappella, but most of the 11 cuts feature some instrumentation, including Michael Doucet and Kevin Wimmer on fiddle, Errol Verret and Dirk Powell on accordion, Sam Broussard on guitar, and Sonny Landreth adding his inimitable slide guitar to many of the songs. In addition to songs from Lula Landry and Inez Catalon, the CD also includes haunting lullabies from the Vincent and Dubois families and two original songs, "La Joie Cadienne," sung with Christine Balfa, and "Lula," a tribute to Lula Landry.

Lacouture and the Mamou Playboy's David Greely sing a conversational duet titled "Isabeau" that tells an enigmatic story about a maiden who boards a ship and loses her gold ring in the ocean. Like many ballads that date back many centuries, the fanciful story ends in tragedy: the youngest of the sailors on the ship dives into the sea three times to try to retrieve the ring but on the third try never returns to the surface. On the other hand, "L'Oranger" is a humorous drinking song that ends by condemning banks and the sons of lawyers. In short, the songs in La Joie Cadienne cover the full range of human experience.

The Louisiana Division of the Arts has a web page describing Marce Lacouture's experiences working with Lula Landry and Inez Catalon under a grant from the division.

Lacouture currently resides in Breaux Bridge. She now also performs with an acoustic group, The Nouveau String Band.

In addition, she organized Breathe Easy Cajun and Zydeco Dances at Vermilionville in Lafayette to provide a smoke-free atmosphere for dancers, and she hosts "Lagniappe," a weekly program airing on KRVS radio 1-2 p.m. Tuesdays.

You can reach Marce Lacouture at marce@marcelacouture.com or go to her Official Web site.