Click here for photos of Lesa Cormier posted on Flickr.


Lesa Cormier and the Sundown Playboys in 2004

In 2004, Lesa Cormier and the Sundown Playboys have released a new CD with new songs by August Broussard, including "9/11," a tribute to the sacrifices occasioned by that awful event, "Broussard Two-Step," "La Veuve de Lac Arthur," "Johnnie's Two-Step," "Alida Special," and "Country Boy Waltz," featuring the accordion of his student, 14-year-old Josh Gidlow, shown at right. Larry Miller's songs include the CD title cut, "Rendezvous au Bal," about the hazards of courting pretty women, and "I Was Young and Too Hard-headed," about a young man's refusal to give up on the woman who has left him, plus a love story, "Marriage in the Little Church." Lesa Cormier sings "I Left My Heart at Home." The CD has a total of 15 cuts of classic Cajun music.

The CD was released by Acadiana Records.

For bookings, contact Lesa Cormier, 1-337-477-4752.

---

Click here for a Wikipedia article on Lesa Cormier and the Sundown Playboys.


Shown from left are Larry Miller on steel guitar, Wallace Touchet on fiddle, Lesa Cormier on drums, August Broussard on accordion, Brian Cormier on bass guitar. Click here for 2003 Mardi Gras photos in Eunice.

The Sundown Playboys are shown at the Liberty Theater March 15, 2003. These are the same musicians who performed on the 2002 CD, Back Home Memories, released by Acadiana Records. Look for those pink shirts on the CD cover.: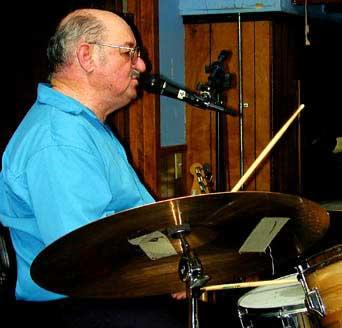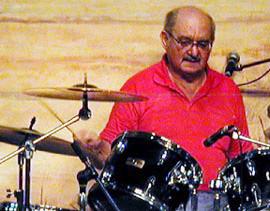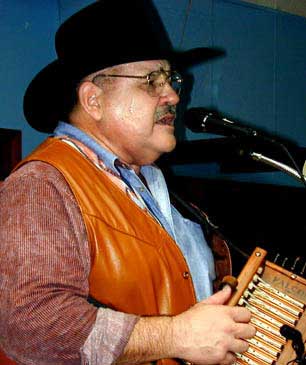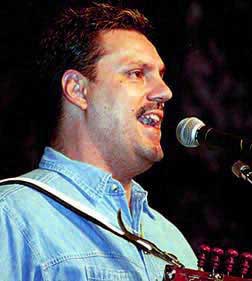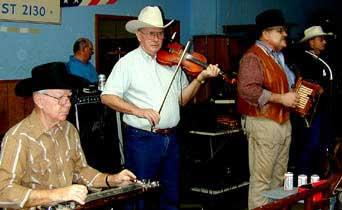 Lesa Cormier is pictured on drums at the VFW dance hall in Lake Charles and at the Liberty Theater in Eunice.Milford Simon is shown on accordion at the benefit held at the VFW hall. Underneath that picture is a photo of Homer LeJeune, taken when he performed with the Sundown Playboys at the Liberty Theater. The rest of the band is shown at the VFW hall.

One Sunday in early December 2000, Lesa Cormier with his band, the Sundown Playboys, led off a Cajun French Music Association benefit for the Lake Charles Christmas food drive. Once the Sundown Playboys were finished a little after 11 a.m., Cormier, a CFMA officer, circulated around the large VFW dance hall, keeping the program moving. He announced the next bands and promoted fund-raising activities like a cake walk and auction. However, he was able to pause long enough to go to his van to get a copy of the band's first CD (the fourth album the group recorded).

Stopping by with the CD, Cormier explained that he has been playing Cajun music for 53 years. When his father, the late Lionel Cormier, formed a band in 1947, he needed a drummer, so even through Lesa real musical interest was in playing guitar, he took up the drums. More than half a century later, Lesa Cormier is still going strong, leading one of the few remaining old-time Cajun dance bands.

The band has gone through many changes. Lionel Cormier died on the bandstand at the Bamboo Club in Lake Charles in June 1971 while playing a benefit dance. Lesa Cormier is the only member of the original Sundown Playboys still with the group.

The band enjoyed a brief moment of international exposure in 1972 when Pat Savant, their 16-year-old accordionist, mailed a copy the 45 recording of "Saturday Night Special" (with "La Valse de Soleil Couché" on the other side) to Apple Records in London, which released the record. It never received much airplay in the United States, but "Saturday Night Special" was used in the movie Sister, Sister in 1988.

The Sundown Playboys' 1988 album for Swallow Records, Saturday Night Cajun Music!, included vocals by Homer LeJeune, who also was the main vocalist on Cajun Spirit in 1990 and on Hier et Aujourd'hui, the band's CD released in 1993. Among the songs on the CD are Homer LeJeune's Cajun version of "When Did You Stop Loving Me" and his own song, "Jealous Heart,"; Lionel Cormier's "Elton Two-Step" and "Lionel's Polka"; Aldus Roger's "Creole Stomp" and "Elton Two-Step"; a couple of songs by Darrell Higginbotham and Lesa Cormier son, Danny Cormier; plus Les Amies Louisianaises singing "50th Anniversary Waltz" in four-part harmony.

Today, Lesa Cormier himself does a number of the vocals. When most of the pictures were shot in 2000, Milford Simon was on accordion and Frances Andrepont played fiddle, with Larry Miller on steel guitar and vocals, and Brian Cormier, Lesa Cormier's grandson, on bass.

In 2001, the group released a new CD, Les Mémoire du Passé, with August Broussard on accordion and vocals; and Wallace Touchet on fiddle. Released by Acadiana Records, the CD features old-time Cajun dance music, including many original compositions by the band members along with classic songs by D.L. Menard and Dewey Balfa.

Based on his many contributions to Cajun music, Lesa Cormier was among the original 1997 inductees into the Cajun French Music Association Hall of Fame.

For more information, contact Lesa Cormier at (337) 477-4752; or by mail, 724 Ashland St., Lake Charles, LA 70605.