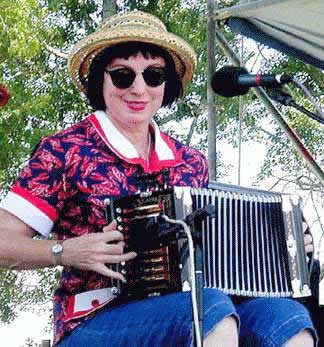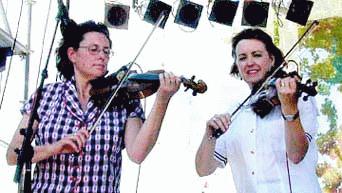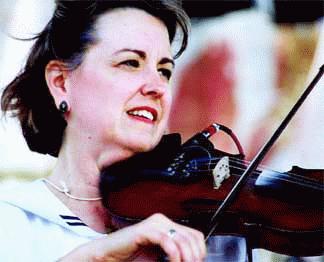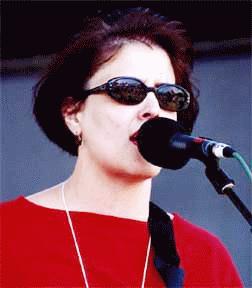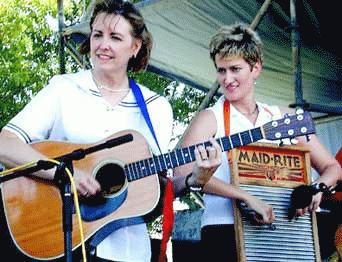 Ann Savoy is shown in the top picture; Tina Pilione, left, and Jane Vidrine are in the next picture; underneath are closeup shots of Jane Vidrine and Lisa Trahan; last is a shot of Jane Vidrine and Christine Balfa.
Click here to go to the official Magnolia Sisters web page.
Here are pictures of The Magnolia Sisters performing at the 2000 Breaux Bridge Crawfish Festival, where they played a number of songs from their new CD, Chers Amis. The album includes 20 songs, with an emphasis on traditional songs, some familiar and some probably new to many listeners. Using a melody based on Octa Clark's "Jamboree Waltz," Ann Savoy and Jane Vidrine sing the title song, describing good friends who have left and been absent from Louisiana for a long time. Vidrine sings "'Tit Mamou," "Dedans le Sud de la Louisiane," a song by Alex Broussard (the liner notes suggest that it "should be the new Louisiana National Anthem"), "O, Treville," and "Mon Coeur Fait Mal."
Ann Savoy sings lead vocal and Jane Vidrine sings harmony vocal on "Le Pays des Etrangers," a haunting, plaintive song about a wife leaving to go to a strange land to be with her husband. That song and "Il Faut Hisser Ces Voiles" were sung by Hedier Segura on recordings made by John and Alan Lomax in the 1930s. Ann and Jane also sing together on "Mon Dernier Bonsoir," "La Valse que J'aime" (this may be the best version of this song by Cleoma Falcon that has also been recorded by several other groups), "La Fleur de la Jeunesse," and "La Belle et le Capitaine." The Magnolia Sisters also harmonize on another haunting song, Alex Broussard's "LAnnée de Cinquante-Sept," about Hurricane Audrey, which hit the Southwest Louisiana coast with such devastation in late June 1957.
Ann Savoy sings two appealing blues tunes, "C'est Si Triste" by Cleoma Falcon, and "Blues de Voyage" by Amédé Ardoin.
Christine Balfa sings "Jolie Joues Roses" while playing triangle with accompaniment by two fiddles. Like all of the songs on the album, the instrumentation blends beautifully with the vocals, producing a natural, unforced sound that is refreshingly pure. Christine also effortlessly glides through the words to the Cajun tongue-twister "T'en a Eu Tu N'Auras Plus" ("You Had Some But You Ain't Getting Anymore"). Lisa Trahan sings "Hippi Taiaut," a Cajun favorite by Joe Falcon. Tina Pilione displays her fiddling prowess on "Reel de Courville" and on most of the other songs on the CD. Tina switches to the mandolin with Christine on banjo ukulele while Ann provides some "swing style" fiddling in the band's lively version of the Hackberry Ramblers' "Hé, Là-Bas."
The album, recorded for Rounder Records, also has several excellent instrumental numbers.