As of January 2004, Dexter Ardoin is performing full time with his band, the Creole Ramblers, giving audiences across the country his version of the joyous, heartfelt Creole music that has been part of the Ardoin family for generations. He performs the music of his grandfather, Bois Sec, from whom he learned to play the accordion, and of his father, Morris, and his uncles, the music at the roots of contemporary Cajun and Zydeco. An essential part of that music, now generally excluded from Zydeco, is the fiddle, played on Dexter's 2003 CD What You Come to Do by Dennis Stroughmatt, an Illinois musician whom Dexter met when Dennis joined Sheryl Cormier's Cajun Sounds band while Dexter was the drummer. (Dexter has also played with Willis Prudhomme, Nathan Williams, and Chris Ardoin, his cousin.)

The CD, released by Louisiana Radio Records, has a generous sampling of the songs played by his grandfather and the late Canray Fontenot, including "Duralde Ramble," "Jolie Bassette," "Dixie Land," and, of course, "Allons Danser," plus the traditional song "Jongle à Moi."

There are also original songs by Dexter Ardoin with more of a Zydeco beat, including "What You Come to Do" and "Take Your Time," "Ti vas jamais me voir," and "Take Your Time," plus the instrumentals "Dexter's Zydeco" and "Cyrus Don't Tell Momma," which showcases the interplay between accordion and fiddle that is central to the music of the Creole Ramblers, an echo across the decades of the sound of Amédé Ardoin and Dennis McGee.

Other musicians on the CD are Chris Ardoin on bass and guitar; and Blake Castille on guitar. Dexter played both accordion and drums for the studio recording.

The top photo of Dexter Ardoin in this section was taken at Festivals Acadiens in 2003, when Dexter was part of a panel of Creole musicians. The next photo shows Dexter with Dennis Stroughmatt at the Mamou Cajun Music Festival in 2002 (shown with Dexter's brother Gus on drums), when Bois Sec Ardoin was honored for his contributions. The other photo of Dennis was taken at Marcel Fontenot 190 Muffler Shop in Basile (with a U-Haul dolly as a mike stand).

---

Click here for photos of Morris Ardoin and Dennis Stroughmatt and information on the CD Le tracas de Morris. Photos of Morris Ardoin are also posted on Flickr.

Morris Ardoin is shown Jan. 24, 2004, during a
special program on Creole and Zydeco music
at the Strand Theater in Jennings.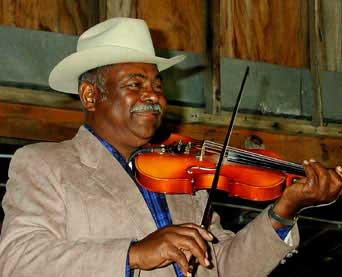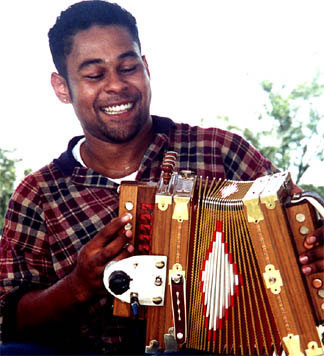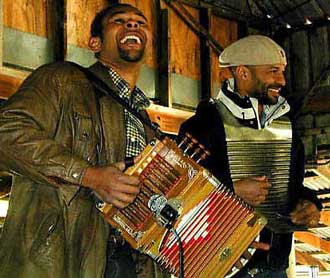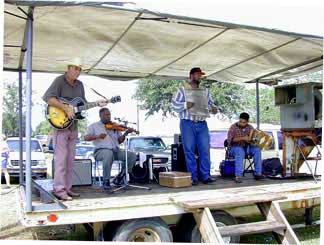 In the top picture, Morris Ardoin is shown playing at a benefit to restore the house of Nathan Abshire held in February 10, 2000, at the Pig Barn in Basile's Town Park. Dexter Ardoin is shown on accordion at the Church of the Annunciation Bazaar held in September 10, 2000, in Duralde. The other shot of Dexter Ardoin was taken in Basile. Shown performing with the Ardoins at the church bazaar are the late James Latiolais on guitar and Paul Edwards on rubboard. The trailer that served as a stage is especially designed for such performances. It even has a fan mounted on the right side to try to give the musicians some air when the Louisiana weather is hot.
Latiolais died April 13, 2002, in a car accident while he was traveling with Morris and Dexter Ardoin to play for the Atlanta Cajun Dance Association. Morris Ardoin was hospitalized as a result of injuries suffered in the accident.
Creole Music in Duralde
Sept. 10, 2000
The skies opened up at noon with a heavy downpour just as Morris Ardoin and his son, Dexter, were about to perform outside during the annual Church of Annuncation Bazaar in rural Duralde Sunday, Sept. 10, 2000. The rain was welcome coming in the middle of a long drought, but the Ardoins had to wait until 2 p.m. before the skies cleared and they could climb up onto the trailer that served as a stage. While waiting, they chatted with friends during the auction held inside the church hall.
When the sun came out once more, the Ardoins began their performance. Earlier in the summer, they had toured France. Now they were bringing the same old-time Creole music to a stage near their home in Duralde. The oldest son of Alphonse "Bois Sec" Ardoin, Morris Ardoin began playing triangle at age 9 when his father would play house dances or perform at Freeman Fontenot's Club. As they matured, Ardoin and the other members of his family continued their interest in music while they got on with the business of making a living.
Michael Tisserand's book The Kingdom of Zydeco includes details about Morris Ardoin's decision to get together with his brothers to form the Ardoin Family Band, with Morris on guitar, Lawrence on drums, Russell on bass, Gustav "Bud" on accordion, and Bois Sec's close friend Canray Fontenot on fiddle. In addition to performing at Morris Ardoin's own Cowboy Club near his home in Duralde and other area clubs, the band played at festivals in New Orleans and Washington, D.C., made several recordings, and even appeared three times at Carnegie Hall. The death of Gustav Ardoin in a car accident in 1974 and changes in musical tastes in Southwest Louisiana eventually brought the era of the Ardoin Family Band to an end.
However, today the old Creole style of playing lives on through the collaboration Morris Ardoin on fiddle and his son Dexter on accordion. (Dexter Ardoin also plays drums in zydeco bands like the Zydecool Band organized by his cousin Sean Ardoin.).
Joined by Bobby Michot, a member of Les Frères Michot, Morris and Dexter Ardoin toured France during summer 2000. PlayaSound Records of Boulogne, France, has released a wonderful recording made by Bobby Michot of the Ardoins playing at home in L'Anse Prien Noir and at Marcel Fontenot's 190 Muffler Shop on Highway 190 in Basile. Michot plays guitar, triangle, and other percussion on the recording.
Titled Cajun Creole Music Louisiana, the CD recreates a sound that was heard decades ago at house dances and family get-togethers. Among the songs are "Quoi Faire," "Valse de Bayou Teche," "Blues de Basile," "Jongle à Moi," "Shoo Black," "Lacassine Special," "Johnny Can't Dance," "Grand Mamou," "Allons Danser," "Petite ou Grosse," "Eunice Two-Step," "Jolie Bassette," "Lake Charles Two-Step," "Chère Toute Toute," and "Valse de Cherokée." The last cut is a zydeco number by Dexter Ardoin,
(The liner notes include a rather confused description of Morris' family: in reality, according to the sources used for this page, Amédé Ardoin was Bois Sec Ardoin's cousin. Canray Fontenot's uncle was Bois Sec Ardoin's father-in-law.)
More information on the recording is available from Bobby Michot, (337) 234-3939.
In addition, Morris and Dexter Ardoin perform "Les Haricots Sont Pas Salés" on the 1999 CD L'Ésprit de la Louisiane, produced by Christy L. Viviano for Over the Moon Productions, Inc.
I