Cory McCauley plays traditional Cajun music going back to an era when musicians would gather together for house dances or just to play, the way McCauley and his friends do on their 1999 CD, Play That Thing, Yeah Jack. McCauley is on accordion, his wife, Lisa, plays guitar, and they both do vocals, with Jason Frey, Clint Ward, or Bernard Veillon on fiddle, Mike Rougeau on bastringue, and Vernon Bergeron on percussion. The CD has received a nomination as Recording of the Year from the Cajun French Music Association.

The album features many old yet timeless songs, even including "Mazurka de la Louisiane," though many decades have passed since any Cajuns danced mazurkas. The vocal and musical styles evoke an earlier era, but the sense of commitment and feeling the group brings to their music make the songs come alive for listeners today.

The name "Evangeline Aces" is a combination of the names of two of McCauley's favorite bands, Austin Pitre's Evangeline Playboys and Lawrence Walker's Wandering Aces. As the liner notes point out, the opening song on the CD, "Evangeline Aces Special," written by Cory McCauley, "explains that French music is most meaningful when played at home among family and friends." In fact, the CD includes songs recorded at home: "La Valse D'Oberlin," originally recorded by Bois Sec Ardoin and the late Canray Fontenot with new lyrics by Cory; and "La Valse de Pointe Noire," originally recorded by Angelas LeJeune.

Other songs on the CD reach even further back to recordings made in 1929 to recover the sounds of Cajun music from earlier in the century, including, for example, "Arrête Ça!", recorded by Delin Guillory and Lewis LaFleur on the Bluebird label; "Ma Chère P'tite Fille," recorded by Leo Soileau and Moïse Robin on the Paramount label; "Je Me Suis en Allé," recorded by Bertmost Montet and Joswell Dupuis for the Victor label; "La Valse à Abe," recorded by Amédé Ardoin and Dennis McGee.

Some of the songs–for example "YoYo Two-Step," which was discovered in a carton of 45s once used in a juke box at the old Main Street Lounge in Basile–have not been heard in a long time. A few like Austin Pitre's "Evangeline Playboys Special" may be familiar to many fans of Cajun music, but hearing them performed by the Evangeline Aces recreates for listeners an earlier era when electronic "enhancements" did not distort the real sound of band members playing together and enjoying themselves.

Lisa McCauley lends her beautiful voice to several of the songs, including three songs recorded by Shuk Richard and the Louisiana Aces–"Cher Vieux Nègre," "Madame Entelle," and "Jolie Brune"–as well as "La Valse Crowley," first recorded in 1934 by Joe and Cleoma Falcon.

Two of the songs, "Alberta" and "Little Bitty Girl," are Lawrence Walker songs sung in English. In addition to "Evangeline Aces Special," Cory McCauley wrote several other songs on the CD.

In short, this is a CD that is different from most Cajun recordings released today, full of pleasant surprises that, as advertised on the cover, listeners should find "invigorating."

McCauley first began to learn to play the accordion when he was 15 years old, borrowing an instrument from a neighbor for a few days and then purchasing his own accordion. Like almost all Cajun musicians, he plays by ear.

Before forming the Evangeline Aces, McCauley and his friends Mitchell Reed and Randy Vidrine performed together in a group they called "McCauley, Reed, and Vidrine," playing traditional music both in Louisiana and in performances around the nation and overseas at a time when few groups were devoted to keeping the tradition alive.

As McCauley told Roland Manuel in an interview in the Ville Platte Gazette, "We appreciate getting invited to travel and share the music. And it gives us great pleasure to see how people in non-francophonic cultures like our traditional Cajun music."

Cory McCauley can be reached via e-mail at evangelineaces@hotmail.com

Click here for more pictures of Cory McCauley and the Evangeline Aces.

Click here for pictures from the 2001 Mamou Cajun Music Festival.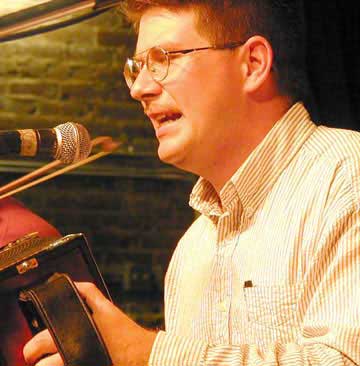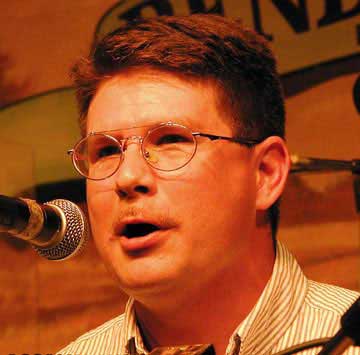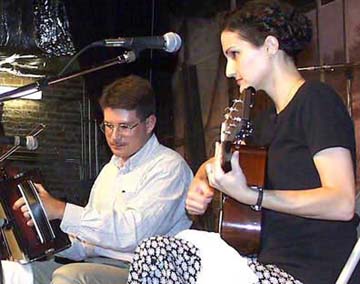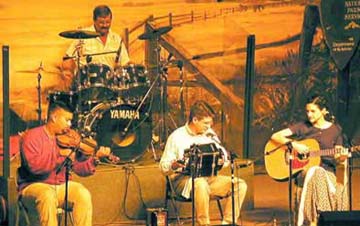 Cory McCauley and his wife, Lisa, are shown performing at the Liberty Theater in Eunice with Clint Ward on fiddle and Mike Rougeau on drums.