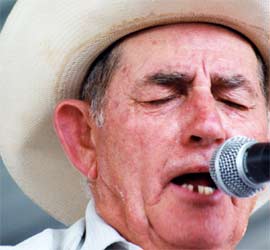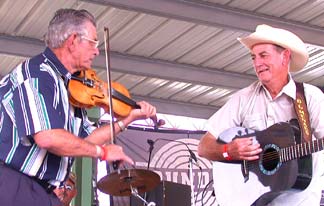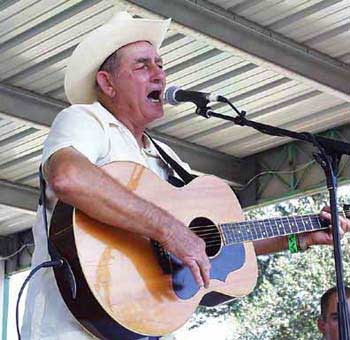 | | |
| --- | --- |
| The top two pictures in this column are from 2001 when the Festival de Musique Acadienne was dedicated to D.L. Menard. In the other pictures in the column, D.L. Menard is shown performing during the 1999 Festivals Acadiens. On Sunday, he was on stage with his band, the Louisiana Aces, but he also made a surprise appearance Saturday evening, stepping on stage amid cheers from the crowd to sing his trademark song when Jo-El Sonnier's group began to play "La Porte d'en Arrière." The picture in which Menard is facing left was taken in August 1999 at the Liberty Theater in Eunice. | |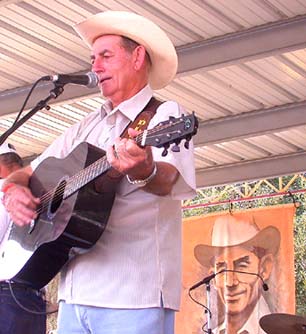 Click here for photos from 2002.
Photos of D.L. Menard are also included in performances at the Liberty elsewhere in LSUE's music pages.

The picture above and the top two photos in the left column show D.L. Menard performing at the 27th annual Festival de Musique Acadienne during Lafayette's Festivals Acadiens in 2001, the year that the festival was dedicated to him. That's his portrait hanging in the background. He was joined on stage by his band, the Louisiana Aces, made up of members from earlier years, including Leo Abshire, shown on fiddle. He was an animated as ever, exchanging jokes with the crowd, bragging about his new CA guitar made of a carbon composite that is nearly indestructible–enjoying himself immensely and pleasing everyone else immensely in the process. At one point, he also gestured toward an oak tree near the stage on which a hand-lettered sign had been attached explaining the tree's significance. It was the tree under which his wife, Louella, used to sit during the festival. She had died earlier in the year, and Menard offered a tribute to her memory before returning to his performance. Later in the day, Menard joined Steve Riley and the Mamou Playboys for an especially spirited rendition of his signature song, "La Porte d'en Arrière."
---
D.L. (Doris Leon) Menard will always be linked in everyone's mind with his great 1962 hit, "La Porte d'en Arrière," a humorous song about a hard-living Cajun who has to sneak in from his drinking and carousing by going through the back door. The song is in the tradition of Hank Williams, whom Menard met at the Teche Club in New Iberia in 1951 a year before he joined the Louisiana Aces and eventually became the leader of the group. As Menard explained to Ann Savoy in an interview included in her book, Cajun Music: A Reflection of a People, the tune for "The Back Door" is based on Williams' "Honky Tonk Blues." Menard composed the words one day while working at a gas station. He jotted them down on a small pad in between pumping gas and servicing cars.
Though D.L. Menard has acquired the nickname "the Cajun Hank Williams," his musical accomplishments are very much his own. Recording in both French and English, his many original songs are inspired by a love of life in all of its dimensions. He brings this same enthusiasm to his stage performances, singing with genuine passion and, in between numbers, joking with other musicians or with the audience.
He has received many honors, including a 1994 Folk Heritage Fellowship from the National Endowment for the Arts.
Menard was born in 1932 in Erath, where he still lives and works. He is a master craftsman who makes chairs and children's furniture in a shop next to his home.
Among Menard's more recent recordings are "Cajun Memories" (1995), "Le Trio Cadien" (1992, with Eddie LeJeune and Ken Smith), "Under a Green Oak Tree" (recorded in 1976 with Marc Savoy and Dewey Balfa and released in 1989), "No Matter Where You At, There You Are" (1988), "Cajun Saturday Night" (1985), and "D.L. Menard and the Louisiana Aces" (recorded in 1974 and released in 1988).
The Acadian Museum in Erath has an excellent series of pages posted on the Internet giving more information about D.L. Menard.