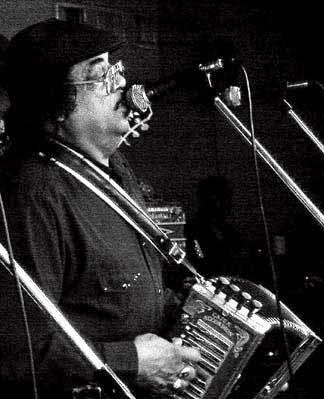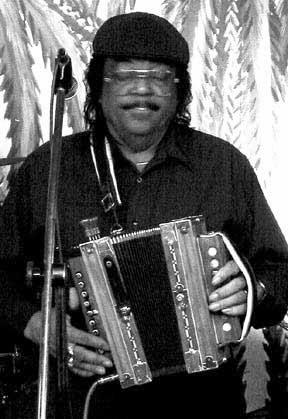 Murphy Richard is pictured at Slim's Y-Ki-Ki Club in Opelousas during a taping session December 23, 2000, of old-style zydeco performers organized by John Broussard and Melvin Ceasar, hosts of the Saturday morning "Zydeco Est Pas Salé" program on KRVS public radio in Lafayette. Acadiana Open Channel, the public access channel in Lafayette, taped the program. Because the digital photos shown above were taken without flash, they were converted to black and white so that they could be lightened without distorting the colors. The other picture was taken using the camera's small internal flash.
Note: This page has not been updated since it was posted in 2001.

Murphy Richard is an old-style zydeco accordion player who used to be part of the Creole Zydeco Farmers.
His first recording on his own is Murphy Richard and the Zydeco Kings: Doin' the Zydeco, released in 1999 by Zydeco Hound Records and recorded at Acadiana Sounds Recording Studio in Eunice.
Richard starts the CD with traditional zydeco sound on his own "Doin' the Zydeco"; follows with zydeco standards in English, "Let Me Pass Through Your Window" and "Don't Let the Green Grass Fool You"; does a good job handling French vocals on "Madeline's Waltz" and the two-step "Allons ŕ Grand Coteau"; gives us his versions of Preston Frank's "Why You Wanna Make Me Cry" (Leo Thomas' signature song) and of Clifton Chenier's "I'm Coming Home"; and sings the blues on "After Loving You" and on his own songs "Got a Sweet Little Woman," "Trouble Don't Last," and "Let Me Take You Home" (written with J. Benoit). The latter song is pretty much straight blues, so the CD gives the listener a good sampling of the wide range of songs associated with zydeco.
The other musicians are not credited on the CD, but the players on guitar, sax, and percussion all do some nice work.
For more information, contact (337) 879-2077.