Click here for high res photos of Errol Jenkins and Louisiana Tradition posted on Flickr.

Note: In 2008, Errol Jenkins and Louisiana Tradition play regularly at venues like D.I.'s Cajun Restaurant in Tee-Mamou and at Randol's Restaurant in Lafayette.


Errol Jenkins
and Louisiana Tradition

With new membership, the group that began as the Old Timers Cajun Band is now known as Errol Jenkins and Louisiana Tradition. As the new name implies, the group has not moved away from its roots: Cajun music performed in the old dance hall style by band members who speak Cajun French and for whom the music is at one with the rest of their lives. Shown at the Liberty in August 2006 are Errol Jenkins on accordion, Errol Guilbeau on guitar, and Pete Bergeron on fiddle.

---

After the death of Leo Abshire, Errol Guilbeau, shown on guitar at left, became the leader of the Old Timers Cajun Band. In addition to Guilbeau on vocals, the band has two other excellent Cajun vocalists, Errol Jenkins on accordion and Morris Newman on drums.

Joining the band on fiddle is Pete Bergeron, who learned the instrument several years ago after a long career as a radio announcer and DJ. He continues as the host of "Bonjour Louisiane," a popular early morning Cajun music show on KRVS public radio in Lafayette.

---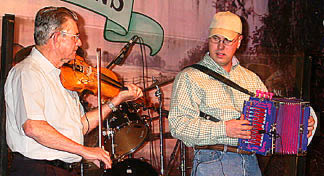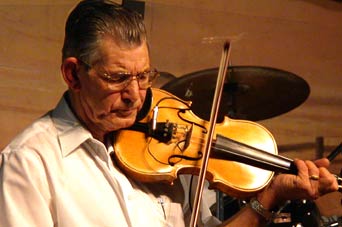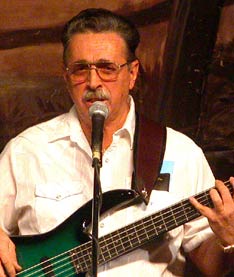 Shown above are pictures taken at the Liberty Theater January 19, 2002. Leo Abshire remains as the leader of the Old Tymers Cajun Band. Among the new members are Rod Miller on bass and vocals; and Tommy Guidry on accordion and vocals.
Although the membership has changed considerably, the band continues to perform old-style Cajun music guided by Leo Abshire, with more than six decades of musical experience, including playing before both the Queen of England and the President of the United States.
---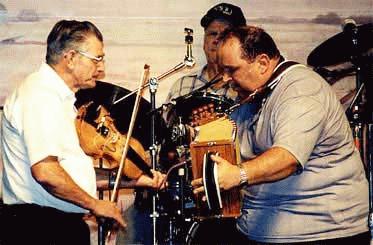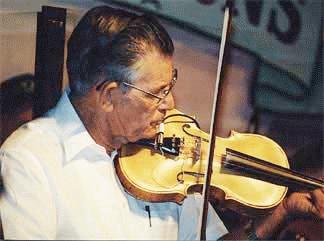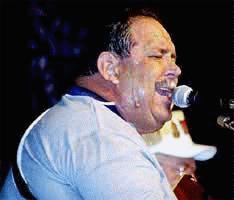 The other photographs, also taken at the Liberty Theater in Eunice, show the original membership of the band. Leo Abshire on fiddle and August Broussard on accordion are shown in the top photograph in this section and individually in other photographs. Among those shown dancing to the music of the Ole Tymers in the photograph in the right column are Cajun musician Cory McCauley and his wife, Lisa, shown in the center foreground. Below is the entire band, from left, Hubert Maitre, Leo Abshire, August Broussard, Rex Champagne, and Jack LeBlanc.
Note: Leo Abshire died May 31, 2005, at his residence in Gueydan. He was 71 years old. His music lives on through the fiddles he made, through his recordings, and through the musicians whom he inspired and helped to guide.
Since recording a CD in 1999, the Old Tymers Cajun Band has undergone some changes. In 2002, Leo Abshire, a fiddler for the past 62 years, is the leader. Other members are Rex Champagne on drums and vocals; Dudley Hebert on guitar; Rod Miller on bass and vocals; and, by far the youngest of the Old Tymers, Tommy Guidry on accordion on vocals.

The Original Old Tymers Band
The following is a description of the Old Tymers Cajun Band with the original membership that performed on the groups's 1999 CD:

The Ole Tymers Cajun Band, formed in September 1999, brings together some 250 years of musical experience. Leo Abshire on fiddle has been playing for about 60 years, including performances before the Queen of England, Princess Diana, and President Bill Clinton. August Broussard, who at age 63 (as of 2000) is the youngest member of the group, has played accordion and has sung Cajun music for more than 30 years. His singing style is reminiscent of the style of other great Cajun singers–powerful and intensely expressive. Abshire and Broussard have played together for many years, a connection that everyone can see when they turn toward one another while playing instrumental passages. Hubert Maitre on guitar also has played with Abshire for many years. Maitre handles a number of the vocals for the band. Other band members are Rex Champagne on drums and Jack LeBlanc on bass guitar.
Their first CD, recorded at Acadiana Sounds Recording Studio in Eunice, includes many standard tunes performed by a group of musicians who clearly are masters of traditional Cajun styles. August Broussard sings "Mon Vieux Wagon," "Mermentau Waltz," "Alida," "C'est Pas la Peine Brailler," "Lafayette Two-Step," and "Ton Alliance Pour un Souvenir." Hubert Maitre is the vocalist for "Saturday Night Special," "Calcasieu Waltz," "L'Anse aux Paille Two-Step," and "Enterre Moi Pas." The album also include two instrumentals, "Scott Playboy Special" and "Crowley Two-Step."
Acadiana Records can be reached at (337) 457-1786 or at acadianasounds@yahoo.com.