Click here for photos posted on Flickr.


Three photos above were taken Sept. 30, 2006, at Geno Delafose's Fan Appreciation Party. The right thumbnail was taken the the Acadiana Charter Chapter Cajun French Music Association festival May 26, 2007. Both events were held at the Northwest Community Center Pavilion in Eunice.

In 2006, Willis Prudhomme and the Zydeco Express released a new CD, Living Legend, featuring traditional zydeco numbers and covers of songs by other zydeco legends, plus several original songs.

The CD opens with Prudhomme's own number, "Have Fun Tonite," which sets the tone for the good time music that follows. Traditional numbers performed with Prudhomme's own arrangements and variations on French lyrics include "Madeleine," "Oh Bye Moreau" (in a different version than the usual one), and "Oh Mom."

Covers include Rockin' Sidney's "Good Time Woman," Buckwheat Zydeco's "Ya Ya," Beau Jocque's "Yesterday," John Delafose's "Used to Love Me," Horace Trahan's "Butt Thang," and "What a Price" (the Fats Domino hit).

Prudhomme's other original cuts include "Louisiana Women," "Need It Right Now," and his version of "Digga La."

Other musicians are Paul Lavan, drums; Derrick Guillory, rubboard and background vocals; Hubert Guillory, guitar and background vocals; Chris Ardoin, bass. Ardoin, who is Prudhomme's nephew, also produced, mixed, and mastered the CD.

According to the CD liner notes, for booking information, go to www.ccwproductions.com, phone 337-433-6432 or 912-0382 or email cullenwashprod@aol.com.

Posted 7-6-07.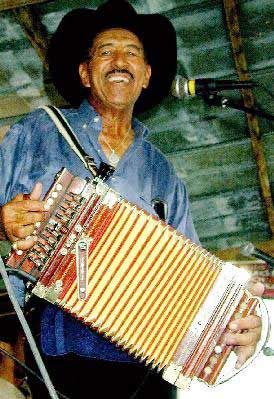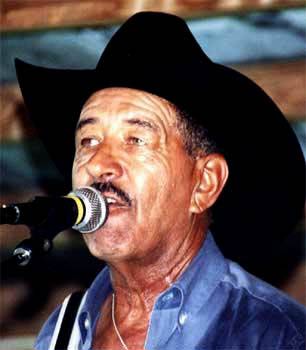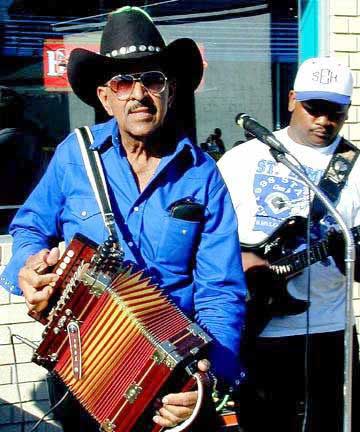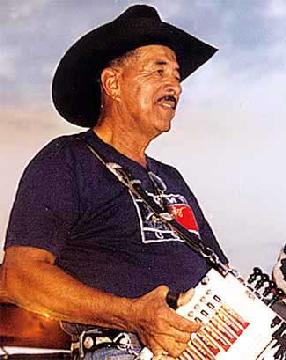 In the top two picture, Willis Prudhomme is shown at the 2000 LeBeau Zydeco Festival held July 1 on the grounds of the Church of the Immaculate Conception. At the request of Gene Chambers, he performed "The Lake Charles Two-Step," and the band also played other French songs like Prudhomme's "Making Love in the Chicken Coop," as well as songs in English. Beneath that is a picture taken the Saturday before Mardi Gras 2000 when Prudhomme performed outside a club in Elton. After the Elton Mardi Gras entered town, they gathered in front of the club for a raucous conclusion to their courir. That's JoJo Reed on guitar, and, in the other shot from Elton below, Leo Thomas is on drums. The other photos of Prudhomme, immediately above and in the right column, were taken in October 1999 at Geno Delafose's annual fan appreciation party in Duralde.
Born in Kinder in 1931, Willis Prudhomme grew up as a member of a sharecropper family at a time when Creole music played at house dances offered a few hours of escape from working in the fields. Prudhomme went on to become a rice and soybean farmer. When he was 45 years old, he taught himself to play harmonica and then switched to accordion. The legendary Cajun accordionist Nathan Abshire of Basile taught him the basic fingering.

Prudhomme played for a number of years with Leo Thomas' band and then established his own band. His first recording was a live performance at Richard's Club near Lawtell for Rounder Records, released in 1989 as Zydeco Live! Vol. 2, an album which also featured a performance by John Delafose and the Eunice Playboys.

Floyd Soileau's Maison de Soul label released two cassette/record albums, Willis Prudhomme and Zydeco Express in 1990, followed by Crawfish Got Soul in 1991. Goldband Records in Lake Charles released Chicken Koop in 1993 and You're a Bad, Bad Girl in 1994.

Prudhomme is also one of the zydeco musicians filmed in John Sayles' movie Passion Fish, released in 1992. Prudhomme sings "Zydeco Queen." He and his band have toured all around the country and overseas.

As a zydeco musician who can perform the old style French zydeco songs, as well as his own versions of Cajun standards, Willis Prudhomme is carrying on in the tradition of Boozoo Chavis and the late John Delafose. He also writes many of the songs he performs, injecting an earthy humor characteristic of rural zydeco. On Fais Do Do, released in 2000 by Louisiana Hot Records, Prudhomme reprises his hit "Salty Dog " from the 1988 live recording, which includes the refrain "My little woman is a salty dog, / My little woman don't wear no drawers. / She put it up in the dresser drawer. / Santa Claus said it's against the law." In an interview with Michael Tisserand, Prudhomme explained that the words come from his childhood when he and his friends would go behind the barn to sing the song, laughing until they rolled on the ground.

The 2000 CD also reprises "Crawfish Got Soul" and includes new songs written by Prudhomme, including "Standin' in the Door Naked as a Worm," sung in French: "nu comme un ver"–an image subject to various interpretations (the phrase was made famous on a Cajun version of the "The Streaker" recorded in the late 1970s). The album offers one other traditional French song, "Hack of Morrow": the hack turns over and "La 'tite blonde s'a fais prend' sous le hack, cher, / elle s'a planté un écharde dedans la fesse" (The little blonde got caught under the hack, dear / she was stuck with a splinter in the buttock").

Prudhomme also sings a tribute to "My Friend Beau Jocque" and returns to familiar themes of zydeco in songs like "Goin' Down the Road with My Head Hanging Low" and "C'mon Everybody Let's Get on the Floor." In addition, Prudhomme give us his interpretation of the classic South Louisiana song "Matilda."

Other performers on the album are Keith Simon on bass, Kirk Ledee on lead guitar, Jocquelle Frank on drums, Derek Green on scrubboard, and Mark Young joining in on vocals for two songs.

For more information on Willis Prudhomme, contact Cullen Washington, P. O. Box 19103, Lake Charles, LA 70601; voice mail/pager: 337-497-1547.