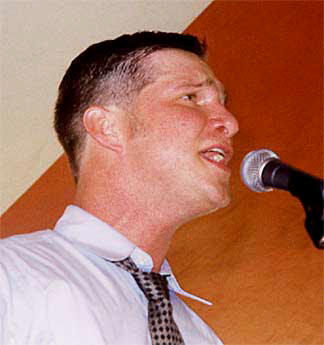 Click here to return to the first page on The Red Stick Ramblers.
Go to the official web site of The Red Stick Ramblers for a history of the band, profiles of each member, a performance calendar, sound clips, and more information on the group's first CD.
Here are a few photos from The Red Stick Ramblers' performance on the Heritage Stage September 22, 2002, at Festivals Acadiens in Lafayette. In addition to festival goers who had to be pleased that they had chosen to stop by the tent, the crowd included a number of ardent fans who came just to see The Red Stick Ramblers. As the bottom photo indicates, many also came to dance.

The performance included a new addition to the band's French repertoire: a very nice version of Austin Pitre's "Chère Joues Roses," a beautiful waltz.

A few weeks before the festival, the group received an invitation to participate in MerleFest 2003 in North Carolina. According to the Red Stick Ramblers' news update, MerleFest was started by the legendary Doc Watson in memory and honor of his son Merle. It is considered to be the country's premier traditional music festival. The Ramblers will be playing six times over 3 days, including a slot on the main stage.

On February 7, 2003, the Red Stick Ramblers received the 2002 Best Emerging Cajun Band Award at offBeat Magazine's annual awards ceremony in New Orleans. The band also played at the event.
---
Pictured on this page are Joshua Caffery, below, on mandolin; Linzay Young, shown in the left column on vocals; and then in two other photos with Joel Savoy playing twin fiddles.
The bottom photo shows the band on the Heritage Stage with a few of the fans who filled up the tent.