Hiram "Loon" Sampy Sr., one of the pioneers of zydeco, died November 12, 2002.
---
When Hiram Sampy got an accordion in his hands during a session featuring old-style zydeco players held December 23, 2000, at Slim's Y-Ki-Ki Club , it was the first time he had performed in several years. After a couple of number, he stopped to wave his hands in the air and flex his fingers, pleased and delighted that they still knew their way to the keys. But it was obvious to everyone listening that Hiram Sampy has not lost his touch.
Sampy's father, a sharecropper, was also a musician, and Hiram Sampy, who was born in 1926, began playing when he was about six years old.
As recounted by Michael Tisserand in his book Kingdom of Zydeco, Sampy started playing house dances before the introduction of electricity. He made the switch to amplification and began playing clubs, including a club known as the Rock and Roll that used to be next to his house in Carencro.
When Sampy and his band, which he had named the Rock and Roll, began to play at a club with the same name, the owner decided to change the band's name to Sampy and the Bad Habits, the name that became famous to zydeco audiences.
Sampy continued performing into the late 1990s at festivals and other special events. A couple of numbers performed by Sampy and the Bad Habits in 1976–"La Pistache Ó Tante Nana" and "Mo Coeur CassÚ"–are included on the Rounder cassette Zodico: Louisiana Creole Music, recorded by Nick Spitzer. Otherwise, the recordings of Hiram Sampy are not currently available. However, now, through the video taping session organized by John Broussard and Melvin Ceasar at Slim's Y-Ki-Ki, Hiram Sampy's music will be available to audiences in the 21st Century.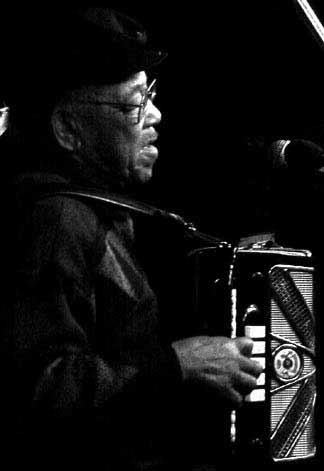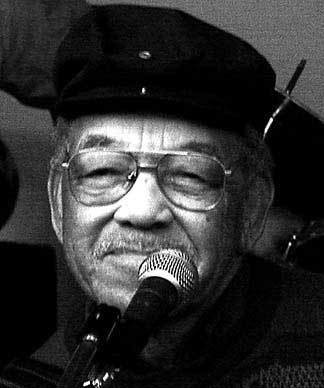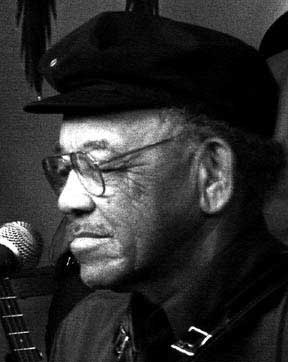 All photos taken at Slim's Y-Ki-Ki Club in Opelousas during a taping session of old-style zydeco performers organized by John Broussard and Melvin Ceasar, hosts of the Saturday morning "Zydeco Est Pas SalÚ" program on KRVS public radio in Lafayette. Acadiana Open Channel, the public access channel in Lafayette, taped the program. Because the digital photos shown above were taken without flash, they were converted to black and white so that they could be lightened without distorting the colors.